The Top 21 Funniest Netflix Movies to Watch Right Now
Netflix has a large number of good comedy movies, series, documentaries, and so on, Hence, if you are that type of person who likes to watch shows on the Go, you should definitely become a Netflix member, in order to enjoy the best of your favorite things without missing nothing.
Enough of describing Netflix now let's focus on our main topic, which is a list of the best Comedy themed movies to watch and to curl up with friends, Partners, family, or even on your own.
Hence, we will save you from the hassle of searching all the titles of top comedy movies on the broadcast giant "Netflix", Here, You'll find the 20 best movies that are shown on Netflix that you should not miss:
21. An American Werewolf in London – 1981
"John Lands" director mixes comedy and fear with visual makeup effects to create one of the best comedy horror movies ever on Netflix.
The events revolve around David and Jack, two American college students. David survives with a bite, but Jack is brutally killed. As David heals in the hospital, he's plagued by violent nightmares of his mutilated friend, who warns David that he is becoming a werewolf.
When David discovers the horrible truth, he contemplates committing suicide before the next full moon causes him to transform from man to a murderous beast.
Read Also: The Best 20 Korean Movies on Netflix to Watch
20. The Truman Show – 1998
The movie is based on a different kind of comedy, a satirical comedy, and sometimes blackness. Jim Carrey talks about the man who was the victim of a realistic program in which he lived his entire life.
All his companions, his wife, and his neighbors are the only actors who integrate into the role sincerely because he is inspired to live a normal life. But Jim Carrey's wit makes you spend an hour and a half of laughter and fun and you don't want the movie to end.
19. How to Lose a Guy in 10 Days – 2003
With Kate Hudson and Matthew McConaughey in the lead roles. This romantic comedy follows Andie Anderson, a journalist whose mission is to be left by a man in 10 days.
To do this, she seduces Benjamin Barry who, without her knowing it, bet that he would manage to make her fall in love in this same period of time … An inescapable love story!
18. The 40-Year-Old Virgin – 2005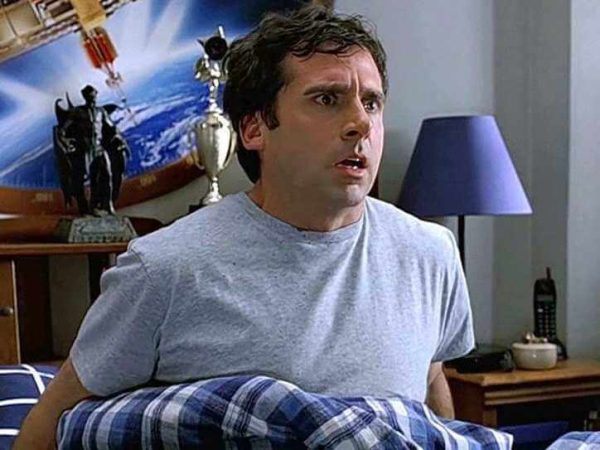 Andy has turned forty years old and is still single and has not yet had sex, and he has kept this fact to himself throughout these years.
One day, he revealed this secret by mistake while playing poker with his friends. Andy's friends sympathize with him and decide to do their best to help him change this fact.
Meanwhile, Andy meets a nice woman named Trish and they fall in love, and Andy begins stressful attempts not to spoil the matter.
17. Hot Fuzz – 2007
Simon Page is a hard-working policeman, who is transported to a small city where there is little risk because his bosses are tired of his commitment.
But he is surprised that the city is worse than he thought and had many nightmare crimes. There is a murder occurring almost every week and no one knows the identity of the killer, even the policemen in the city are lazy.
The film's comedy-mystery is that it deals with dramatic events lightly and mocks clichés, appearing collectively as one of the most comedy films.
16. Burn after reading – 2008
After years of loyal service, Osbourne Cox is dismissed from the CIA. Not recovering from this brutal eviction, he decides to write his memoirs to take revenge on his former employers but loses a compromising backup CD in a gym.
Two club employees, Linda and Chad, plan to cash in on its secrets. After the very dark No Country for Old Men, the Coen brothers decide to have a break with this wacky and irreverent spy comedy. A moment of madness, served by a gallery of colorful characters.
Check Also: The 27 Best Anime Tv Series to Watch on Netflix Now
15. The Hangover – 2009
Two days before his wedding, Doug and three friends drive to Las Vegas for a wild and memorable stag party. The next morning the party wakes up to find a tiger in the bathroom, an infant tucked in the closet, and a Doug hidden.
Without remembering any of them what happened last night. With little time before returning, the trio begins a hazy attempt to find Doug and try to bring him back in time to get married.
The out-of-ordinary events played an important role, and none of this would have been possible without the presence of Todd Phillips in the chair of one of the best comedy movies on Netflix.
14. All That Glitters – 2010
Ely and Lila are like two sisters, share everything, and dream of another life. They live in the same city, ten minutes from Paris. But the girls really want to enjoy the capital.
They will try everything to break into a world that is not theirs. Far from the clichés of the suburbs, a refreshing and tender film, carried by two sparkling actresses.
13. Crazy, Stupid, Love – 2011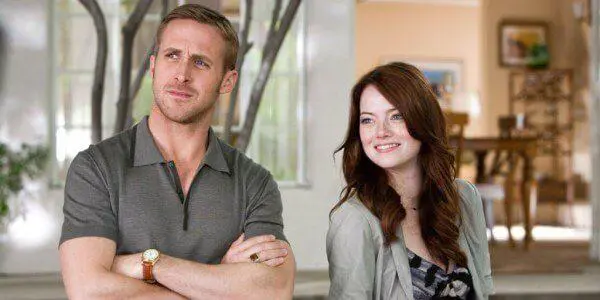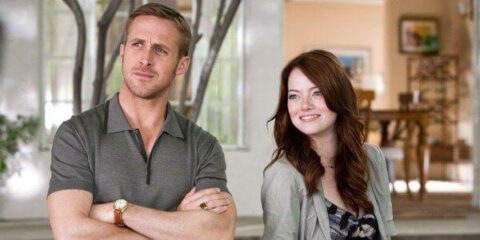 The events revolve around Cal, who was abandoned by his wife Emily, with whom he has always shared his life. His world collapsed, disgruntled and pathetic.
He is then taken under the wing of Jacob, the local seducer, who decides to give him cruising lessons. This is a romantic comedy movie on Netflix which is perfect for laughing with friends!
12. The Dictator – 2012
It's one of the comedy movies par excellence that you can watch on Netflix, full of mockery and mockery. The film is about General Aladdin, the ruler of an oil-rich Arab North African country called "Wadia".
He risks his life in order to block democracy from his people. After an assassination attempt takes the life of Tamir, Aladeen's uncle and most trusted adviser convinces Aladeen to go to New York.
Unfortunately, Aladeen has a less-than-friendly reception from exiled Wadiyans, who want their country freed from his despotic rule.
11. 9-Month Stretch – 2013
Like many comedy movies "9 Month Stretch" is available on Netflix, and is directed by Albert Dupontel, and Sandrine Kiberlain. 9 months firm is probably one of the funniest French comedies of recent years!
Ariane Felder, a judge with a bright future, sees her life turned upside down when she becomes pregnant after a night that is too drunk. And it doesn't work out when she finds out that the father is none other than Bob, a criminal charged with atrocious assault.
10. Babysitting – 2014
An employee reluctantly agrees to babysit his boss's temperamental kid on the evening of his 30th birthday. But when his friends unexpectedly land on the property of the rich publisher to celebrate his birthday, the evening degenerates …
Equipped with a very elaborate visual device, this comedy shot on camera, in the spirit of "Project X", shows an authentic sense of rhythm. It is one of the funniest and delirious movies that you can find on Netflix.
See Also: 10 Best Anime Series on Netflix Worth Watching Right Now
9. The Do-Over – 2016
It is a comedy and movement 2016, directed by Stephen Brill and written by Kevin Barnett and Chris Papas, and starring Adam Sandler and David Speed.
The events revolve around two down-on-their-luck guys deciding to fake their own deaths and start over with new identities.
Before realizing that those they claim to have much more serious problems than their own. It is the second of four films by Adam Sandler in cooperation with Netflix.
8. The Nice Guys – 2016
With Russell Crowe and Ryan Gosling in lead roles, this dark comedy will make you laugh. In the 1970s, two detectives investigated the disappearance of a teenager in Los Angeles, strangely linked to the death of a por£ographic star. But the investigation will reveal to them a plot much bigger than they imagined.
7. True Memoirs of an International Assassin – 2016
In the seventh place, we find one of the best Kevin James Movies called "True Memoirs of an International Assassin", which is available on Netflix.
A mild-mannered author is mistaken for an assassin after his novel about a hired killer is published as a true story. He is soon kidnapped and taken out of the country to help with an assassination plot.
Starring Kevin James, the starring role in this film, and as a mild-tempered person, would become a prospective author.
6. Girlfriend's Day – 2017
A 2017 American comedy directed by Michael Stephenson is also one of the best comedies on Netflix. Ray Wentworth, once the undisputed master of the romantic formula, has become a disillusioned man and a writer out of inspiration.
Wanting to rediscover the sentimental fiber that animated him. But he finds himself embroiled in a dark story of murder and deception. While he competes with other writers to win the prize for the most romantic card of a new party: girlfriend's day.
5. Dumplin – 2018
This is one of the most-watched comedy movies on Netflix, that revolves around Dumplin, a full-body teenager and a daughter of a former beauty queen. She is signing up for a teen beauty queen contest, revolutionizing the beauty pageant in the small city of Texas.
Read Also: Here are the 30 Best 2019/2020 Movies you Need to Watch
4. The Package – 2018
Here is one of the top teen comedy movies available on Netflix, The film is awesome, and revolves around a group of teenagers who go on a camping trip during spring break.
Therefore, An unfortunate accident leads to a race to save the valuables of their friends. This is a really good Netflix comedy film that was released in 2018 in the USA.
3. Isn't It Romantic – 2019
Coming at number 3 of the best movies on Netflix to watch "isn't it romantic!" Where The Funny Rebel Wilson and the Pretty Priyanka Chopra are the female main character. The story follows Natalie, an architect who works hard to get noticed at her job.
But her life will turn upside down when she was lost consciousness and wakes up to find herself in an alternate WTF universe. And in this other world, she discovers that she is the leading lady in a real-life romantic comedy.
2. Murder Mystery – 2019
It is kind of weird to talk about comedy movies, without mentioning Adam Sandler, as this Hollywood star is a professional in this field. Murder Mystery is one of Adam Sandler's Netflix movies that tell the story of a New York police officer and his wife, who finally go on a honeymoon.
But their vacation takes an unexpected turn when they are invited to a millionaire's yacht. And that does not calm down when a murder takes place on the boat. The couple is then suspected by the police officer in charge of the investigation.
1. Always Be My Maybe – 2019
In number one of the best comedy movies on Netflix, we find "Always Be My Maybe". It is a 2019 American comedy and romance movie, directed by Nahnatchka Khan.
The story depicts Childhood friends who have a falling out and don't speak for 15 years, only reconnecting as adults. When Sasha runs into Marcus in San Francisco, they randomly run into each other and discover how time has changed them. late will fall in love with each other and enjoy a happy life.
Check Also: