Anime where Popular Boy fall in Love with Unpopular Girl
7.  Net juu no Susume 
Episodes: 10

Studios:

 Signal.MD

Genres:

 Game, Comedy, Romance
Summary:
Moriko Morioka quit her long-standing job of over 11 years, she is now unemployed, and starts spending her free time online games.
In the MMO Fruits de Mer, Moriko turns herself into the handsome and dashing male hero "Hayashi".
Now that the obligations of her real world out of the way, she sunk into the world of the game, where she will meets the kind and adorable healer Lily.
Moriko and Lily instantly become inseparable friends, and Moriko in now adopting her life style as The Hero Game "Hayashi".
Meanwhile, unperceived to Moriko, a corporate worker "Yuuta Sakurai" also joins the game from the other side of town.
Hence, they will Coincidentally bumps into each other at the convenience store one night, both write off their meeting as no more than just another awkward encounter with a stranger—however, fate has more in store for them than they think.
---
6. Kamigami no Asobi
Episodes: 12

Studios:

 Brain's Base

Genres:

 Fantasy, Harem, Romance, Shoujo, Supernatural
Summary:
The Human Yui Kusanagi, suddenly transfers to another world for a very unique mission: to teach the young lords of the divine realm what it means to be human.
Over the time, these young lords have lost their potential to be in tune with or connects with humans.
Undoubtedly, Anyone would be happy to be mingled with these charming good-looking people, However, her problem is, she must finish her mission in one year, and if she fails, all of them will be stuck in this realm forever.
Hence, With various lords ready and happy to be a part in this compassion project, Yui faces a rising battle.
So, Will Yui be able to convince them all to learn a lesson in humanity or will they all be stuck together for the rest of their lives?
Read Also: 10 Best Anime About Science Fiction You Ever saw
---
5. Watashe ga Motete Dousunda 
Episodes: 12

Studios:

 Brain's Base

Genres:

 Harem, Comedy, Romance, School, Shoujo
Summary:
Kae Serinuma is a kind student and a real otaku. furthermore, she is also obsessed with the fantasy of Boy's Love.
Serinuma seems often dreaming of her male classmates falling in love for each other.
Another known fact about Serinuma, however, is that she's noticeably fat.
Later, Serinuma will fall in depression, because of the death of her most beloved Tv Show's character.
as a result, she became unable eat her meals as usual, let alone going to school.
And, Hopefully After an entire week, she finally recovers.
Now she Returns to school, and looks different, Because, during the time she was shut-in in her room, she ends up losing weight and somehow become extermely beautiful!
Now Due to her beauty, she is at the center of attention of four handsome boys she has always known at her school.
their only wish is to spend time with her, However,  Serinuma prefers that they will falls in love with one another.
So, How will Serinuma deal with the four boys pursuing her Boy's Love-obsessed self?
---
4. Fukumenkei Noise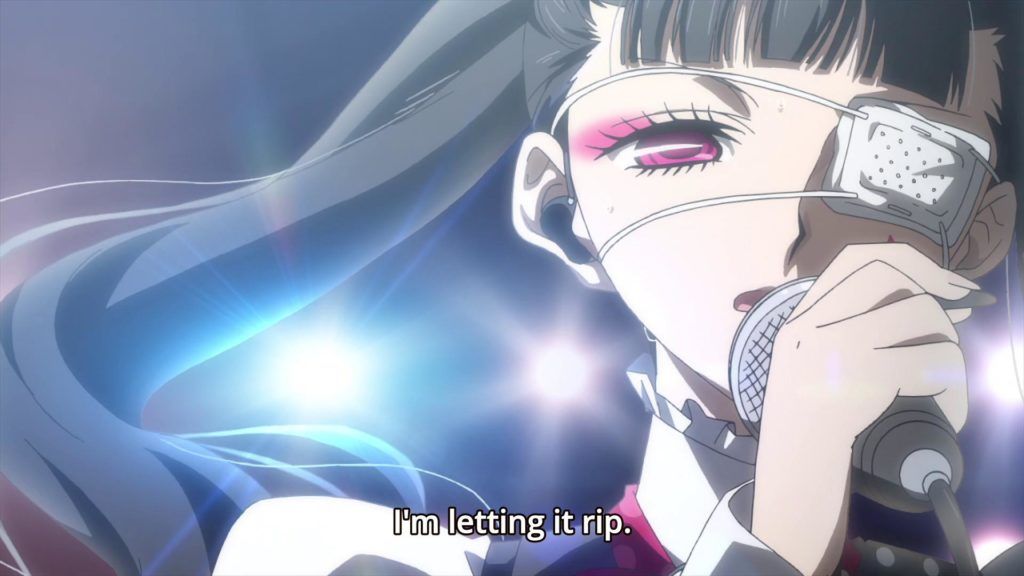 Episodes: 12

Studios:

 Brain's Base

Genres:

 Music, Drama, Romance, School, Shoujo
Summary:
This Anime Series is focusing on young girl who always wears a mask, while standing by the beach and sings a nostalgic melody.
During her Childhood, Nino Arisugawa experienced two sudden heart-wrenching partings of Childhood friends.
Since then, she used to sing her songs to the ocean, bound by a promise made with her friends.
These two parting friends consists of her first love, Momo Sakaki, and a boy who composed music, Kanade "Yuzu" Yuzuriha.
Having never met each other, the boys both individually promised that if Nino was ever separated from them, her voice will be the tool that can  reunite them once again.
Hence, After six long years, finally  Nino, Momo, and Yuzu meets up once again in the same high school.
However, the time can change anything, and many unexpected obstacles break into their friendship!
So, can the music! make them able to repair their friendship and overcome all the feelings involved in this complicated love triangle?
Read Also: The 18 Amazing Cooking Anime That Will Make You want to be a Chef
---