Here are the best 28 Cool Anime Girls Who are so Damn Cute!
Our do list for today will be about those cool anime girls. Well, these female characters' beauty is a thing that captures our hearts and keeps us wondering why we don't have such beautiful beings in our real life! Which makes them popular within the otaku world, be they sexy and powerful or cheerful and funny.
This list will undoubtedly satisfy all anime fans, as it includes the coolest anime girls of all time. From the badass to the cute and the beautiful, these cool anime girls have fairly earned spots in this collection of the top female anime characters of all time!
28. Chiho Sasaki from Hataraku Maou-sama!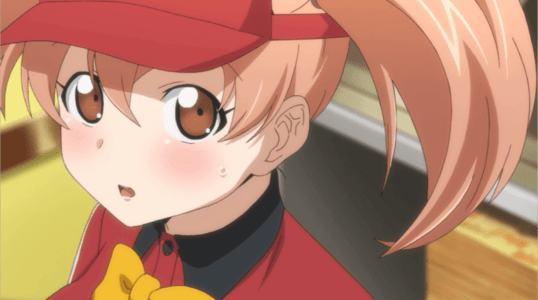 Kicking off the list of cool anime girls of all time with Chiho, a cute and pretty female anime character who serves as the love interest of the series' main character Maou.  She is a damn gorgeous young lady and a colleague of Maou Sama at MgRonald. She is usually cheerful and quite outgoing, but sometimes she became a little clumsy. Chiho also greatly admires and loves Maou, to the point where she easily becomes shaken and frantic at the thought of Maou even getting close to any other girl.
Read Also: Best Anime Where The MC Is A Boy Who Looks Like A Girl
27. Balsa Yonsa from Guardian Of The Sacred Spirit
Balsa Yonsa is a wandering spear-wielder and one of the main characters of the Moribito series. She is a woman in her early thirties. She is a very cool, and beautiful serious anime girl. although, sometimes seems cold to others though not without reason. Balsa is headstrong, wise, and adept at resolving situations where her life may be at risk.
26. Violet Evergarden from Violet Evergarden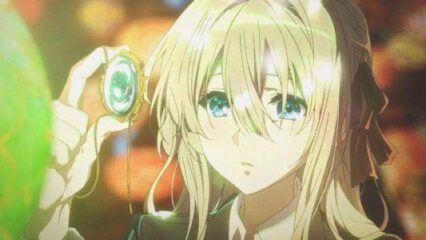 Violet is a very gorgeous and cool anime girl, she almost looks like a doll. In the series, she is portrayed as a new Auto Memory Doll at the CH postal company. Her character design features pretty golden hair and beautiful light-blue eyes.
Hence, in the anime, she is just a sweet female character who just wants to know the meaning of "certain words" she received from Gilbert when she was a soldier.
25. Kuronuma Sawako from Kimi ni Todoke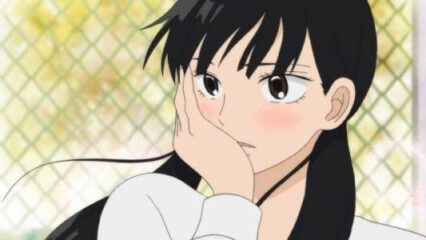 Sawako is a petit, slender, pretty, beautiful, and shy yet honest and cool anime girl who is in search of friendship. She possesses thin lips, big brown eyes, and long straight jet-black hair, making her look like a porcelain doll. However, Sawako looks like a horror film character Sadako.
Furthermore, Sawako is a modest girl, and her tendency to shy away from correcting classmates' misunderstood prevents her from saying that she is not in fact Sadako. Thanks to Kazehaya's kind and open nature, she is able to gradually open up to her classmates, and talk to different people.
Read Also: Anime Where Girl is Obsessed With MC
24. Nami from One Piece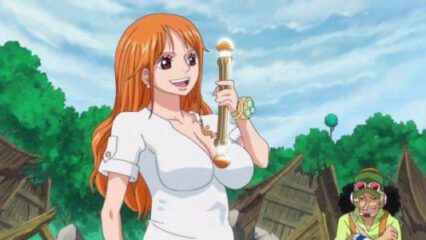 She is known to be a thief and pickpocket who possesses cartographic, meteorological, and navigational skills. Nami is a slim young woman of average height with orange hair and brown eyes. Most people consider her to be very charming and pretty. Moreover, She is greedy and will do anything, aside from abandoning or killing her friends, for money. Undoubtedly, Nami is one of the Best cool anime girls, that the One Piece series has shown us so far.
23. Kaname Chidori from Full Metal Panic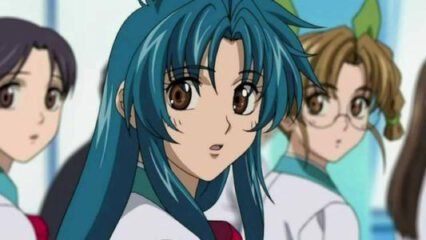 Kaname is the main female protagonist of the story and is often seen as The kind of cool anime girl everyone looks up to. She is a tsundere, with beautiful blue hair and brown eyes. short-tempered, quick to lash, and tries to hide her feelings of Loneliness and insecurity. What I like about her is the affection she shows to Sousuke, although it is in a tsundere way and in a sort of violent reaction it often involves "corrections".
22. Saeko Busujima from Highschool of the Dead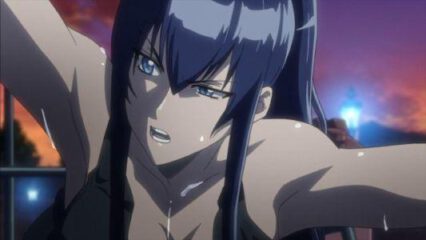 Saeko is an attractive, and gorgeous high school anime girl and the president of the school's kendo club. She has long, straight, shiny purple hair, a pair of pretty blue eyes, and sizable breasts.
Also, Saeko is tall for a Japanese girl and her shiny pink lips are so beautiful. Furthermore,  she is among those cool anime girls who are powerful, as she is extremely skilled with a bookend and close combat. She is also so calm and collected with a firm sense of pride in her skills.
Read Also: Anime Where Bad Girl Fall in Love with Good Boy
21. Eru Chitanda from Hyouka
Eru Chitanda Chitanda is a calm and Cheerful person, she becomes very excited when new or interesting things happen, especially when it involves her club. Chitanda is one of the coolest anime girls, as she is so polite, and often a happy person. She is a sensible, emotive, friendly, and innocent pretty female anime character.
20. Mikasa Ackerman from Shingeki no Kyojin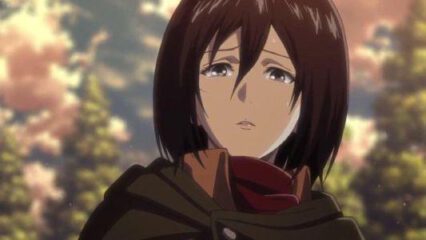 Mikasa shares an unbreakable bond with Eren and rushes to protect him whenever he is in danger. Furthermore, she is a badass, often serious, and a cool anime girl.  Her appearance is fairly tall, and fit, with an admirable body. with an angelic face, pale skin, gray eyes, and shiny black hair.
Mikasa possesses impressive fighting skills and strength even as a child. As a teen, Mikasa is considered a genius among all the army trainees and is incredibly skilled at combat and agility. What I like about her is that she is constantly worried about Eren's well-being and lives to protect him.
19. Lucy Heartfilia from Fairy tail
Lucy Heartfilia is the main female protagonist of the Fairy Tail manga and anime series. She has pretty brown eyes and shoulder-length shining blonde hair that is usually tied by colorful ribbons. Lucy is a clever, kind, genuinely caring person, proud of her appearance, and she is confident in her teasing skills. Lucy is undoubted, One of the cool anime girls of all time.
Read Also: Sweet Interspecies Anime Couple Love Stories
18. Zero Two from Darling in the Franxx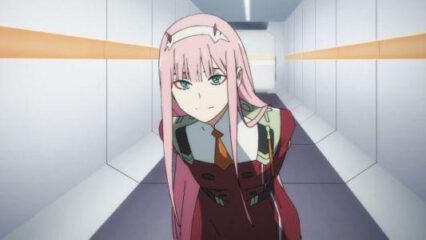 She is a mysterious anime girl with red horns, an athletic tall figure, long pink hair, sharp, cyan eyes with rings around the pupils, and pinkish-red eyeliner.
She is an elite Parasite with the codename "002" who is also known as the "teammate Killer", Zero Two had always accepted solitude due to her horns and Klaxosaur blood." Furthermore, she is the pistil of the FranXX Strelizia. Rumor has it that she is dangerous, cold, and alluring, but that's because her past is harsh, and was always called a monster. However, Zero Two when she is close to Hiro, she looks fairly cheerful, curious, and a happy girl.
Her time with Hiro shaped much of her personality and quirks in the present, such as her sweet tooth, the way she referred to herself as ("Boku"), and the nickname she had for Hiro, "Darling". Zero two is one of the most recent anime girls, who in a short time has become so popular among fans. She is such a great sample of the coolest anime girls of all time.
17. Inori Yuzuriha from Guilty Crown
Inori is the female protagonist of Guilty Crown and the main part of love interest in this show. She is a gorgeous and cool anime girl with light pink hair, at first she seems emotionless and only cares to follow Gai's orders. Hence, Being obedient is what makes her the perfect one to be among your favorite anime girls.
16. Erza Scarlet from Fairy tail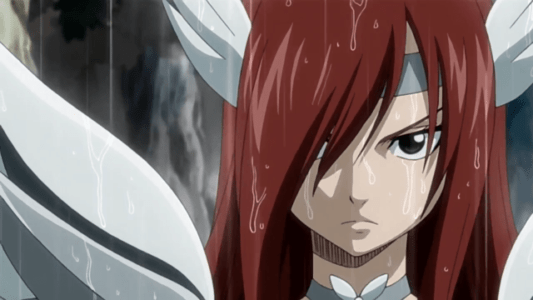 This anime female beauty is an S-class mage of the Fairy Tail Guild and is considered among the strongest and coolest characters in the whole show. Furthermore, Erza is a tall, attractive and gorgeous young woman with long red hair and beautiful brown eyes. Moreover, she is a very strict girl, often criticizing the bad behavior and habits of others. Hence, she is an impatient person, and also if someone didn't apologize for his bad behaviors, it invokes her wrath.
Read Also: 20 Best Anime Waifu You'd Love to Spend your life with
15. Boa Hancock from One Piece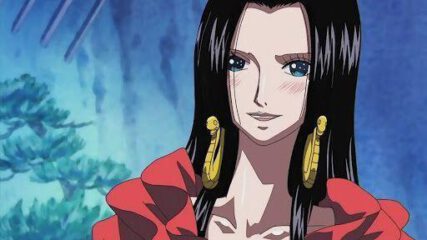 In the anime series One Piece, Hancock is one of the Shichibukai and captain of the Kuja Pirates. She is a tall gorgeous cool anime girl, with long black hair and eyes, along with big eyelashes. She is the Empress of the Amazon Tribe on the Isle of Woman.
Hancock hates the World Government. However, she wants to keep her Shichibukai title for her own profit. Furthermore, Her immense beauty covers her cruel personality. she is really the most beautiful woman in the world of one piece.
14. Miyuki Shiba from Mahouka Koukou no Rettosei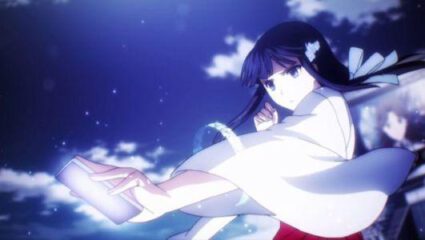 Miyuki is a very attractive girl, and she draws attention everywhere she goes. But she is still lovely, modest, and kind. Also, this sweet anime girl has a romantic nature, and defends her brother anytime she can. Therefore, Miyuki may cry or gets angry when someone pities or underestimate her brother.
13. Sinon from Sword Art Online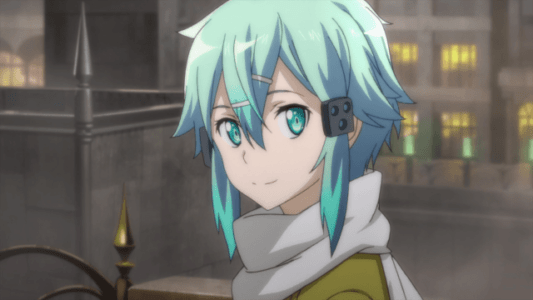 What if I say that "Gorgeous" and "Sinon" mean the same thing? I'm joking but she is damn cute. Sinon's is among the best anime girls who feature cool and calm personalities. however, Sinon has a violent temper once angered. Although she may be hard to approach, in reality, she is a friendly person and doesn't mind helping others.
Read Also: Anime Like Sword Art Online
12. Emilia from Re: Zero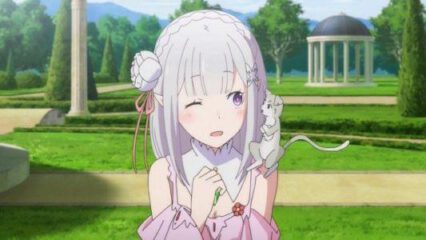 Emilia is The main female protagonist of Re: Zero Anime and manga series. She is so damn pretty, charming with a silver-haired half-elf girl. also, I'm in love with her pretty purple-blue eyes. Moreover, Emilia is a kind girl who likes taking care of others, though she herself refuses to admit it, instead thinking of it as her own selfishness.
11. Raphtalia from The Rising of the Shield Hero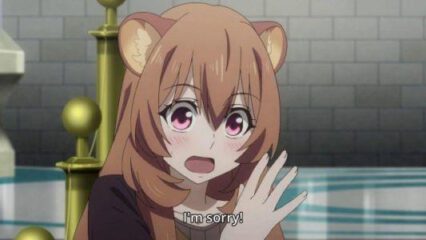 Raphtalia is a character from the Japanese light novel, manga, and anime series The Rising of the Shield Hero. She is a cute slave and a lovely tanuki demi-human. Being a slave made her timid, sickly, and fearful. In the series, she assists the main character Naofumi Iwatani in his quest. What makes her special and looks like a damn cute and cool anime girl is her fluffy dog-like ears and averagely-sized bushy tail.
10. Kaga Kouko from Golden Time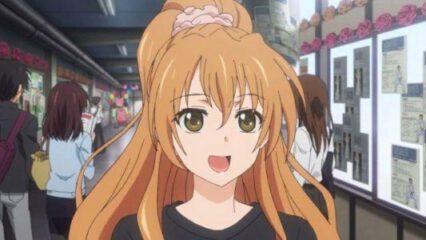 Kouko is among those highly attractive cool anime girls that will make you say OMG! Furthermore, Her face is so pretty and got a long wavy orange hair with little, hazel eyes and large breasts. Also, her personality is hard to examine but we are sure that she is not violent. Moreover, She is loyal and devoted to the people who show kindness to her.
Read Also: The twelve Best Fantasy Anime Series of 2019
9. Kushina Uzumaki from Naruto Sippuden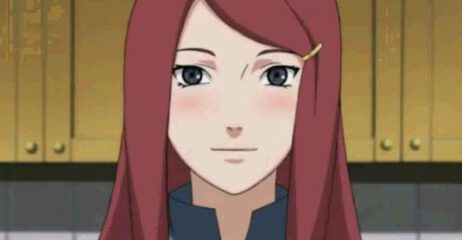 Kushina Uzumaki is Naruto's mother, and the wife of the Hokage of the time, Minato Namikaze. She is cute but short-tempered, with a tomboyish demeanor, long red hair, and violet eyes, and as she grow up she became a beautiful and cool female anime character with a unique ninjutsu style. Despite Naruto's close resemblance to his father, much of his personality and choice of ninjutsu are said to be similar to that of his mother.
8. Chitoge Kirisaki from Nisekoi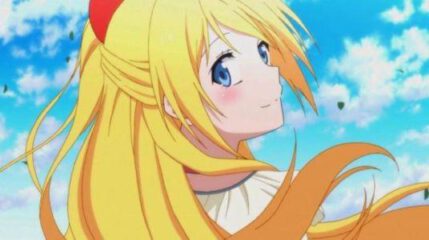 She is the main female protagonist of the Nisekoi anime series. Chitoge is pretty and looks like a supermodel, her aqua-blue eyes and blond hair make her one of the prettiest and cool anime girls of all time.
She is the love interest of Raku Ichijō. Chitoge serves as a fake girlfriend for Raku for the next three years of her school life to prevent a war from starting between their families.
7. Inoue Orihime from Bleach
To tell you the truth Inoue is of my cool anime girls of all time. Her brown eyes and long, waist-length, burnt orange hair. make her look so cute. Her most noticeable physical trait is her slender yet curvy figure for a teenager, especially in terms of her large breasts.
her personality is adorable, very sweet, and is a good friend to almost everyone, even villains. She is clumsy, studders or blushes when she is around Ichigo. But, I like how the relationship between her and Ichigo started to turn into pure, unconditional love.
Read Also: Harem Anime Where Main Character is Overpowered
6. Yuzuki Eba from Kimi no Iru Machi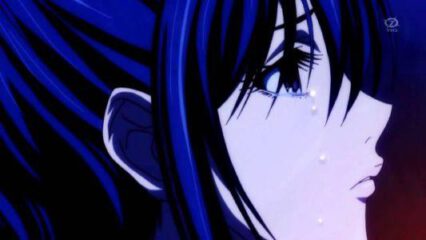 Yuzuki is a very gorgeous, charming, and attractive young woman. She is blessed with long blue hair, big brown pretty eyes, pale and fair skin, and a beautiful body. Moreover, She has a social personality type, humanistic, responsible, supportive, and gets along with others easily. What I like about her the most is that She confesses that she likes Haruto, but it does not prevent her from helping Haruto get closer to Nanami.
5. Mirajane Strauss | Fairy tail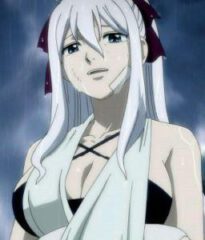 She is an S-Class Mage at Fairy tail Guild, and due to her beauty, she is a model for Sorcerer Magazine. Mirajane is one of the cutest and coolest anime girls I have ever seen. She is kind, polite, and so sweet, but when she is fighting, or her close ones gets hurts, she became a devil, monster, and a powerful demonic girl. Furthermore, She is good at cooking, and taking care of others, she is usually cheerful, and always had that angelic smile on her pretty face.
4. Hinata Hyuga from Naruto Shippuden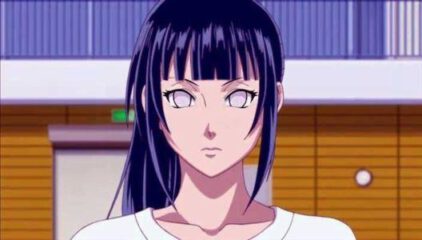 Hinata is a brave ninja who won't give up! She had a role model and she wants to walk with him. Often, she is seen ready to break away from her normal, and shy personality in order to help Naruto. She also becomes more assertive toward him and also doesn't hesitate to defend him, even to himself. Her pure feelings and deep love for Naruto are one of the driving forces in her self-improvement.
Hinata has powerful special white eyes. and amazing dark blue hair that takes so many shapes. She is kind, gentle, soft-spoken, and polite to everyone. Hence, the most special thing about her is that she always thinks of others more than herself, and often cares about others' feelings and well-being.
Read Also: The Cutest Naruto Couples and Pairings of all Time
3. Rias Gremory from HighSchool DxD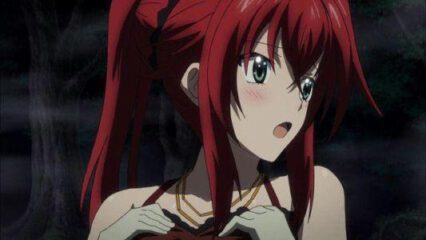 Rias is The best anime girl in all history for so many fans, she is the female protagonist in the High School DxD series. She's a sweetheart, a gorgeous girl with white skin, blue eyes, and a buxom figure. Furthermore, Her body is so hot, but Her most distinctive feature is her long, beautiful crimson hair. Moreover, Ria personality is a very kind and compassionate optimist, especially to her servants and her surroundings. But, She often gets angry and violent whenever people insult her or her peerage. Surely, Rias Gremory is one of the ultimate loved and cool anime girls for so many anime lovers.
2. Rem from Re: Zero
All anime fans are in love with Rem, as she is cute and one of the prettiest and coolest anime girls ever seen in history! Firstly, she has blue hair that covers her right eye, large light blue eyes, and young features. Rem has a polite manner and sometimes acts without thinking. Moreover, she falls deeply in love with Subaru, becoming one of his most loyal followers. Hence, Rem will stick with him no matter what happens, and do anything to protect him.
1. Asuna Yuuki from Sword Art Online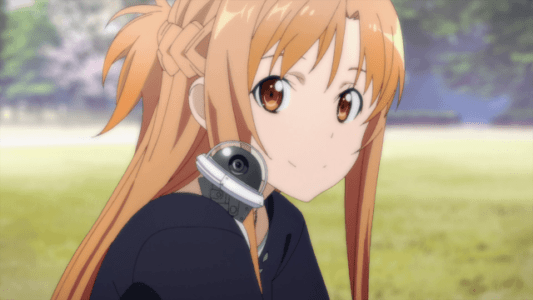 Asuna Yuuki is a protagonist who appears in the Sword Art Online series. She is more commonly known as just Asuna. She is a gorgeous girl who has long, orange-brownish chestnut hair and hazel eyes. Being extremely pretty, Asuna also is a kind, emotional, caring, good cooker, and helpful young woman. that is why she receives many invitations and proposals. Moreover, she is a skilled player earning the title "Flash" for her extraordinary sword skill that is lightning fast. Asuna has an undoubted beauty and deserves to be number 1 on our list of the most beautiful, cute, and cool anime girls of all time.
Read Also: 10 Anime Couples Who Shared Love and War