Here are the Top 26 Anime Series to Watch When Bored or Under this Quarantine Period!
Hey anime fans, today's article is a good recommendation about anime series to watch when bored to kill the boredom and forget about the harsh, the sad, or the bad days you are experiencing now.
We also think that the article will be a good list for people who wants to start watching good anime tv shows for the first time.
well in order to do so… let us guide you and gets you into some beautiful fantasy realms where most Japanese animated series take place in. So, it's time to laugh, sink into deep stories, watch characters' struggles, get their hand on their dreams and get their happy ending, while some other fictional characters took the responsibility of making the world a better place to live in!
With no further ado, let the countdown of our best 26 anime series that are so good to watch when bored.
26. Sailor Moon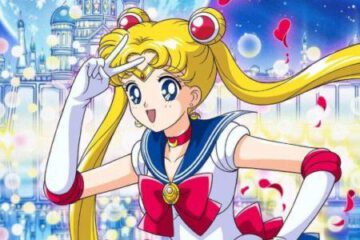 Genre: Magical girl, Demons, Romance, Shoujo
Kicking off the list of the best anime series to watch when bored with the popular Sailor Moon. a good series about Bunny, a very dissipated schoolgirl, who discovers that she is the reincarnation of Sérénity, princess of the Moon and that her mission is to protect the Earth from the evil forces which prevail.
Thanks to a magic brooch, she can transform into Sailor Moon and then benefit from magic powers. Throughout her adventures, she will meet Bourdu the masked man, and other Sailors who will assist her in this eternal struggle between good and evil.
Read Also: The Best 36 Twisted Dark Anime Series to Watch Right Now!
25. Dragon Ball Z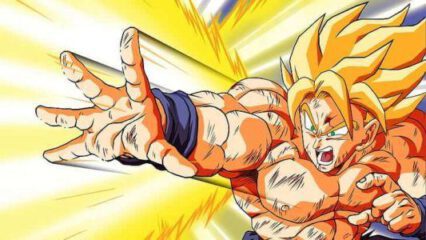 Genres: Adventure, Fantasy, martial arts
Dragon Ball Z takes up the story of Son Goku several years after his marriage to Chichi. The couple has a son named Son Gohan in tribute to their great grandfather of the same name.
One day, Raddatsu lands on Earth and declares that he is Son Goku's brother. It belongs to the people of the Sayajins, intersidereal warriors putting the universe to fire and blood.
Their planet has been destroyed and there are only four pure Sayajins left: Son Goku, Radditu, and his accomplices who left the Vegeta and Nappa.
24. Ranma
Genre: Adventure, martial arts, romantic comedy
Ranma Saotome is a top-class martial artist and prodigy at the Saotome "Anything-Goes" school of martial arts. Now, Ranma is cursed to turn into a girl when splashed with cold water, and only hot water can turn him back into a boy.
The fathers Genma Saotome and Soun Tendo have Ranma immediately betrothed to the youngest daughter, Akane Tendo. Akane is a martial artist, a tomboy, and quite temperamental. Neither she nor Ranma has ever had a previous romantic relationship.
Ranma is among the anime series to watch when bored, to be able to follow the hilarious adventures of Ranma and Akane as they encounter various opponents, meet new love interests, and find different ways to make each other angry, all while their engagement hangs over their heads.
23. Kill la Kill
Genre: Action, Comedy, Magical Girl
In this one of the best anime series ever, the events revolve around a young girl arriving at a fictional high school of superhumans to find out the truth behind her father's murder.
Honnouji Academy is a high school where fear and terror reign. It is governed by the formidable student council and its president, Satsuki Kiryuuin, which has the particularity of using Goku uniforms. These allow them to be stronger than anyone, and to crush anyone who stands in their way.
Ryūko Matoi is a girl who carries half a giant scissor with her and searches for the owner of the other half who turns out to be her father's murderer. In order to find the murderer, Ryūko enters the Honnouji academy to challenge Satsuki.
22. Revolutionary Girl Utena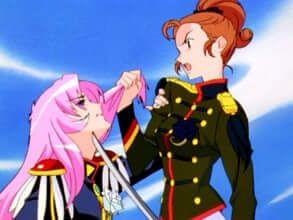 Genre: Fantasy, Romance, Supernatural
What makes this series one of the best anime series is the design of her distinctive character in addition to her amazing music, then sabotaging fairy tales and magical girls, Utena stands out in the heyday of '90s anime.
The story follows Utena Tenjou, a tomboy who's popular with all the girls at a prestigious academy. She dreams of becoming a prince, and when she finds herself wrapped up in the machinations of the Student Council, she has her chance to duel for the princess and enters a world that she never expected.
21. No Game No Life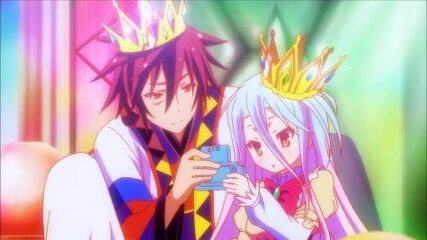 Genre: Isekai, Fantasy, Game, Science Fiction
If you are bored or having bad days then this anime series will be your ultimate cure. The series is about two siblings called Sora and Shiro, who are known in the online gaming world as Blank, an undefeated group of gamers. There are violently transported to a different world that is run by games known as Disboard.
The two protagonists need to adapt and develop a lifestyle in this new world in order to survive. These are not so innocent or cool games that they have to conquer all sixteen species in order to challenge the game Tet.
Check Also: The 27 Best Anime Tv Series to Watch on Netflix Now
20. The King's Avatar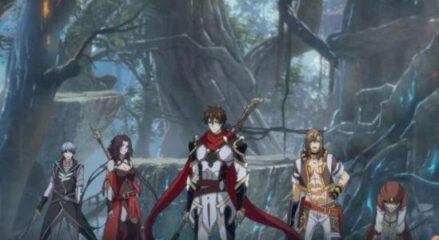 The King's Avatar follows the story of Ye Xiu, a professional esports player living in Hangzhou, China. Widely considered the best player in the video game Glory. Ye Xiu was captain of the esports team, "Excellent Era", holding the account of the 'Battle God', 'One Autumn Leaf' before being forced to resign from the team, giving up one of the strongest accounts in the game and leaving the competitive scene due to his unwillingness to take part in any marketing to profit the team.
Ye Xiu ends up finding work as a night-shift manager at Happy Internet Cafe, where he meets Chen Guo, the owner of the cafe who happens to be a huge fan of his alias 'Ye Qiu', his former team and character 'One Autumn Leaf'. He decides to continue playing the game, build a character from scratch, and find new and highly talented players for his new team "Happy" named after the cafe.
Read Also: The 25 Best Anime Characters with the most Beautiful Eyes Ever!
19. Devilman: Crybaby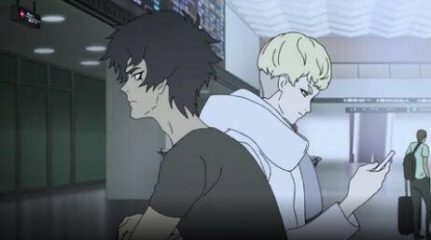 Genre: Dark Fantasy, Demons, Supernatural
A good anime series to watch when bored is Devilman Crybaby which is about Demons invading humanity after being frozen in ice for millions of years.
Akira, a timid boy, Weak and unassuming, who has always had a bleeding heart, is tasked by his childhood friend Ryo to merge with one of these demons in order to be able to fight back against them for the sake of humanity. Akira accepts without hesitation.
In a reckless attempt to save his best friend, Akira unwittingly merges with the devil Amon and becomes a Devilman, gaining the power to defeat the remaining demons. He works alongside Ryou, destroying those who harm humanity and his loved ones.
18. Baccano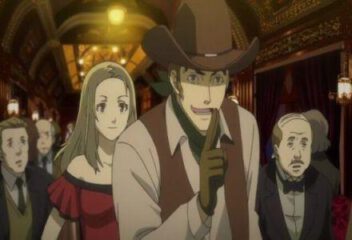 Genre: Adventure, Mystery, Supernatural, Mafia
Feeling sad, or bored, then Baccano is the best anime to watch right now! Set In the year 1711, on their way to the new world aboard their ship, alchemists invoked the devil to obtain immortality. They obtained from him a strange liquor that gave them eternal life. They learned the secrets of manufacturing but ended up being afraid of its power. Thus, they dispersed throughout the world in order to escape the grip of the evil that gnaws at them.
New York, 1930. In these times of prohibitions, the design of several people will get mixed up when Cerrad, an old man obsessed with the quest for demonic liquor, embarks on the distillation of this potion of immortality.
17. Future Diary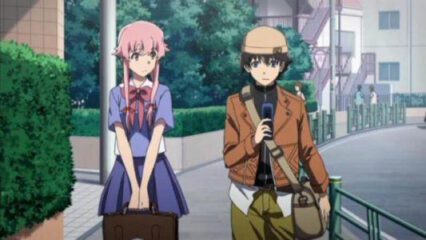 Genre: Yandere Girl, Mystery, Psychological, Thriller, Romance
This is among the top anime tv shows to watch if you wanna kill the boredom. In this series, the hero Yupiteru Amano a 14-year-old is given a diary on his cell phone that can predict the future for up to ninety days.
Yukiteru's life takes a turn for the strange when his diary starts recording events before they happen and his friend Dues announces that he's not so imaginary after all, and a turn for the sinister when his diary announces his own impending death.
It turns out Yukiteru has become part of a survival game in order to determine who will succeed Dues as the god of time and space, competing with 11 others who also possess diaries that predict the future in various ways.
16. Madoka Magica
Genres: Psychological, Drama, Magic, Thriller
Madoka Magica is one of the greatest magic anime tv shows to watch if you are bored! and Netflix didn't hesitate to buy its license in order to give us the opportunity to enjoy this Japanese magical animated series, which follows Madoka Kaname and Sayaka Miki are regular middle school girls with regular lives.
All that changes when they encounter Kyuubey, a cat-like magical familiar, and Homura Akemi, the new transfer student. Kyuubey offers them a proposition: he will grant any one of their wishes and in exchange, they will each become a magical girl, gaining enough power to fulfill their dreams.
15. Fairy Tail
Genre: Magic, Adventure, Fantasy
This is also one of the best long-running anime series, and it is here because it combines great animation, interesting characters, and a great story. Lucy Heartfilia is a young mage searching for celestial gate keys, and she dreams only of becoming a member of Fairy Tail, one of the most famous magic guilds in the mystical land of Fiore.
During her search, she meets Natsu Dragneel and his partner Happy, who are looking for the dragon Igneel Natsu's foster father. Lucy falls under an abduction attempt, only to be saved by Natsu. To her shock, he reveals that he is a member of Fairy Tail and invites her to join them. There, Lucy meets the ice wizard Gray Fullbuster and magic swordswoman Erza Scarlet. He offers her to join them together as a family, they battle the forces of evil, help those in need, and gain new friends.
14. Tokyo Ghoul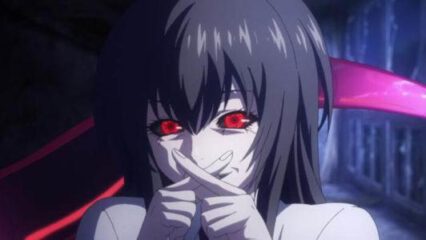 Genre: Dark Fantasy, Horror, Thriller
Next up among the best anime to watch when bored is Tokyo Ghoul, which is the best-recommended anime series for those who like bloody scenes, the show is quite gory, especially if you choose to watch the uncensored version. Tokyo has become a cruel and merciless city a place where vicious creatures named Ghouls are terrifying creatures that feed on human flesh.
But, the greatest threat these ghouls pose is their dangerous ability to masquerade as humans and blend in with society. In a twist of fate, Kaneki is saved by the enigmatic waitress Touka Kirishima, When Ken Kaneki is saved from an attack by the enigmatic waitress Touka Kirishima, he transforms into a half-ghoul, half-human hybrid and is forced to adapt to their lifestyle in order to integrate into both societies.
13. Your Lie in April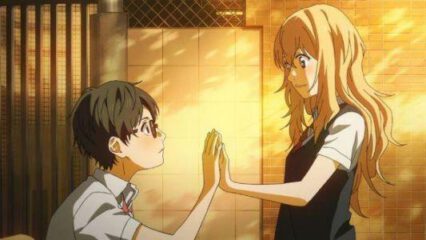 Genres:

 Drama, Music, Romance, School, Shounen
This is one of the saddest Japanese drama romance anime that depicts the story of Kousei's recovery as he best learns that there's more to music than hitting each note perfectly (and falls in love with Kaori along the way).
Unfortunately, much like the anime's bright color palette, Kaori's cheerfulness is merely masquerading the impending tragedy. Set to a beautiful, touching soundtrack,
On bad periods, you can watch Your Lie in April, which is a deep-felt and heartbreaking anime story that deals best with emotional trauma, overcoming loss, and moving forward. It'll make anyone shed a tear.
Read Also: The 23 Best Romance Anime Series With Lots of Kisses to Watch
12. InuYasha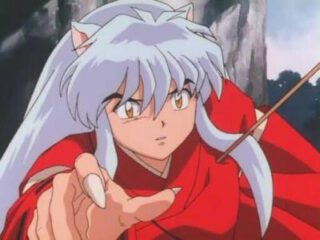 Genre: Adventure, Fantasy, Romance
A classic anime that brings out so many sweet memories; this one was the first animated series that make me know about how Japanese animes are great. It is a story of a young schoolgirl, Kagome, who falls into a well in the family temple on her 15th birthday.
Thanks to a fragment of the jewel that was incorporated into his body, it passes into the era of Inuyasha, fifty years after it was empenné to a tree by one of the magic arrows of Kikyo. Her jewel's fragment attracting a demon, she frees Inuyasha to help him defeat him.
Kagome gradually discovers that she holds the powers of Kikyo and will meet lots of people, friends, or enemies, endearing or not, but always related to the jewel of the four souls which, once in its possession, grew in a way extraordinary the powers of a demon.
11. Naruto Shippūden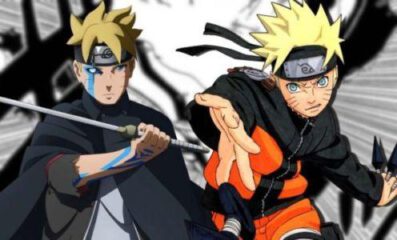 Genres: Adventure, Fantasy, Martial Arts
The story is absolutely beautiful and unique, it will keep you interested and excited at all times, which is also why this is one of the top anime series you should pick if you are bored or just wanna forget about those bad, sad, or harsh days.
Naruto Uzumaki is a loud, hyperactive, adolescent ninja who constantly searches for approval and recognition.
He goes through each fight with all his heart as well as to become the strongest ninja who is acknowledged as the leader and strongest of all ninjas in the village Hokage.
10. Soul Eater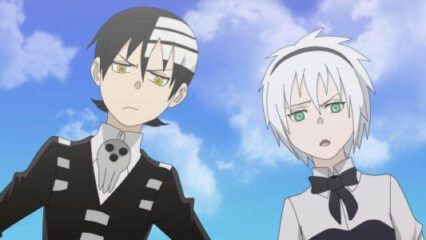 Genre: Action, Adventure, Dark Fantasy
In order to reach the supreme rank of -Death Scythe-, a demonic weapon must ingest 99 human souls and 1 witch soul. This mission is entrusted to the Meisters, combat specialists who will harvest souls at the risk of their own lives.
In Soul Eater, go hunting for souls with students from the Shibusen Institute, a training school for soul reapers in order to protect the city from the witches and demons who wants to destroy Shibusen and to overtake the world.
9. One Piece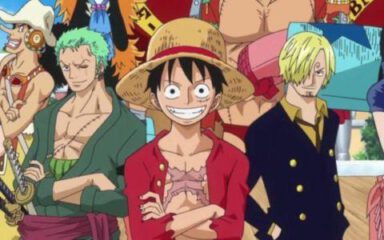 Genres: Adventure, Comedy, fantasy
Easily the longest-running and one of the most-watched anime of all time that contains hundreds and hundreds of episodes to watch, and you will never get bored no matter how much you stream it.
It focuses on Monkey D. Luffy, a young pirate man who, inspired by his childhood idol and powerful pirate "Red-Haired" Shanks, sets off on a journey from the East Blue Sea to find the titular treasure and proclaim himself the King of the Pirates. The anime's main character, Monkey D. Luffy, will teach you that if you decide to achieve something, you must do your best and fight to achieve your goal until the last moment in your life.
8. Fullmetal Alchemist: Brotherhood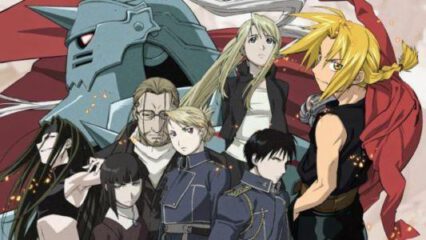 Genre: Adventure, Dark Fantasy, Science Fiction
You will not only watch Fullmetal alchemist just when you are bored but also an anime that you will rewatch, again and again without getting enough of it!
In a country where alchemy makes it possible to do extraordinary things, two young brothers Edward and Alphonse study this science which allows the exchange of one thing for another.
This science is based on the principle of "equivalent exchange" which requires sacrificing one thing to get another. The day their mother dies, the two brothers decide to defy the prohibitions of alchemy by practicing human transmutation but everything does not go as planned. Edward loses a leg and sacrifices his arm to preserve the soul of his brother during an alchemic experiment for resurrection goes wrong.
See Also: The Best 20 Anime on Funimation that You Should Really Watch
7. Monster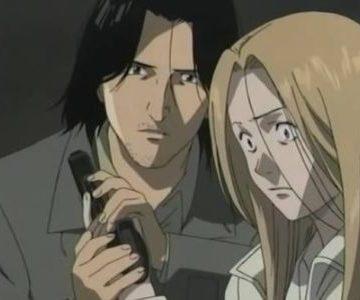 Genre: Crime, Mystery, Psychological, Thriller
That is one of the top dark anime series to watch when bored that tells a well-packed story about Kenzo Tenma, the main character, a very talented young neurosurgeon, engaged to the daughter of the director of the hospital, Eva Heinman. But one day he refuses to treat the mayor and prefers to treat a boy injured by a bullet in the head. Her twin sister is also interned in the hospital because she is very shocked, Their parents were brutally murdered.
The boy is okay, but the mayor dies of lack of care. Tenma is then demoted by the director of the hospital and Eva leaves him. Shortly after, the boy and his sister disappear.
Read Also: Here are The 21 Best Psychological Anime Series Recommendations
6. Hajime no Ippo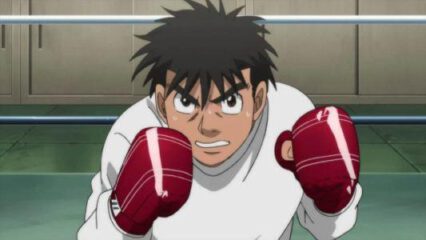 Genre: Action, Comedy, Sports
Hey, sporty fans behold the best sports anime series of all time, just watch it if you are bored, and it will absolutely make you wanna work out at home during these hard days. Well, Hajime no Ippo narrates the adventures of Makunouchi Ippo high school student who is not really integrated into the rest of his class.
In addition, he is persecuted by a band of thugs, who regularly beat him up after school, on the pretext that he smells of earthworms. Indeed, Ippo is also a good boy, and his father having died while he was still young, he helps his mother after lessons in his work as captain of a fishing boat, thus leaving him little time to truly socialize with classmates or do activities after class.
When he was hit again by the clique, a man intervened and fled the Yankees, simply by demonstrating his strength. This is Mamoru Takamura, a great prospect in professional boxing. Through this encounter, the life of the young Ippo will be transformed forever.
5. Rurouni Kenshin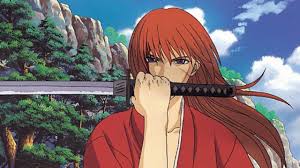 Genres: Action, Adventure, Comedy, Historical, Samurai
Let this List of anime to watch when bored, allows you to behold and watch The story of one of the best adventure samurai anime tv series of all time. which follows Kenshin Himura, an ex-assassin who is trying to find his way in life.
He is a wandering swordsman, trying to protect the people in Japan instead of going back to his former life. He has seen that the world is bloodthirsty and thrives on violence, and he knows that it's wrong. Overall this is one of the Best well-packed action romance anime series that addresses huge themes of dark comedy, personal peace, and forgiveness.
4. Code Geass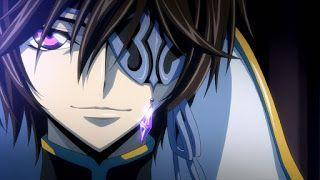 Genres: Action, Military, Sci-Fi, Super Power, Drama, Mecha
Code Geass is really one of the best anime of all time, with its sci-fi, mecha, and a dozen other themes and ideas, This is an anime to watch when bored, and believe me, you will watch something good, enjoyable, and when it ends, you will desperately miss it!
Taking place in an alternate reality where Britain never stopped invading everything and eventually owned the whole world. Lelouch life's will turn upside down when he obtains his "Geass" the "Power of Kings." So, Realizing the vast potential of his newfound "power of absolute obedience,". Lelouch embarks upon a perilous journey as the masked vigilante known as Zero, leading a merciless onslaught against Britannia in order to get revenge once and for all.
3. Hunter x Hunter
Genre: Adventure, Fantasy, Martial arts
Hunter x Hunter is the best choice on this list of the best anime to watch when bored. For those who didn't watch it, here is your chance to get yourself into one of the top anime series of all time.
A young boy named Gon leaves his small town for the first time on an adventure. He leaves the island on a quest to find his long-forgotten father who had left him behind, it's a world-famous licensed Hunter.
He meets an odd cast of characters undertaking Hunter's Exam to become a Hunter himself, a ridiculous test of endurance, smarts, and fighting ability that leaves most dead and a select few licensed to basically go anywhere in the world and do anything they want.
2. Death Note
Genres:  Mystery, Police, Psychological, Supernatural, Thriller
Well, well, well! On our list, here is the best masterpiece anime ever that you won't get bored of. so yeah, go kill the bad and sad days you are experiencing by watching it right now! Bored by the shinigami lifestyle and interested in seeing how a human would use a Death Note that can kill anyone just by writing their names on it! Ryuk will drop one into the human realm. that will fall into the hands of Light Yagami —since he deplores the state of the world—he instantly tests the deadly notebook by writing a criminal's name in it.
Hence, When the criminal dies, Light will quickly realize and recognizes how devastating the power that has fallen into his hands could be. With this divine capability, Light decides to extinguish all criminals in order to build a new world where crime does not exist.
1. One Punch Man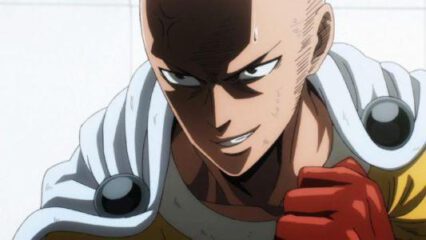 Genres:

Action, Sci-Fi, Comedy, Parody, Super Power, Supernatural
Did you know that One-Punch Man anime series is one of the highest-rated tv shows on IMDB, it competes even with the most-watched popular shows out there like Peaky Blinders, Game of Thrones and Breaking Bad.
This good anime series is a must-watch not in your bored state but at all times! it depicts the story of Our unordinary Bald super-hero (Saitama), a powerful character that can win and defeats anyone with only one punch.
Don't take such a power lightly, because, in order to gain it, he spent all his time training and working so hard until he became the most powerful man, however, he pay the price by losing his hair and turning into a bald man. However, after getting too much Power, Saitama has become bored of all of this and he is always trying to find stronger opponents who can fight him equally.