The Top 27 Best Japanese Anime Tv Shows Available on Netflix to Watch Right Now
What is Netflix? Well, the answer is simple, Netflix is a website that allows us to stream online various tv series, documentaries, various TV shows, movies, and even Japanese animes.
Now Netflix is so popular that it even has 167 million paid memberships in over 190 countries, due to the wide variety of genres and languages. which help Members watch as much as they want, anytime, anywhere, on any internet-connected screen.
But Today our main focus will be on what are the Best Japanese anime series available on Netflix that you can watch?
well, cheer up because Netflix has a variety of Action-packed adventures, hilarious comedies, inspirational anime stories, from classics to the most new ones, just sit tight, bring your popcorn, and choose what's best for your taste.
So Lets Countdown our List of the best anime on Netflix to Watch...Here We Go!
---
27. Ajin
Let's kick off our Netflix Best Anime Series list with Ajin, which is a supernatural anime full of complex ideas about life and death, as well as the dark side of human nature. This series tries to answer the question of What does it mean to truly be human?
Seventeen years ago, the existence of a special species called Ajin was discovered in Africa. They are said to be immortal beings, with several supernatural abilities, that look just like any other human being.
Are these Ajin just random phenomena of nature or were they purposely sent to Earth to destroy it?
Since their first discovery, several other Ajin appearances have been reported worldwide. For the majority of citizens though, these creatures are less reality and more of something you see every once in a while in a textbook or on the news.
This is how it was for the young protagonist of the series, Kei. That was until a sudden turn of events changed his life forever…
Read Also: The 23 Best Romance Anime Series With Lots of Kisses to Watch
---
26. Devilman Crybaby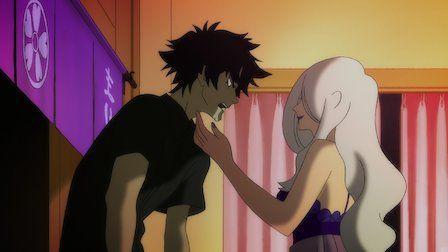 Devils cannot take form without a living host. However, they can overcome the demon and make its power their own with their strength, becoming a Devilman. Weak and unassuming, Akira Fudou has always had a bleeding heart. So when his childhood friend Ryou Asuka asks for his help in uncovering devils, Akira accepts without hesitation.
However, to Akira's surprise, the place they go to is Sabbath: an immoral party of debauchery and degeneracy. Amidst bloodshed and death, demons possess the partiers, turning their bodies into grotesque monsters, and begin wreaking havoc. In a reckless attempt to save his best friend. Akira unwittingly merges with the devil Amon and becomes a Devilman, gaining the power to defeat the remaining demons.
Though it grants him great power, this new partnership awakens an insatiable and primeval part of Akira. therefor, Akira works alongside Ryou, destroying those that harm humanity and his loved ones.
See Also: The 20 Amazing Japanese Anime Movies You Must watch Right Now!
---
25. Erased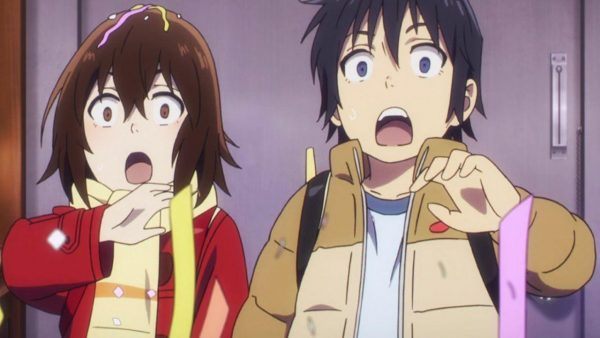 What if you have the power to go back in time and correct whats wrong! well this time travel anime series is dealing with this theme, it's story focuses on Satoru Fujinuma, who is sent back in time 18 years to prevent the events leading to his mother's death, which began with a series of kidnappings in his 5th grade year.
When tragedy is about to strike, 29 year old Satoru Fujinuma finds himself sent back in time before the accident happens. Satoru is a mangaka who will use this powerful yet mysterious experience, which he calls "Revival," to back in time and tries saving many lives. However, when he is wrongfully accused of killing his mom, Satoru is sent back to 18 years in the past. Soon, he realizes that his mother's murder is somehow linked to the abduction and killing of his childhood friend Kayo Hinazuki. now he wants rectify everything.
Boku dake ga Inai Machi focus on Satoru who wants to corrects the wrongs of 18 years ago and while saving those he cares about in the present.
Check Also: 10 Isekai Anime where the MC transports to another world and Become Op
---
24. Durarara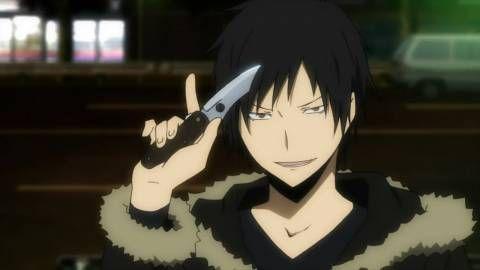 This Japanese animated series takes place In Tokyo's downtown district of Ikebukuro, amidst many strange rumors and warnings of anonymous gangs and dangerous occupants, one urban legend stands out above the rest – the existence of a headless "Black Rider" who is said to be seen driving a jet-black motorcycle through the city streets.
Ryuugamine Mikado has always longed for the excitement of the city life, and an invitation from a childhood friend convinces him to move to Tokyo. Witnessing the Black Rider on his first day in the city, his wishes already seem to have been granted. But as supernatural events begin to occur, ordinary citizens like himself, along with Ikebukuro's most colorful inhabitants, are mixed up in the commotion breaking out in their city.
Read Also: 10 Awesome Mafia Anime Series to Watch if you like Gangsters
---
23. Blue Exorcist
  Are you a Netflix member that love watching great anime shows! Well, you've Just bumped into one of the most significant demon anime with overpowered devil characters, especially if he happens to be the son of Satan!
Rin Okumura may not resemble the cloven-hooved one and doesn't carry a huge devil trident either. He seems like an ordinary teenager in human form. But when he transforms into a demon, twin blue flames hover above his head, his eyes turn blue, teeth sharpen and ears take an elf-like shape.
See Also: The 15 Best Supernatural Anime Series of 2019 To Watch Right Now!
---
Continue Reading By Clicking the Next Button