Anime about dragons, and other species have always been well-welcomed by fans. There is just something about these legendary creatures that captivates us, whether it's their majestic appearance, incredible power, or hidden mysteries. From the classic Dragon Ball to the more recent Ragna Crisis, dragons have been a constant presence in the anime world, making appearances in a wide range of genres such as action, adventure, fantasy, and even romance. In this article, we've compiled a list of the top 22 best anime about dragons to watch, highlighting the most epic and captivating depictions of these legendary creatures. With no further ado, let us show you the best amazing series, where you can witness the power and magic of dragons in anime!
22. The Tower of Druaga
First on the list of the best anime about dragons is The Tower of Druaga, where a legendary demon-infested tower, the country of Uruk launches an invasion during the Summer of Anu, a rare period when the demons lose their power due to the protection of the sky-god Anu. The Uruk army aims to reach the upper levels and suppress the monster Druaga. Meanwhile, inside the tower's first floor, a city called Meskia has formed where soldiers and adventurers coexist.
The adventurers seek the fabled Blue Crystal Rod, a legendary treasure resting at the tower's peak. With different groups and agendas in play, the outcome of this unique summer is uncertain. This 2008 anime adaptation of the game is a blend of adventure, comedy, and fantasy genres, making it a must-watch for fans looking for some anime with dragons.
21. Dragon Drive
Dragon Drive is a 2002 anime by Madhouse, based on the manga of the same name. The story follows Reiji Ozora, a notorious quitter, who is introduced to the virtual reality game "Dragon Drive" by his friend Maiko. Players in this game are matched with dragons that reflect their personalities and abilities, but Reiji is disappointed to receive Chibi, a small and cute dragon.
However, Chibi turns out to be the rarest dragon of them all. Reiji becomes determined to train Chibi and himself and discovers a newfound passion for the game. But, their training will be put to the ultimate test when they must save the world from those who have dark ambitions for Dragon Drive. The anime is about dragons and is an action-packed adventure with elements of comedy, fantasy, and sci-fi.
20. Dragon Goes House-Hunting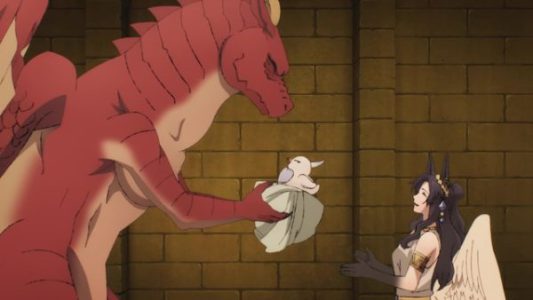 Signal.MD's 2021 anime series, follows Letty, a red dragon shunned by his family for failing to protect their eggs. With low stats and a meek personality, Letty must find a new home in a fantasy RPG world. However, Letty's defenselessness makes him an easy target for those who fear him. Fortunately, he meets the elf Dearia, who offers to help him find the perfect home. As they embark on a house-hunting adventure, they encounter fantastical creatures and formidable foes that stand in their way. Dragon Goes House Hunting is a good iyashiki comedy-fantasy anime that highlights a heartwarming tale of an unlikely duo on a quest for a place to call home.
19. Leviathan: The Last Defense
Next up, we have Leviathan: The Last Defense, an anime by studio Gonzo. Set in the beautiful fantasy world of Aquafall, where dragons and fairies reside. The peace is threatened by evil creatures brought forth by meteorites, endangering all life on the planet. To combat this threat, the fairy Syrup forms the Aquafall Defense Force, recruiting three dragon girls: Leviathan, Bahamut, and Jörmungandr. Together, they fight against their enemies and learn valuable lessons about growing up and working as a team. With comedy and fantasy themes, this 2013 anime features dragons and other species and is sure to enchant fans.
18. A Herbivorous Dragon of 5,000 Years Gets Unfairly Villainized
This is a 2022 anime that highlights an epic story about a dragon. Here we follow a peaceful and ancient dragon, who is suddenly thrust into the role of the villain when a young girl offers herself as a sacrifice to him. In order to get rid of her, he pretends to be the evil dragon leader of the Demon Lord's army. However, his little white lie inadvertently awakens the girl's hidden powers and sets off a chain of events that disrupts his formerly tranquil life. This adventure-filled comedy-fantasy anime follows the herbivorous dragon and the girl as they navigate their new roles in each other's lives.
17. Mysteria Friends
In Mysteria Friends, the 2019 fantasy anime, fans are transported to Mysteria Academy, a magical institution that teaches all three factions – humans, gods, and demons – in harmony. The story follows Anne, a studious princess, and Grea, a half-dragon/half-human princess, as they navigate their school life and develop a strong friendship. With themes of mythology and slice of life, as well as the soothing iyashikei element, Mysteria Friends features interspecies characters that everyone will fall in love with.
16. Ikkitousen: Dragon Destiny
Ikkitousen: Dragon Destiny is an action and ecchi anime produced by Arms in 2007. The story revolves around the ongoing confrontation between Kanto high schools, which reaches a new level with the awakening of dragons in the leaders of Kyousho and Seito Academy, Moutoku Sousou and Gentoku Ryuubi. The power balance between these institutions and their opponent, Nanyo Academy, is threatened when Shimei Ryomou seizes a dragon orb in China. The orb is said to grant strength to its wielder, and Shimei hopes to save Nanyo Academy's leader Hakufu Sonsaku from the adverse effects of her unstable gift.
Meanwhile, Moutoku's powers consume him, and he loses control over his own body to the Demon King's soul, whose unlimited ambitions endanger the stability of the region and the safety of his allies. As tensions grow to claim the dragon orb, Hakufu and Gentoku must put aside their differences and work together to thwart Moutoku's demonic plans. The anime's themes include martial arts, school, and superpowers, and it features a significant amount of fanservice.
15. Dragonar Academy
Dragonar Academy is a 2014 anime series produced by C-Station, based on a light novel. The show follows the story of Ash Blake, a first-year student at Ansarivan Dragonar Academy, where students learn to ride and tame dragons. Ash is known as the "number one problem child" among his classmates, as he is unable to summon his dragon despite having a large star-shaped brand that marks him as a future dragon master.
One day, Ash's dragon finally appears, but in a form unlike any other dragon seen before – as a beautiful girl. Ash is shocked when the dragon claims to be his master and he is her servant. As he struggles to adjust to his new role, he must navigate the challenges of school life, including rivalries and competitions between students. With his unique dragon partner by his side, Ash hopes to prove himself as a true dragon master and overcome his reputation as the school's laughing stock.
14. Dragonaut
This 2007 anime about dragons is from studio Gonzo and combines the genres of action, drama, fantasy, romance, and sci-fi to create an exciting story of survival and discovery. In the year 2045, the International Solar system Development Agency (ISDA) creates the "Dragonaut" weapon to destroy an asteroid headed for Earth. But when dragon-like creatures with destructive intentions appear on the planet, the Dragonaut becomes their only hope. Jin Kamishina, an 18-year-old boy who lost his family in a shuttle accident, becomes the chosen pilot after witnessing a murder by one of the creatures. Toa, a mysterious girl, saves him from falling to his death and joins him on his journey to uncover the mysteries of the dragons. Along the way, they encounter new allies and foes and develop close relationships. 
13. Orphen
Now we have Orphen, a 1998 anime about a young magician named Krilancelo who, after a tragic accident at the magic school known as the Tower of Fang, renames himself as Orphen and sets out on a journey to find a way to restore his friend Azalie to her former self. Azalie was transformed into the shape of a great dragon known as Bloody August due to the magical sword Baltanders.
Therefore, with his deep care for Azalie, Krilancelo is disappointed by the elders' lack of interest in saving her and decides to leave the Tower and his magical studies behind. With determination and the help of his friends, Orphen sets out to uncover the truth behind the accident and find a way to reverse Azalie's transformation. Along the way, he faces many challenges and battles against powerful foes in this action-packed, adventurous, and comedic fantasy tv show produced by J.C.Staff.
12. New Saga 
New Saga is a new time travel anime of 2023, which depicts a fierce battle raging on between Magic swordsman Kyle and the Demon Lord. Despite being seriously injured, Kyle manages to defeat the Demon Lord. However, on the verge of death, Kyle stumbles upon a relic in the possession of the defeated enemy, which sends him back in time. Upon realizing this, Kyle decides to take advantage of this opportunity to avoid repeating the same mistakes and become even stronger. Join Kyle on his adventure through time as he sets out to change the course of history and forge a new destiny for himself.
11. Dances with the Dragons
Dances with the Dragons, a 2018 dragon-themed anime from Seven Arcs Pictures, takes place in a world where dragons and Jushiki sorcerers coexist. Jushiki, a powerful formula that can bend the laws of physics, can be used for both creation and destruction. Gayus, a sorcerer down on his luck, teams up with the beautiful yet ruthless Jushiki practitioner, Gigina, to hunt dragons for bounties. But when they are hired to be security guards for a grand festival held by the kingdom's ruler, Mouldeen, they become embroiled in a series of mysterious killings of Jushiki sorcerers.
10. Dragon Crisis
Coming in, we have this 2011 anime called "Dragon Crisis," which highlights the story of Kisaragi Ryuji's normal high school life, which is suddenly turned upside down when his second cousin Eriko returns and they stumble upon a relic box from a black market dealer. Inside the box, they find a red dragon girl named Rose. To protect Rose from the dangerous black organization, Ryuji decides to use his power as a relic handler and fights against their threats. Along the way, he develops a romantic relationship with Rose, making their adventure even more complicated.
9. Drifting Dragons
This is an exciting 2020 anime about dragon hunters and their adventures in the sky. It's interesting how the dragons are seen as dangerous yet valuable creatures, which adds another layer of complexity to the story. For the past fifty years, humans have taken to the skies in search of dragons. Although these creatures pose a great threat, every part of them is highly valuable, leading brave hunters, known as "drakers," to risk their lives aboard specialized dragon-hunting airships.
Even with the thrill and excitement of the hunt, the life of a draker is far from easy. Society ostracizes them, leaving them without a place to call home. Maintaining an airship is also a costly and tedious affair, and capturing dragons is even more challenging since each one is unique. The Quin Zaza is one of the last remaining airships dedicated to hunting dragons. Its crew consists of Takita, an eager newcomer striving to earn her place on the ship, Mika, a highly skilled but reckless hunter, and Jirou, a young man seeking to confront both his past and the dragons. With a shared goal in mind, these hunters face difficult aerial battles that require daring feats of skill and strategy, along with their fair share of danger.
8. Dragon Pilot: Hisone & Masotan
Dragon Pilot: Hisone & Masotan is a 2018 award-winning anime that blends comedy, drama, and fantasy with a military theme. Hisone Amakasu, searching for purpose in her life, joins the Japan Air Self-Defense Force (JASDF) and is stationed at Gifu Airbase. She stumbles upon the JASDF's biggest secret – the Organic Transformed Flyer (OTF), a dragon with the ability to disguise itself as an aircraft. After being swallowed by the OTF, she is chosen to be the next Dragon Pilot. Along with her fellow pilot cadets and her own OTF, Maso-tan, Hisone must overcome her insecurities and unlock her true potential to become a Dragon Pilot while uncovering the secrets of the OTFs.
7. Burn The Witch
Burn The Witch is an anime movie series about dragons. While the citizens of London consider dragons to be nothing more than a fairy tale, statistics show that 72% of the city's deaths are actually caused by these grotesque creatures. However, in the mirror dimension of "Front London," known as "Reverse London," dragons can be seen with the naked eye.
Ninny Spangcole is a member of a popular girl group, but in Reverse London, she works as a "Witch" at Wing Bind, an organization that uses magic to dispatch agents to exterminate dragons and protect the citizens of both Londons. Ninny and her partner, Noel Niihashi, also protect Baldo Ywain Parks, a young man with a strange connection to the dragons.
Thanks to Wing Bind's hard work, there have been no fatal dragon attacks in almost a century. However, the peace is shattered when Baldo's presence unexpectedly causes a Dark Dragon to wreak havoc in the city. The witches face further challenges when Ninny's troublesome former bandmate appears in Reverse London along with another powerful dragon.
6. Fairy Tail
Fairy Tail is a long-running action-packed adventure anime set in the enchanted Kingdom of Fiore. The vivacious Lucy Heartfilia longs to join the prestigious magical guild of Fairy Tail, and her wish is granted when she encounters the dragon slayer Natsu Dragneel, also known as the "Salamander" of Fairy Tail.
As Lucy becomes part of the guild, she finds herself in the midst of Natsu's fierce rivalry with Gray Fullbuster, as well as the intimidating presence of the unbeatable warrior Erza Scarlet. Together, they take on odd jobs and embark on dangerous missions to save the world from destruction.
The bond between the guild members runs deep, surpassing that of even family, as they face countless perils together. But looming in the background is the ominous figure of Zeref, the feared master of dark magic, who poses a constant threat to their safety and must be stopped at all costs.
5. Ragna Crimson
Produced by Silver Link, Ragna Crimson is a new fantasy action anime of 2023 that takes place in a world where dragons reign supreme over the sky, sea, and land. To defeat these mighty beasts, dragon hunters must push beyond the limits of normal human strength. Ragna, a determined dragon hunter, teams up with the enigmatic Crimson, whose true intentions are shrouded in mystery. Together, they seek to take down the dragon monarchs and emerge victorious, no matter the cost. 
4. Rage of Bahamut: Virgin Soul
Shingeki no Bahamut: Virgin Soul is a 2017 anime that takes place in a world where humans and demons once united to defeat the monstrous dragon, Bahamut. However, ten years after this great battle, the human society in the city of Anatae has become prosperous thanks to the newly appointed king, Charioce XVII, who has taken power from the gods and enslaved the demon race.
As the tension between humans and demons grows, a young bounty hunter named Nina Drango arrives in the capital hoping to settle down. But her peaceful life is disrupted when she encounters a vengeful Rag Demon and a noble knight named Kaisar Lidfard, who struggles with his own moral conflict. Shingeki no Bahamut: Virgin Soul By studio Mappa, explores the ongoing social and moral conflicts between humans, gods, and demons, as they fight for power, survival, and dominance in a world that is on the brink of chaos.
3. Gate
Gate is a good 2015 anime series produced by A-1 Pictures. It follows the story of Youji Itami, an off-duty officer of the Japan Self-Defense Forces and an avid otaku. During his visit to a doujin convention in Ginza, Tokyo, a massive gate-shaped portal suddenly opens up, unleashing supernatural creatures and warriors donning medieval armor that begin to wreak havoc on the city. Youji immediately springs into action to save as many people as possible while the rest of the JSDF mobilizes to stop the invasion.
In the aftermath of the attack, Youji is appointed to lead a special JSDF reconnaissance team tasked with traveling beyond the gate – now known as the "Special Region" – to investigate the situation and establish peaceful relations with the ruling empire. However, failure could mean an all-out war that would engulf both sides of the gate. With cute girls, interspecies, high stakes, and intense action, Gate is a must-watch anime for fans of isekai and military genres.
2. Dragon Ball
Dragon Ball is a classic anime series by Toei Animation that follows the adventures of Gokuu Son, a young boy who lives in the woods all by himself. One day, he meets a girl named Bulma who is searching for the magical Dragon Balls, which can grant any wish to the person who collects all seven. Bulma convinces Gokuu to join her on her journey, and together they set off on a quest to find the Dragon Balls.
Along the way, they meet new friends such as the old martial arts master Muten-Roshi and Kuririn, a young boy who wants to become a disciple. Together, they train and improve their martial arts skills for the upcoming World Martial Arts Tournament. However, they soon discover that there are those who would abuse the power of the Dragon Balls for their own selfish desires. To prevent this from happening, Gokuu and his friends must become stronger fighters and use their newfound strength to protect the people around them.
1. Miss Kobayashi's Dragon Maid
Finally at the top of our list of the best dragons anime is Miss Kobayashi's Dragon Maid. This is a fantasy and slice-of-life anime about a young woman named Kobayashi who encounters a dragon on her balcony one morning. The dragon transforms into a cute, energetic girl named Tooru, who asks to stay with Kobayashi as a way to repay her for saving her life. Despite some initial hesitation, Kobayashi agrees and Tooru becomes her personal maid.
Tooru is incredibly efficient at her job, but her unorthodox methods of housekeeping often leave Kobayashi feeling horrified and overwhelmed. As it turns out, Tooru has a complicated past and emotional baggage that makes her arrival on Earth more than just a chance encounter. To make matters more complicated, other mythical creatures are drawn to Tooru and begin showing up at Kobayashi's home. Kobayashi does her best to handle the chaotic situation and adjust to her new life with a dragon maid, but nothing could have prepared her for this adventure.