Iyashikei anime is recommended genre for those fans who are tired of the fast-paced, action-packed anime that leaves them feeling drained and exhausted. This genre, born in Japan, is a peaceful sub-genre of slice-of-life that allows the audience to immerse themselves in calm environments and escape the chaos of reality. Iyashikei anime's ultimate goal is to create a healing effect on the viewers, leaving them feeling rejuvenated and calm. In this article, we will introduce you to the top 30 most remarkable Iyashikei anime series that will give you the much-needed break from reality, taking you on a journey of peace and tranquility.
30. Aiura
Starting off the list of the best iyashikei anime recommendations with Aiura, a delightful and calm anime with 12 episodes produced by LIDENFILMS. It's a comedy, school series that revolves around the lives of three high school girls – Ayuko, Kanaka, and Saki. The story begins when Ayuko goes out for a walk during her spring break and stops by a local café. She bumps into a girl, and later, to her surprise, meets her again at school. The two girls introduce themselves as Kanaka and Saki, and they become fast friends with Ayuko. The three girls have distinct personalities that complement each other – Kanaka is bubbly and carefree, Saki is a tomboy, and Ayuko is laid-back. Together, they make every day at school a fun and silly experience.
29. Sound of the sky
Next up, we have Sound of the Sky, a nice iyashikei anime produced by A-1 Pictures that tells the story of the peaceful town of Seize, situated on the edge of Helvetia, a country in turmoil due to its increasingly strained relationship with the Roman Empire. In Seize, life carries on, unaffected by the political tension. The 1121st platoon of the Helvetian army stationed at the Clocktower Fortress welcomes a new recruit, Kanata Sorami, an enthusiastic young girl with a dream of playing the bugle.
Under the tutelage of Sergeant Major Rio Kazumiya, a skilled trumpeter, Kanata learns and grows alongside her teammates – the reserved mechanic Noël Kannagi, the fierce gunner Kureha Suminoya, and the compassionate Captain Felicia Heideman. Together, they embrace the beauty of Seize and experience the strength of the community that endures, even in a world fraught with uncertainty.
28. Tsuritama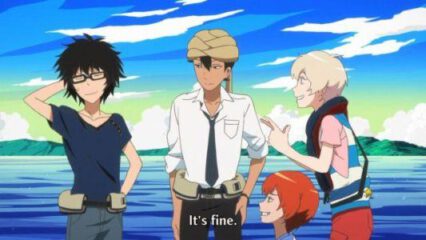 Tsuritama is a unique Iyashikei anime with good feels that blends sci-fi and slice-of-life genres, telling the story of Yuki Sanada, a socially awkward boy who struggles to fit in and moves around frequently with his grandma. After settling in Enoshima, a beautiful seaside town, Yuki hopes for a fresh start, but his plans are interrupted by the arrival of Haru, a fellow transfer student who claims to be an alien and declares Yuki to be his friend.
Haru ropes Yuki and their fishing enthusiast classmate, Natsuki Usami, into a mission to save the world from an unknown threat lurking in the ocean. Along the way, they embark on a delightful and whimsical adventure filled with humor, heart, and self-discovery. As they tackle this absurd mission, Yuki and his friends discover the joys of friendship, the beauty of life, and the power of facing one's fears.
27. School Babysitters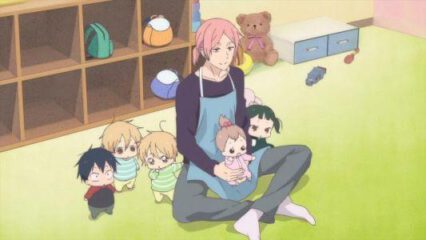 As Ryuuichi starts his new role as a school babysitter, he learns about the challenges that come with taking care of young children and how to be a responsible guardian to both his brother and the other toddlers. He also forms strong bonds with the other members of the babysitter's club, who help him navigate the ups and downs of his new life. Through this experience, Ryuuichi learns important lessons about love, family, and growing up.
Throughout the series, the audience gets to see the growth of Ryuuichi as he becomes a more confident and competent caregiver, while also exploring the challenges of childhood, family, and growing up. School Babysitters is a peaceful anime that is both heartwarming and often humorous that is sure to appeal to both young and adult fans.
26. Tonikaku Kawaii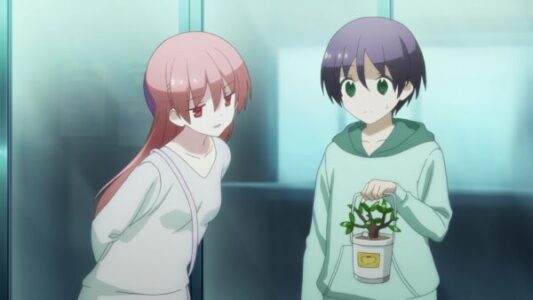 Spanning genres of romance and comedy, Tonikaku Kawaii is a relaxing anime that follows Nasa Yuzaki; a driven high school student with big plans for his future. He's always been at the top of his class and has his sights set on attending a prestigious university. But one fateful evening, everything changes. While walking home in the snow, Nasa spots a gorgeous girl across the street and is immediately captivated. Determined to talk to her, he rushes over – only to be suddenly hit by a truck. As he lies there injured, the girl rushes to his side and saves his life. At that moment, Nasa is struck by the beauty and mystery of this stranger, and he decides he won't let this chance encounter end without getting to know her better.
Despite his injuries, Nasa forces himself to chase after her and nervously asks her out on a date. To his surprise, she accepts his invitation – with one condition. If they're going to be together, he must marry her. With a mix of excitement and nervousness, Nasa begins a whirlwind romance with a girl who is both intriguing and mysterious. Through their time together, he learns about the power of love and the importance of following your heart, no matter what obstacles may come your way.
25. Aria The Animation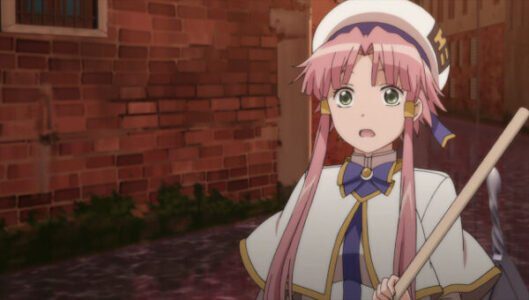 Aria The Animation is an anime that will take you on a peaceful and uplifting journey. Set in the 24th century, humanity has successfully colonized the previously uninhabitable planet Aqua, formerly known as Mars. Neo Venezia, the city that serves as the main setting, is a perfect replica of the ancient city of Venice, complete with winding waterways and gondolas as the main mode of transportation.
The anime follows the adventures of Akari Mizunashi, a free-spirited teenager from Manhome who now works as a novice Undine (tour guide) for the Aria Company. As she guides visitors through Neo Venezia's many wonders, Akari becomes deeply connected to the city and its residents, learning valuable life lessons along the way.
Through her experiences, Akari comes to understand the true beauty of miracles and the power of human connection. Join her as she explores Neo Venezia, forming new relationships and discovering the world in a way that only an Undine can.
24. Hinamatsuri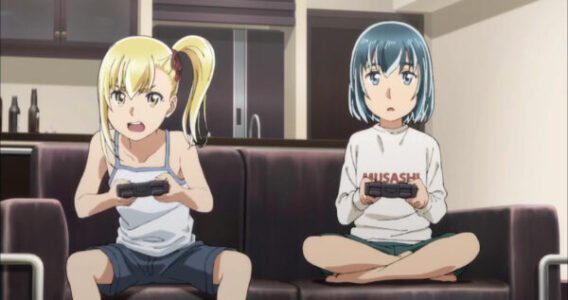 Coming in, we have Hinamatsuri, a seinen anime that's sure to delight adult fans with its unique blend of supernatural elements and heartwarming storytelling. The series follows Yoshifumi Nitta, a high-ranking member of a yakuza organization, as his life takes a dramatic turn after a strange capsule crashes into his home and out pops a young girl with blue hair and powerful abilities.
With Hina's powers out of control and her future uncertain, Nitta finds himself becoming her caregiver and mentor. Despite the challenges of balancing his yakuza duties and taking care of Hina, Nitta soon discovers that she's more than just a mysterious girl with powers. With her help, he successfully navigates a dangerous construction deal, but when a rival yakuza group frames him for attacking their boss, Nitta is faced with a tough choice.
With Hina by his side, Nitta sets out to clear his name and take down the rival yakuza group. But as their journey progresses, Nitta begins to realize that Hina is not only a valuable asset in his yakuza business but also a loyal and supportive friend.
23. My Roommate is a Cat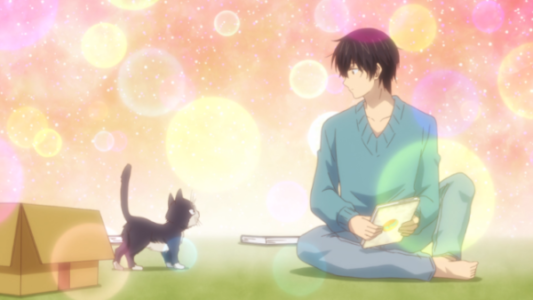 My Roommate is a Cat is a sweet pet-themed anime that follows the story of Subaru Mikazuki, a mystery novel author, and Haru, a small grey and white cat. Despite being a major introvert and an awkward person, Subaru finds himself taking care of Haru after meeting her at his parent's grave.
Subaru, who has never taken care of anyone else in his life, must learn how to take care of Haru, and in turn, Haru helps Subaru open up and come out of his shell. With humor, touching moments, and a beautiful depiction of the relationship between a human and a pet. Known in Japanese as "Doukyonin wa Hiza, Tokidoki, Atama no Ue" is well-recommended anime that will warm the hearts of viewers of all ages.
22. My Senpai is Annoying
Moving on, we have My Senpai is Annoying, a mundane Iyashikei workplace anime that takes place at a trading company. Futaba Igarashi, a dedicated saleswoman, has been able to excel in her role due to the guidance and mentorship of her senior coworker Harumi Takeda. Despite Takeda's tendency to tease Igarashi for her short stature, causing her frustration and annoyance, she can't help but admire his unwavering reliability and willingness to assist in any situation at the office. As Igarashi and Takeda's relationship blossoms beyond that of mere coworkers, the two embark on a journey of growth, self-discovery, and an unlikely friendship.
21. Tamako Market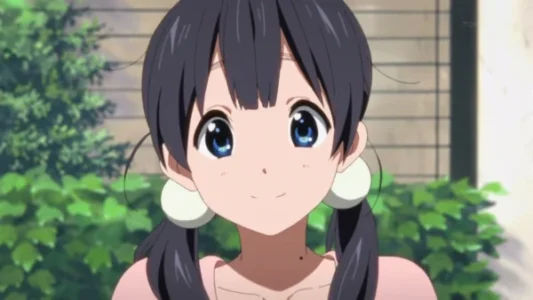 Tamako Market is a charming anime produced by Kyoto Animation. Set in the Usagiyama Shopping District, it revolves around the lives of the close-knit community of business owners, including Tamako Kitashirakawa, a teenage girl from a mochi-baking family. When she encounters a talking bird named Dera Mochimazzi, who is searching for a bride for his country's prince, she becomes embroiled in his mission. Meanwhile, Tamako's friend Mochizou Ooji hides his feelings for her, as their fathers are fierce mochi rivals. This is a beautiful anime that explores the relationships between the characters and the comedy and drama that ensues.
20. Bartender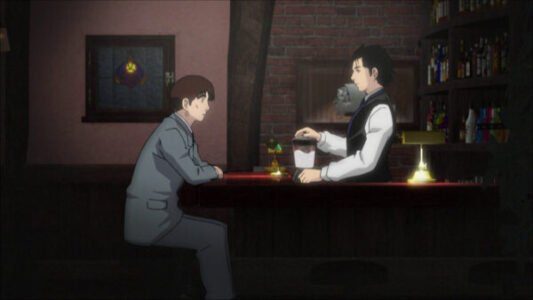 Be ready for an uplifting anime that will heal your soul, called Bartender. It's a workplace drama with adult characters. The show follows a prodigy bartender named Ryuu Sasakura who runs a cozy bar called Eden Hall in the backstreets of the Ginza district. The catch is that the bar only finds those who truly need it. Ryuu is a master at mixing incredible cocktails that seem to have healing properties. The customers who stumble upon Eden Hall are all struggling with their own personal issues, but Ryuu always knows just the right drink to help guide them toward solace and peace.
19. Restaurant to another world
If you wanna escape reality with an enchanting iyasheiki anime then Restaurant to Another World is a good choice. On the edge of a Tokyo shopping district lies Western Restaurant Nekoya, a cozy eatery beloved by locals for its scrumptious Japanese and Western cuisine. However, there's something extraordinary about this restaurant that only a select few know about.
While the restaurant appears to be closed on Saturdays, it's actually open to patrons from other dimensions. From magical creatures like elves and fairies to fierce dragons and powerful mages, all sorts of strange and fantastical beings flock to this eatery. But they're in good hands with the mysterious "Master" chef, who serves up their favorite dishes with a gentle smile and a warm heart. And as they keep returning week after week, it becomes clear that this special restaurant is a magical haven for those seeking delicious food and a temporary escape from their own worlds.
18. Flying Witch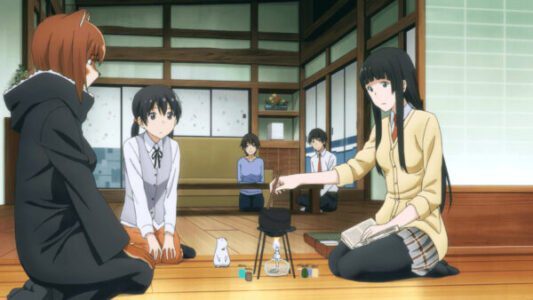 Flying Witch is one of the best iyashikei anime of all time, that's a one-of-a-kind gem. Set in a world of witches, the young apprentice Makoto Kowata must strike out on their own at age 15 to study witchcraft. Makoto leaves her Yokohama home with her black cat familiar, Chito, and heads to the magical region of Aomori, where she's welcomed by her distant cousins Kei and Chinatsu.
Despite attending high school like any other teen, Makoto's life is far from ordinary. Her deep fascination with witchcraft leads her on all sorts of wondrous adventures, like meeting a dog fortune teller and receiving mystical training from her older sister Akane. With her friends and family, Makoto revels in the whimsical and charming world of witchcraft that's filled with unique surprises at every turn.
17. New Game!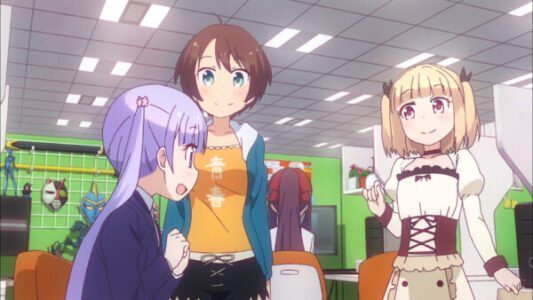 Like a tonic for the mind, New Game is a delightful Iyashikei comedy anime that you should really watch, especially after a long day at work. It's not particularly groundbreaking, but it doesn't have to be – it's simply a lot of fun to watch. From a young age, Aoba Suzukaze has adored the Fairies Story video game series, particularly the characters' designs. So when she graduates high school, she leaps at the chance to work at Eagle Jump, the company behind her favorite game. On her first day, Aoba learns that she'll be working on the third installment of the series, alongside lead character designer Kou Yagami.
At Eagle Jump, Aoba meets a diverse cast of game-loving characters, each with their own quirks and passions. There's monster designer Yun Iijima, shy messaging enthusiast Hifumi Takimoto, figurine collector Hajime Shinoda, orderly art director Rin Tooyama, cat-loving game director Shizuku Hazuki, and short-tempered head programmer Umiko Ahagon. Together, Aoba and her colleagues navigate the twists and turns of video game creation, from perfecting character designs to troubleshooting errors along the way.
16. Squid Girl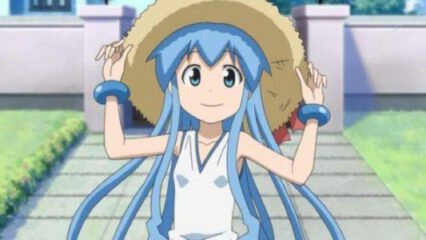 Squid Girl is a fun slice-of-life anime tv show about a squid who decides to rise up against humans for polluting the ocean. She uses her squid-like abilities such as tentacles, ink spitting, and bioluminescence to show humans who's boss. However, her plan is cut short when she accidentally destroys part of a beach house and has to work there as a waitress to pay for the damages. Even with her failed attempt at world domination, Ika Musume quickly finds herself enjoying her new job and making new friends. Shinryaku! Ika Musume is full of wacky and hilarious moments as Ika Musume navigates her new life on the surface and tries to make her mark on the world, one dish of squid ink spaghetti at a time!
15. Girls' Last Tour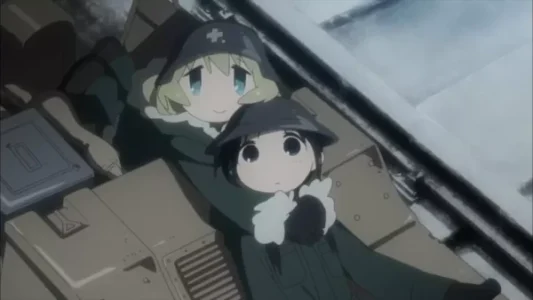 Taking place in an abandoned city, Girls' Last Tour is a heartwarming adventure about two cute girls who strive to find hope in a dying world. This recommended iyashikei anime mingles themes of mystery, sci-fi, and slice-of-life genres while offering a healing experience to the fans. In a desolate city, only the sound of a motorbike disrupts the silence. The riders, Chito and Yuuri, are the last survivors of a war-torn city. In order to survive, they scavenge old military sites for food and supplies, while speculating about the world that once existed. Despite the loneliness that looms over them, they find solace in each other's company. Through shooting practice, reading new books, and even having snowball fights on a frozen battlefield, Chito and Yuuri make the most of their dark days.
14. You and Me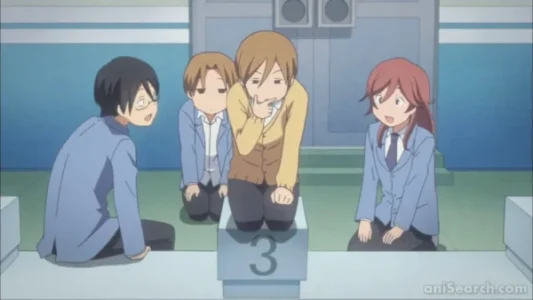 Four friends, Shun, Kaname, Yuuta, and Yuuki, have been together since childhood, and are now in their second year of high school at Homare High. Their peaceful everyday routine is disrupted by the arrival of a new transfer student, Chizuru Tachibana, who brings with him a variety of exciting and creative ideas that shake things up for the group. With Chizuru's influence, they start to experience new adventures and learn more about each other and themselves, navigating the complexities of high school life together. You and Me is a heartwarming comedy, drama, and romance that provides a healing escape from the stresses of everyday life.
13. Tsuki ga Kirei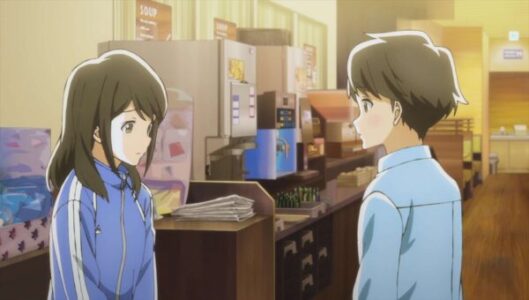 Tsuki ga Kirei is a heartwarming romantic school anime with iyashikei themes produced by Studio feel. Kotarou Azumi, an aspiring writer, and Akane Mizuno, a track team member, end up in the same class in their final year of junior high. Although they start as strangers, their chance encounters awaken a pure desire for each other. However, love is not always easy, and pursuing their feelings comes with its own anxieties and heartaches. Despite the uncertainty and competing affections around them, Kotarou gathers the courage to ask Akane a single question that changes their relationship forever.
12. The Helpful Fox Senko-san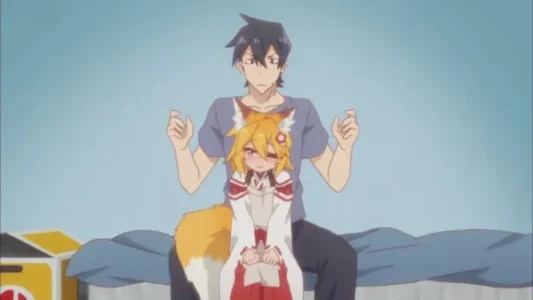 Here we have The Helpful Fox Senko-san, an anime that features fox girls and falls under the genres of Iyashikei and supernatural. The show follows Kuroto Nakano, a hardworking member of the workforce who is constantly stressed out by his job. However, he lives alone and must carry on to sustain himself. What Kuroto doesn't know is that this stress takes the form of darkness residing within a person's body, which will eventually bring their life to ruin.
Luckily for Kuroto, fox deities can see this darkness and have a duty to save people before it's too late. In order to help rid Kuroto of his stress, Senko-san, an eight-hundred-year-old fox girl, volunteers to take care of him and does everything she can to ease the tension in his weary soul.
11. K-On!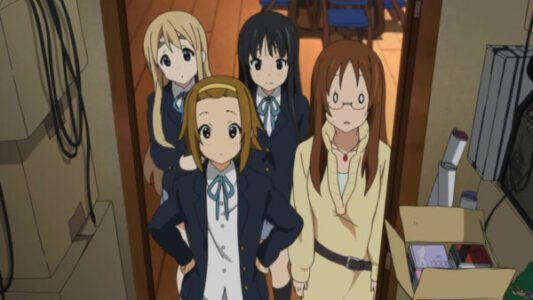 Produced by Kyoto Animation, K-ON is an anime series that will leave you feeling good. The series features so many cute girls doing cute things. The story kicks off at the beginning of a new school year, Yui Hirasawa is undecided on which club to join. She stumbles upon the Light Music Club and mistakenly thinks it's for simple instruments, like castanets. Despite her lack of musical ability, the club members try everything to convince her to join as they face disbandment. Finally, they play a piece that sparks Yui's passion and she decides to join the club. From then on, they enjoy practicing and hanging out together in their delightful club.
10. Acchi Kocchi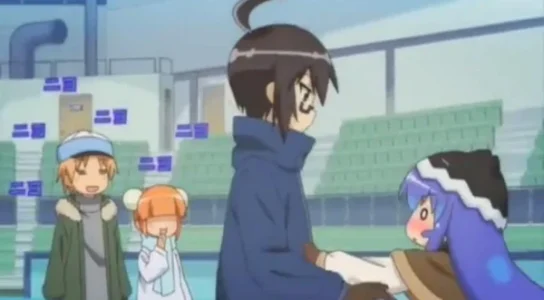 Spanning genres of comedy, school, and Iyashikei, Acchi Kocchi is a cute anime that tells the story of Tsumiki Miniwa, who is in love with her best friend, Io Otonashi. Tsumiki has a hard time confessing her feelings to Io, even though their friends see them as a perfect match. Despite the teasing and hints from her friends, Io doesn't seem to notice her affection. The series follows Tsumiki's daily school life as she spends time with her friends and Io, hoping to find the courage to confess her true feelings to him.
9. Kuma Kuma Kuma Bear
Well, all you have to do is to sit back and immerse yourself in the world of Kuma Kuma Kuma Bear, an isekai iyashikei anime that you will never forget. After obsessively playing a VRMMO game, World Fantasy Online, for almost a year, fifteen-year-old Yuna receives a bear costume from the game administrators. Despite its embarrassing appearance, the costume has overpowered stats and effects that make her character unbeatable. However, after accepting the bear equipment, Yuna finds herself unable to log out and is transported to another in-game world.
As she navigates this new environment, Yuna rescues a girl named Fina from wild wolves, and the two set off for the city of Crimonia. Although Yuna stands out due to her peculiar bear outfit, her reputation as a skilled fighter spreads, and she earns the nickname "Bloody Bear." Persevering with this attention, Yuna embraces her new life and decides to become an adventurer.
8. Non Non Biyori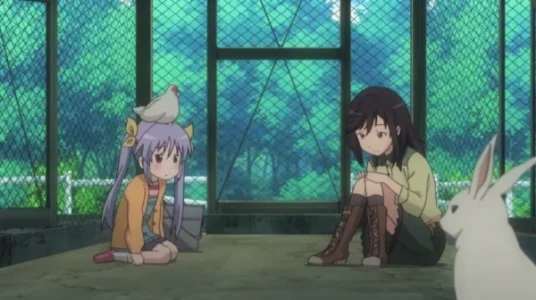 Are you feeling stressed and anxious lately? If so, then Non Non Biyori is the perfect remedy for you. This Iyashikei anime is designed to make you forget about your worries in just a matter of seconds. It has everything you need – the setting, the plot, the sound, the music, the art, and the humor – all perfectly crafted to help you relax and feel at ease.
The story revolves around Hotaru Ichijou, a city girl who moves to the countryside with her family. She attends a school with only four other students, and they all share a single classroom. Despite the isolation and lack of convenience, Hotaru finds the charm of the countryside through her friendship with her classmates. The group is led by Renge Miyauchi, a perceptive first-grader, and also includes the Koshigaya siblings – Suguru, Komari, and Natsumi. Hotaru's arrival brings a fresh perspective to the group and enlivens their daily routine with her outside knowledge and experiences.
7. Azumanga Daioh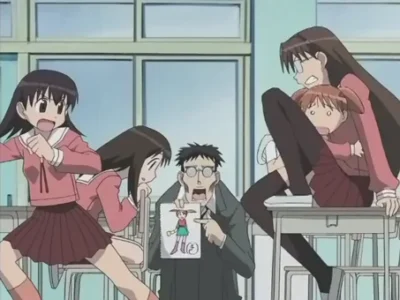 One of the top iyashikei anime of all time is Azumanga Daioh,  a lighthearted and humorous tv show produced by JC Staff that is perfect for fans of slice-of-life comedies. It follows the antics of Chiyo Mihama, a 10-year-old prodigy who starts her high school career surrounded by a quirky cast of characters.
Along with Chiyo, there is her homeroom teacher, Yukari Tanizaki, who is just as unusual as her students, and a group of friends that includes Tomo Takino, an energetic tomboy; Koyomi Mizuhara, Tomo's quick-tempered best friend; and Sakaki, a tall, athletic beauty with a hidden love for cats. The mix is completed by transfer student Ayumu Kasuga, a dreamer with some unconventional ideas about Chiyo's pigtails. Together, this group of girls navigates the ups and downs of high school life, with constant laughter, surreal moments, and touching reflections on the fleeting nature of this period in their lives.
6. Yuru Camp
Continuing the list of must-watch iyashikei anime series, Yuru Camp is a unique and adorable show that depicts the beauty of nature and the joy of camping. Rin Shima, the main character, prefers to camp alone at the base of Mount Fuji, but her solitary camping trips take an unexpected turn when Nadeshiko Kagamihara stumbles upon her campsite. Despite their differences, the two girls bond over their shared love of the outdoors and have a memorable night together. As the series progresses, viewers are treated to stunning landscapes, delicious food, and heartwarming friendships that will leave them feeling warm and fuzzy inside. So, grab a cup of hot cocoa and cozy up for a relaxing and delightful journey with Rin and Nadeshiko in "Yuru Camp."
5. Teasing Master Takagi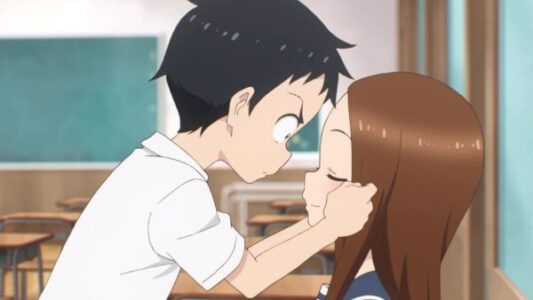 Coming in, among the top anime with iyashikei themes, we have the charming and innocent romcom Teaser Takagi San, perfect for fans looking for feel-good tv shows. The story revolves around Nishikata, who struggles with the fact that his classmate Takagi knows him too well and loves to tease him at every opportunity. Using her knowledge of his behavior, Takagi predicts his reactions to her teasing, making it almost impossible for Nishikata to make a successful comeback. Despite this, Nishikata remains determined to turn the tables on Takagi and make her blush from his teasing, keeping the romantic tension high.
4. Bunny Drop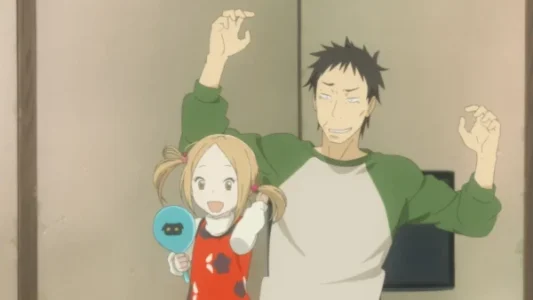 I think I gotta say this! Recently I had the pleasure of watching Usagi Drop and it was truly an amazing experience. The heartwarming story follows Daikichi Kawachi, a 30-year-old bachelor who is wandering aimlessly through life until his grandfather's sudden passing changes everything.
When he arrives at the family home for the funeral, he meets Rin, his grandfather's illegitimate daughter, and is shocked to find that none of his relatives are willing to care for her. Outraged by their coldness towards Rin, Daikichi decides to take her in, despite having no prior experience in childcare. The story then follows Daik chi's journey as he learns to be a father and raises Rin with his gentle and affectionate nature. Usagi Drop is a heartwarming exploration of the warmth and interdependence that are at the heart of a happy, close-knit family. If you're looking for an anime that will leave you feeling uplifted and inspired, Usagi Drop is definitely a must-watch.
3. Natsume's Book of Friends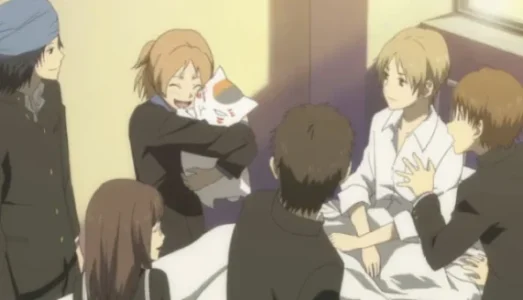 If you're looking for a heartwarming and emotional anime, Natsume's Book of Friends is a must-watch. The story follows Takashi Natsume, a boy with the unusual ability to see and interact with youkai, or spirits, that are invisible to most people. Because of this, he has always been an outcast and struggled to fit in with his foster families and classmates. One day, Natsume accidentally releases a powerful youkai named Madara, who recognizes him as the grandson of Reiko Natsume, a legendary youkai hunter who created the Book of Friends, a powerful tome that contains the names of the youkai she defeated.
Although Natsume has no interest in the book's powers, he decides to keep it to honor his grandmother's memory and protect it from the youkai who seek to use it for their own purposes. In exchange for his help, Madara becomes Natsume's bodyguard and mentor, taking the form of a cute and chubby cat named Nyanko-sensei. As Natsume learns more about his grandmother's past and connects with both youkai and humans, he slowly begins to heal from his past traumas and find his place in the world.
2. Barakamon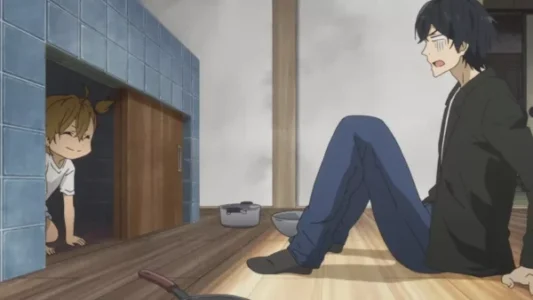 Now, there's this anime called Barakamon that's all about a talented, good-looking, and somewhat full-of-himself calligrapher named Seishuu Handa. When one of his pieces gets harshly criticized, Seishuu totally loses it and gets in trouble with some serious consequences.
To teach him a lesson and help him grow as an artist, Seishuu's dad banishes him to a remote island far from the bustling city life he's used to. He's hoping the change of scenery will inspire Seishuu to develop his own unique style of calligraphy. But life on the Goto Islands is nothing like Seishuu expected. He's constantly interrupted by the island's lively and curious residents, including a group of energetic kids, a pack of fangirls, and a bunch of eccentric old-timers who can't seem to leave him alone.
As he tries to find some peace and quiet to work on his craft, Seishuu learns some unexpected and valuable lessons from his new neighbors. Barakamon is a heartwarming and hilarious anime that explores the joys and challenges of finding inspiration and discovering oneself in unexpected places.
1. Mushishi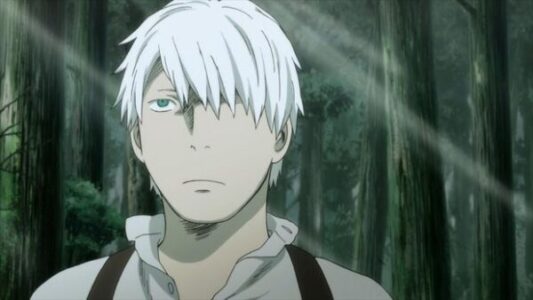 Mushishi's unique mix of fantasy and philosophy makes it without a doubt, one of the best examples of a beautiful iyashikei anime out there. The show's subtle approach is a refreshing change from other anime that often rely on a philosophical tone to sound intelligent.
The show introduces us to "Mushi," the most basic form of life in the world that exist solely for the purpose of "being." These entities can take on various forms, mimicking everything from plants and diseases to rainbows. Yet, despite their ubiquity, detailed information about them is hard to come by as most humans remain unaware of their existence. The series focuses on Ginko, a Mushishi, whose life's work is to research these elusive creatures and uncover their place in the world's hierarchy of life. As he chases down rumors of Mushi sightings, he hopes to unravel the mystery of their existence, a quest that could potentially uncover the meaning of life itself.
Summary
In summary, all of the best iyashikei anime series featured in this article, are sure to provide a refreshing and healing viewing experience that can help us unwind and relax. These calm Japanese tv shows are a departure from the typical action and conflict-based anime series and offer a different kind of escape from our daily lives. If you're in need of a break that will leave you feeling refreshed and serene, then these TV shows are definitely worth checking out.