I still remember watching "Great Teacher Onizuka," the best workplace anime I have ever seen. Since then, I have been on the lookout for anime series that feature a workplace setting and provide a glimpse into the lives and careers of people in Japan. The workplace genre is one of the most popular within the anime world, showcasing the ups and downs of working life, and various jobs through the eyes of its characters.
Well, most of these anime series recommendations depict the daily life of employees, be they waitresses, salarymen, or other professions. Office politics, relationships, daily duties, and the little things that characters do to pass the time are frequent themes in these titles. Without no more delay, here is a list of some of the best workplace anime that highlight the careers, challenges, and successes of work life.
30. Genshiken
First on our list of the best workplace anime is Genshiken, a comedy anime about a college club for otaku (people who are passionate about anime, manga, and video games). The main character is a college student named Sasahara who joins the club and begins working with his fellow otaku to produce doujinshi (self-published manga). As he becomes more involved in Genshiken, Sasahara begins to see that being an otaku is not something to be ashamed of and starts to embrace his passion for anime, manga, and other forms of otaku culture. He also learns to respect the diverse interests of his fellow club members and begins to appreciate their unique perspectives on otaku culture. Along the way, he forms close bonds with the members of Genshiken, who provide him with a sense of community and belonging.
29. Rail Wars!
Rails Wars is a thrilling workplace anime set in an alternate universe, where the Japanese government has full authority over the nation's railway systems. This governance brings stability and prosperity to the railway industry, making it an attractive career option for many. Naoto Takayama, who yearns for a comfortable life, joins the training program at Japan National Railways. The program is designed to test the trainees' knowledge of trains and their ability to tackle any challenge that comes their way.
As Naoto begins his journey, he meets a diverse group of trainees – Aoi Sakura, the athletic one; Sho Iwaizumi, the foodie; and Haruka Komi, the walking encyclopedia. While working towards becoming a full-fledged employees, they face various obstacles including purse snatchers, bomb threats, and the dangerous extremist group "RJ" which aims to privatize the railway system. Together, Naoto and his colleagues navigate the challenges of the trainee period and strive to secure their future in the railway industry.
28. Midnight Occult Civil Servants
Midnight Occult Civil Servants is a fantasy supernatural anime that takes place in a government office. The show revolves around a team of experts who handle cases involving supernatural creatures. The main character, Arata Miyako, joins the Nocturnal Community Relations Division and is shocked to learn that all of the creatures he once thought were just legends are actually real. To his surprise, he is the only human who can understand their language. After being mistaken as the famous Heian-era exorcist, Abe no Seimei, Arata begins to investigate his connection to the exorcist while solving cases. However, Arata soon realizes that dealing with supernatural creatures is not as simple as he thought, as the danger becomes a part of his everyday work and his special ability begins to present unexpected challenges.
27. Sakura Quest
Sakura Quest is an inspiring anime set in a workplace environment. The story follows Yoshino Koharu, a recent college graduate who yearns for an exciting life in Tokyo. After a series of failed job searches, she finds a part-time position as the queen of the small town of Manoyama's "Kingdom of Chupakabura." Upon arriving, she discovers she was mistakenly offered the role but decides to take it on and help the local tourism board revitalize the town. With the help of the tight-knit community, Yoshino strives to bring new life to Manoyama while preserving its rich traditions and cultural bonds.
26. Ace Attorney
Ace Attorney is a cool job themed anime that explores the world of criminal justice. Our protagonist, Ryuuichi Naruhodou, is a passionate and determined defense lawyer, who since childhood, has been on a mission to protect the innocent. He is guided by the wisdom of his mentor Chihiro Ayasato. As Ryuuichi takes on his first case, he quickly realizes that the courtroom is a battlefield, where every move must be calculated and every detail meticulously examined.
The anime follows Ryuuichi as he faces a series of cases that challenge his resolve and put his legal skills to the test. He must sift through lies and find the truth behind each crime, in order to prove the innocence of his clients. But he is not alone in his quest for justice; opposing him is the ruthless prosecutor, Reiji Mitsurugi, who will stop at nothing to secure guilty verdicts.
25. Konohana Kitan
Konohana Kitan is an anime about work life, that focuses on Yuzu, a cheerful and optimistic fox girl, who embarks on a new chapter in her life as she joins the staff at the prestigious Konohanatei hot springs inn.
With her lack of experience and quirky personality, Yuzu quickly finds herself navigating the ups and downs of work life as a hot springs attendant. Under the guidance of the head attendant, Kiri, and her skilled co-workers Satsuki, Natsume, Ren, and Sakura, Yuzu learns the ins and outs of the trade while discovering the magic and wonder of the spirit world.
From managing demanding customers to learning the finer points of running an inn, Yuzu's journey is filled with laughter, heartwarming moments, and lessons about friendship, hard work, and perseverance.
24. Koori Zokusei Danshi to Cool na Douryou Joshi
This is a 2023 romance fantasy workplace anime that showcases the love-filled adventures of two unlikely coworkers. When the kind-hearted but unlucky Himuro-kun starts his new job, he finds himself under the watchful eye of the cool-headed and beautiful Fuyutsuki-san. But as much as he tries to hide it, every time he becomes nervous or stressed, he involuntarily creates blizzard conditions for himself and those around him.
Luckily for Himuro-kun, Fuyutsuki-san is always there to save the day. She helps him navigate the difficulties of working with his unique condition, and every kind deed only serves to ignite the flame of his affection for her. Despite being unfamiliar with love, Fuyutsuki-san remains a constant support in Himuro-kun's life, and he will stop at nothing to repay her kindness and melt her heart. Make sure to watch this new 2023 romance anime where these two unlikely coworkers are on their journey of love, laughter, and blizzards in the workplace.
23. Ristorante Paradiso
Ristorante Paradiso is a charming anime about working in a restaurant. The protagonist, Nicoletta, travels to Rome with the intention of confronting her mother, Olga, who abandoned her as a child to remarry. Upon arriving at Casetta dell'Orso, a quaint restaurant where Olga works, Nicoletta's initial anger and resentment begins to dissipate as she is drawn in by the kind and experienced staff, all mature gentlemen wearing spectacles, and the relaxed and romantic atmosphere of Italian life. Despite her initial motivations, Nicoletta finds herself becoming a part of the restaurant's daily operations, experiencing the joys of good food, good company, and a newfound appreciation for the warmth and love that can be found in unexpected places.
22. Ryman's Club
Ryman's Club is a one-of-a-kind sports anime that delves into the challenges of balancing work and passion. In the series, as Mikoto trains and competes with his new team, he discovers the importance of teamwork and cooperation in both his professional and athletic life. He learns that success in corporate badminton requires more than just skill, but also the ability to communicate and work effectively with others. Despite the challenges he faces, Mikoto is determined to not only excel in his new role but to also help his team rise to the top of the corporate badminton world. With the support of his colleagues and the guidance of his coach, Mikoto finds the drive and determination to pursue his passion and become the best badminton player he can be.
21. Bartender
If you're seeking a calm haven amidst the chaos of life, come and be welcomed into Eden Hall. Let Ryuu's masterful touch bring you the comfort and pieces of advice you need. Bartender is a mature anime that takes you on a journey through the hidden gem of the Ginza district – Eden Hall. A place where troubled souls find solace in the expert hands of the prodigy bartender, Ryuu Sasakura. With his unmatched talent for crafting the most amazing cocktails, Ryuu is a master of not just mixology, but also of the art of comfort and guidance.
Nestled in the backstreets of Ginza, Eden Hall is a sanctuary for those seeking a more mature and peaceful atmosphere, away from the loud music and cheap drinks of nightclubs. Here, you will find customers from all walks of life, each with their own unique stories and struggles. But, with Ryuu's intuitive understanding of each person's needs, he always knows the perfect drink to heal their wounds and help them find their way.
20. Taiho Shichau zo
Taiho Shichau zo, known in English as You're Under Arrest, is an action-packed police anime from Studio deen. It follows the dynamic duo of Natsumi Tsujimoto and Miyuki Kobayakawa as they serve and protect the streets of Tokyo as members of the Bokuto Police Department.
Natsumi, a free-spirited moped rider, is determined to make a name for herself on her first day on the job. But her reckless driving lands her in hot water with her new partner, Miyuki, an expert police driver, and mechanical genius. Despite their rocky start, Natsumi and Miyuki soon form an unbreakable bond as they tackle some of the toughest cases the city has to offer. From traffic accidents to typhoons, these two policewomen are always ready to face any challenge that comes their way.
19. Uramichi Oniisan
Uramishi Onisan is a humourous and entertaining workplace anime that takes place in the studio of the popular morning show, "Together with Mama." The cast is made up of a group of miserable adults who are tasked with entertaining and educating a group of unsuspecting preschoolers. But Uramichi Omota, the former gymnast-turned-host, is not your average on-air personality. With his blunt honesty and unapologetic approach, he shatters the illusion of the perfect life for the kids and exposes the dark, real-world struggles of adulthood.
Adding to the chaos are Uramichi's two junior co-stars: Utano Tadano, the eager-to-be-bride rabbit mascot, and Iketeru Daga, the charismatic but crass bear mascot and singer. The trio's interactions are a mix of hijinks and heart, as they navigate the ups and downs of working in a high-pressure environment while trying to maintain their sanity. Whether it's Uramichi's pessimistic outlook or the constant bickering between Tadano and Daga, there's never a dull moment in this hilarious and good workplace anime.
18. Deaimon
Now we have Deaimon a Slice of Life anime with work life and childcare themes, which follows Nagomu Irino, who has been away from home for a decade, chasing after a dream that never quite came true. But when he receives news that his father, the owner of the renowned Kyoto sweets shop Ryokushou, has fallen ill, Nagomu returns to his roots to help out. He soon finds that his father has already chosen a new successor – a young girl named Itsuka Yukihira, who was abandoned at the shop by her own father and has become a beloved member of the Irino family.
Feeling a deep connection to Itsuka and her own unfulfilled desire to find her father, Nagomu's mother asks him to step in as a father figure to the young girl. Despite starting off on the wrong foot, Nagomu and Itsuka soon find common ground in their shared love of Ryokushou and its confections. As they work together to keep the shop running, they begin to heal each other's broken hearts and create a new family bond that is sweeter than any of Ryokushou's treats.
17. Fune wo Amu
Fune wo Amu" is a must-watch for those who love drama and romance workplace anime. The series tells the story of Kouhei Araki, a veteran editor at Genbu Publishing, and his journey to find a replacement for his dictionary editorial division.
As Araki prepares to retire to care for his wife, he must find a replacement to complete his latest project, The Great Passage, a new dictionary that requires a great deal of patience, time, and dedication. Enter Mitsuya Majime, a sales division worker with a passion for words and a love of reading, despite his lack of social skills. Majime's enthusiasm and careful personality attract Araki to him, and he offers him a position in the dictionary editorial department. Majime's journey to fit in with his new co-workers is not without challenges, but as they come together to work on The Great Passage, they find themselves drawn together by the vast sea of words.
16. Isekai Shokudou
Another one to watch is Restaurant to Another World, a magical and amazing anime brought to you by the popular studio, SILVER LINK. This show seamlessly mingles the genres of fantasy, gourmet, and slice-of-life, creating unique and unforgettable storytelling.
Set in the popular Western Restaurant Nekoya located in the heart of Tokyo, this eatery serves up both traditional Japanese cuisine and Western dishes to its human patrons. But little do they know, on Saturdays, this seemingly ordinary restaurant transforms into a hub of magical activity, attracting an eclectic mix of interdimensional guests. From dragons and elves to fairies and mages, Nekoya is the go-to spot for a delicious meal and a warm welcome.
The enigmatic chef known only as "Master" is always on hand to serve up their favorite dishes with a smile, making sure that the restaurant's strange clientele keeps coming back for more. "Restaurant to Another World" is an Iyashikei and workplace anime that is sure to touch your feelings and warm your heart.
15. Amagi Brilliant Park
This anime is a delightful mix of comedy and fantasy produced by the famous studio Kyoto Animation. The story follows Seiya Kanie, a self-absorbed high school student, who is taken by surprise when the beautiful but reserved Isuzu Sento invites him on what he thinks is a date to an amusement park. However, when he arrives at Amagi Brilliant Park, he finds that it is far from what he expected. The park is run-down and in dire need of help, and it turns out that Sento and Princess Latifa Fleuranza have invited Seiya to be the park's new manager.
With a land-use contract that requires Amagi Brilliant Park to have 500,000 guests in just three months, or it will be shut down for good, Seiya is faced with the challenge of turning the park around. What makes this park unique is that many of its employees are Maple Landers – magical beings who thrive on the energy created by people having fun. Seiya soon realizes that he has been entrusted with the hopes and dreams of this enchanted land, and he must use all of his skills to save the park from closing. The challenge ahead is not going to be easy, but Seiya is determined to bring Amagi Brilliant Park back to life, even if it means using his own special brand of charisma and eccentricity.
14. Blend S
In the comedy anime "Blend S", you will follow Maika Sakuranomiya, a determined 16-year-old who is eager to become independent by securing a part-time job. Despite her cheerful personality, her intimidating smile often leads to her job applications being rejected. That is until she stumbles upon Café Stile, where the servers interact with customers through roleplaying. The Italian manager, Dino, takes an instant liking to Maika's cuteness and offers her a job as a waitress with a sadistic persona.
Maika's inherent clumsiness combined with her new, ruthless role creates an interesting dynamic, as she successfully serves masochistic customers with her sadistic demeanor. Alongside her coworkers, the tsundere Kaho Hinata and the younger sister Mafuyu Hoshikawa, Maika embraces her unique quirk and finds a place for herself at the café. The series is produced by A-1 Pictures, and explores themes such as otaku culture, romance, and the workplace, by presenting a unique perspective on the struggles and triumphs of finding a job.
13. Death Parade
Proceeding to the following series, we have Death Parade, a fantastic anime by Madhouse that delves into the dark sides of humanity as it explores a workplace in the afterlife where the dead are tested. In the series, after passing away, most humans face either Heaven or Hell. But for a chosen few, death brings them to Quindecim, a mysterious bar only accessible to pairs who die at the same time. The enigmatic Decim presides over the bar, acting as the judge and determining the fates of the patrons through life-threatening games. The games range from darts and bowling to fighting games and showcase the true character of each patron as they bet their souls. Although Decim's methods remain unchanging, the arrival of a black-haired amnesiac makes him question his own rulings.
12. March Comes in like a Lion
March Comes in like a Lion" is an emotional drama anime about a shogi pro named Rei Kiriyama. The show takes us on a journey with Rei as he tries to figure out his place in the world, both professionally and personally. Rei is a young shogi player and faces many challenges as he tries to make a name for himself in the competitive world of shogi. Throughout the anime, we see Rei grow and mature, as he learns to deal with the struggles that come with life and finds comfort in the people who care about him. It's a touching and relatable story about finding oneself and making the best out of the hand life deals you.
11. New Game!
Our protagonist in New Game!, Aoba Suzukaze is a lifelong fan of the Fairies Story game series and is thrilled to begin her new job at Eagle Jump, the company responsible for creating her favorite games. On her first day, she meets a team of talented individuals who share her passion for gaming, including Kou Yagami, the lead character designer, and Aoba's inspiration.
From the shy Hifumi Takimoto, who prefers to communicate through instant messaging, to the impressively organized Rin Tooyama, the art director, to the fierce Umiko Ahagon, the head programmer, each character brings their unique skills and personalities to the team. Whether it's fixing bugs or perfecting character designs, the team works together to bring their latest project, Fairies Story 3, to life.
New Game! is a charming and lighthearted anime that is sure to delight fans of CGDCT, otaku culture, and workplace comedies. With a mix of humor, heart, and passion for gaming, this show is among the best workplace anime series of all time.
10. My Senpai is Annoying
My Senpai is Annoying is a really good work-life anime that explores the workplace and the dynamics between coworkers. Futaba Igarashi, a saleswoman at a trading company, has managed to maintain her job for almost two years with the assistance of her senior coworker, Harumi Takeda. However, Takeda's teasing of Igarashi's short stature often leaves her feeling frustrated.
Even with Takeda's playful nature, Igarashi soon realizes his dependability as he is always there to lend a hand when things go wrong at work. As their relationship progresses, they find that their connection goes beyond just working together at the office.
9. Hanasaku Iroha
Continuing on, we have Hanasaku Iroha, a well crafted drama anime that takes place in the workplace. It's a show that you're sure to enjoy. Our protagonist, Ohana Matsumae, is a lively and spontaneous teenager living in Tokyo with her free-spirited mother. Unfortunately, when her mother decides to run away with her new partner to avoid debt collectors, Ohana is left to fend for herself in the countryside of rural Japan. Her grandmother, who runs a small inn, takes her in, but is not exactly warm and welcoming. However, Ohana is determined to make the most of this new situation and adapts to the peaceful lifestyle of the countryside. She faces challenges as a maid, but also meets and makes friends with fascinating people at the inn and her new school. Through her experiences, Ohana learns to rely on herself and grow into a more mature and responsible young woman.
8. Working!!
Working!! is an anime that depicts the world of food service, following some characters and their personalities as they navigate the daily challenges of working in a family restaurant. The story delves into the life of employees of Wagnaria, a family restaurant located in Hokkaido. From the cute and childlike Popura Taneshima to the katana-wielding floor chief Yachiyo Todoroki, each character adds to the laughter and hilarity that unfolds at Wagnaria.
Later, enters Souta Takanashi as he begins his journey at Wagnaria, learning to navigate the quirks of his new co-workers and the challenges of the food service industry. Hence, the heartwarming and comedic moments featured in the series will make the best portrayal of the work life in the food service industry, highlighting the joys and struggles of those who work in it.
7. Shirobako
Next up, among the top workplace anime is Shirobako, a comedy-drama series that highlights a story set at Kaminoyama High School where five best friends, Aoi Miyamori, Ema Yasuhara, Midori Imai, Shizuka Sakaki, and Misa Toudou, discover their shared passion for anime and form an animation club. After creating their first amateur anime together and presenting it at the school's culture festival, they set their sights on pursuing careers in the animation industry with the goal of one day working together to produce a mainstream show.
However, the path to success proves to be a challenging one. Aoi and Ema have secured jobs at the prestigious Musashino Animation production company, but the others are facing obstacles in achieving their dream careers. Shizuka is struggling to establish herself as a capable voice actor, Misa has a stable but unsatisfying job designing 3D models for a car company, and Midori is a university student determined to make it as a story writer. Even with the struggles, the five friends will come to realize that their dreams can still be achieved through hard work and their unique, eccentric creativity.
6. Bungou Stray Dogs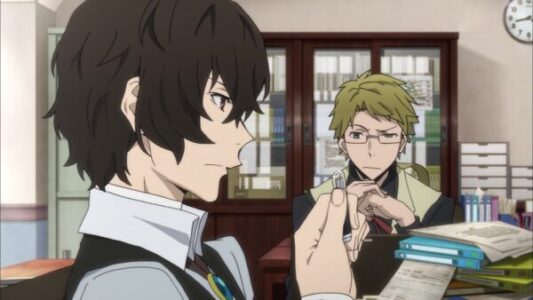 Bungou Stray Dogs is an action-packed anime set in a world where some people possess supernatural abilities known as "gifts." The main character, Atsushi Nakajima, is a young orphan who is taken in by the Armed Detective Agency, a group of gifted individuals who use their powers to solve crimes and protect the city from supernatural threats. Atsushi is a talented detective and is quickly drawn into a web of dangerous cases and complex relationships with his fellow detectives. Well, Bungou star dogs don't need any promotion! the anime is so valid and is a unique and stylish adventure that will keep you begging for more epic action scenes and hilarious scenes.
5. Hataraku Maou Sama
The anime "Hataraku Maou-Sama!"  begins as a reverse isekai, but turns into an amazing workplace anime. The story is following the story of the feared Demon Lord Satan, who aims to conquer the land of Ente Isla with his powerful demon army. However, his plans are thwarted by the hero Emilia and he finds himself transported to modern-day Tokyo. With the help of his loyal general Alsiel, Satan must navigate the human world in disguise as Sadao Maou, working at a fast-food restaurant to make ends meet.
Despite the initial setback, Satan remains determined to achieve his goal of conquering and domination, but this time on a grander scale. He sets his sights on becoming the ruler of Earth, one customer at a time, by climbing the corporate ladder at MgRonald's. The anime takes a humorous approach to depict the mundane aspects of everyday life, such as part-time work, household chores, and paying the rent, through the eyes of a demon lord.
4. Wotakoi: Love is Hard for Otaku
The next one is Wotakoi: Love is Hard for Otaku,  a heartwarming and hilarious workplace anime that perfectly highlights everything related to the otaku culture. The show follows the journey of four young professionals who are deeply involved in the world of anime, manga, and video games. At the center of it, all are Narumi Momose and Hirotaka Nifuji, two co-workers who bond over their shared love for otaku culture and eventually find love in each other. This is a cool anime, which is a true love letter to all fans of otaku culture, as it explores the ups and downs of dating as a young adult and the thrill of sharing your passions with someone special.
3. Ouran High School Host Club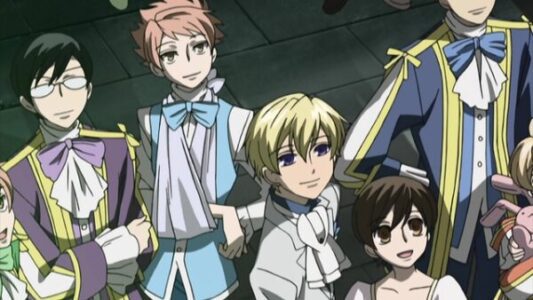 Now, we have Ouran High School Host Club, a romantic comedy and a reverse harem anime set in an exclusive high school where a group of handsome young men forms a club to entertain female students. The story gets interesting when the main character, Haruhi Fujioka, a scholarship female student accidentally breaks an expensive vase in the club's room and is forced to work off her debt by serving as a host while acting as a boy. Just pick this one, and go watch it, if you are searching for a hilarious and heartwarming look at the complexities of gender roles, class, and love in a workplace, and is sure to please both young and adult fans.
2. Golden Boy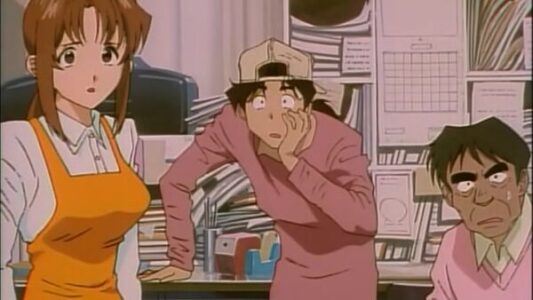 Golden Boy is a classic anime that explores the work-life balance. The protagonist, Kintarou Ooe, is a jack-of-all-trades who travels across Japan in search of part-time jobs. He rides on his trusty motorcycle, Mikazuki 5, and takes on any job that comes his way. Through his various employment experiences, he acquires knowledge and wisdom that can't be taught in a traditional classroom setting, from encountering political corruption to understanding the intricacies of a woman's heart. With nothing but the open road ahead, Kintarou embarks on his journey of self-education, taking on even the most undignified of jobs. As he gains new insights and experiences from each task, he just may even have the potential to save the world one day. Golden Boy is a highly educational and entertaining show that you won't want to miss!
1. Great Teacher Onizuka 
Wrapping up our list of the best workplace anime with Great Teacher Onizuka (GTO) is a comedy school tv show about a former gang leader turned high school teacher named Eikichi Onizuka. Onizuka is an eccentric but wise character who uses his unconventional teaching methods and unique life experiences to connect with, help, and inspire his students. The anime is a unique classic, that cannot be compared to anything. So, here we have a touching and hilarious look at the challenges faced by teachers and students in the modern world, and is sure to leave you inspired and entertained. If you're a teacher yourself, or just enjoy real-life stories about education and personal growth, "Great Teacher Onizuka (GTO)" is a must-see.