Here are the best Christmas anime series and films to watch!
Christmas is a popular theme in different forms of media, including movies, television series, and even in Japanese anime. Many anime series and films have Christmas-themed episodes or storylines that explore the themes of love, family, and togetherness. Some popular examples of Christmas anime episodes include "Lucky Star," "K-On!," and "Wolf Children." These anime frequently portray characters gathering to enjoy the holiday and exchange gifts, as well as delving deeper into the essence of Christmas. This list of the top Christmas anime is a good way to get into the holiday mood, whether through heartfelt moments or lighthearted holiday fun!
29. K-On!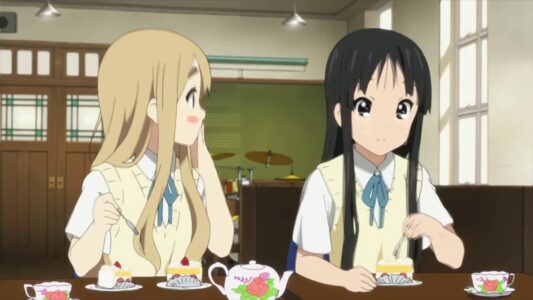 K-On! is a popular anime that features some Christmas episodes. The series follows the story of four high school girls who join their school's light music club. The girls learn how to play instruments and form a band, and they have various fun and sometimes heartwarming experiences together. "K-On!" is known for its funny and cute characters, as well as its light-hearted and wholesome storytelling. The series is not completely a Christmas-themed anime, but the characters do celebrate the holiday in some heartwarming episodes.
28. Ichigo Mashimaro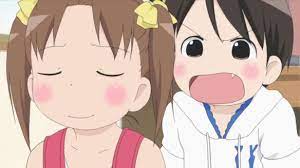 Ichigo Mashimaro is a slice-of-life anime that does not have any specific Christmas-themed episodes, but the characters do celebrate the holiday in some episodes. The series follows the daily lives of a group of young girls and their older sister who live in a suburb of Tokyo. The girls have various fun and sometimes heartwarming experiences as they go about their daily lives. "Ichigo Mashimaro" is known for its cute and funny characters, as well as its charming and light-hearted storytelling.
27. Usagi Drop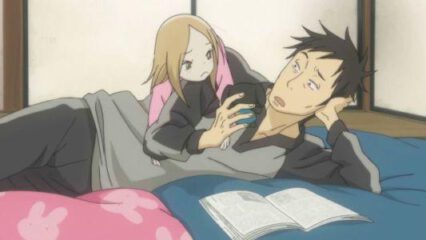 "Usagi Drop" is an anime and manga series that was created by Yumi Unita. It highlights the story of a 30-year-old man named Daikichi who takes in his young cousin Rin after her mother passes away. The series focuses on the relationship between Daikichi and Rin as they learn to live together and become a family. "Usagi Drop" is known for its emotional and heartwarming storytelling, as well as its realistic and relatable characters. There are no pertinent Christmas-themed episodes in the series. However, the characters do celebrate other holidays.
26. Gochuumon wa Usagi Desu ka?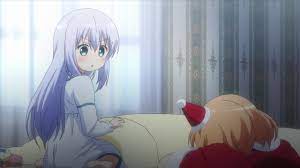 Gochuumon wa Usagi Desu ka? has no specific Christmas episodes, but the characters do celebrate it to some extent in a few episodes. "Usagi Desu ka?" is a heartwarming and wholesome show that should be perfect for fans who are looking for a good Christmas anime series. "Gochuumon wa Usagi Desu ka?" (Is the Order a Rabbit?) is a popular manga and anime series that follows the life of a girl named Kokoa as she starts working at a cafe called "Rabbit House." The series is known for its cute and funny characters and its light-hearted storytelling.
25. Wolf Children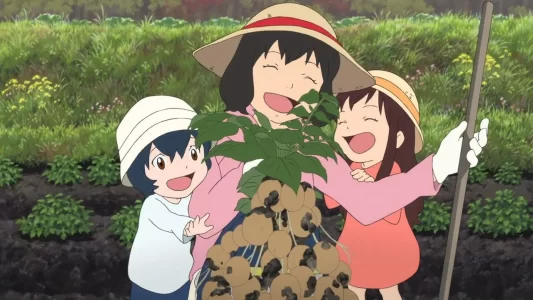 Wolf Children is an anime movie about Christmas that follows the story of Hana, a young woman who falls in love with a werewolf and has two children with him. After her husband dies, Hana must raise their children on her own and deal with the challenges of raising wolf children in a human world. Despite the difficulties they face, Hana and her children celebrate Christmas together, adding a heartwarming and festive element to the film. "Wolf Children" is known for its emotional and heartwarming story, as well as its beautiful animation.
24. Whisper of the Heart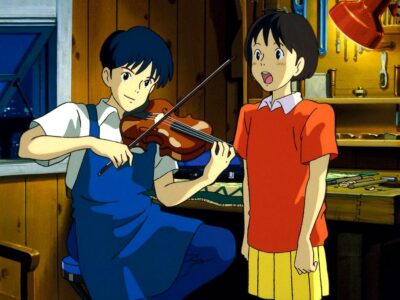 Whisper of the Heart is a Christmas anime movie that follows the story of Shizuku Tsukishima, an energetic 14-year-old girl who loves reading and writing poetry. When she notices that her library books are frequently checked out by a boy named Seiji Amasawa, she becomes curious and decides to search for him. Shizuku eventually meets Seiji at an antique shop, and the two quickly become friends. As they spend more time together, Shizuku becomes determined to work towards her own goals, inspired by her friendship with Seiji and by a cat statuette called "The Baron."
23. Hachimitsu to Clover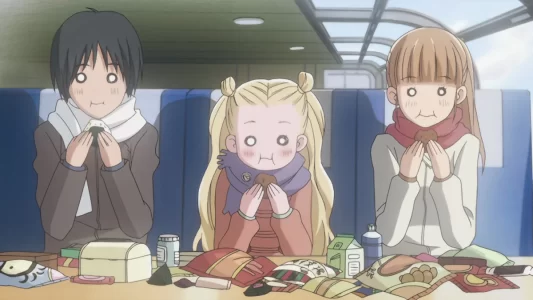 Here is another best anime with Christmas feels, Yuuta Takemoto is a sophomore at an arts
college
who shares a cheap apartment with two older people: the eccentric Shinobu Morita and the sensible Takumi Mayama. Takemoto had not given much thought to his future until he meets the endearing Hagumi Hanamoto and falls in love at first sight. Hagumi enrolls in Takemoto's university and becomes friends with the popular pottery student Ayumi Yamada, who is already well acquainted with Takemoto and his flatmates. Hachimitsu to Clover is a heartwarming tale of youth, love, soul-searching, and self-discovery that explores the complex relationships between these five dear friends.
22. Log Horizon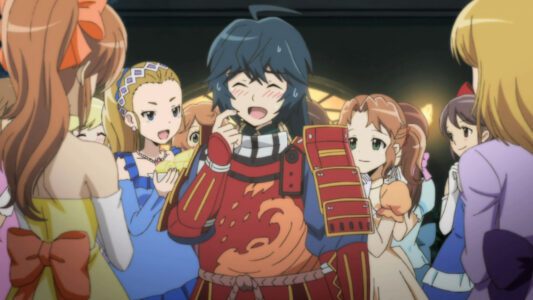 In this anime, Christmas is highlighted in some episodes. Log Horizon is actually a game anime that follows a group of thirty thousand Japanese gamers, who are suddenly transported into the world of the popular MMORPG, Elder Tale, after the game's latest update. They are unable to log out and must learn to live in this new reality, including the socially awkward college student Shiroe, who is a veteran of the game. Shiroe sets out to explore the limits of this new world and bring stability to the virtual city of Akihabara, aided by his friends Naotsugu and Akatsuki. Log Horizon is a tale of fantasy, adventure, and politics that follows a master strategist as he navigates this puzzling situation and attempts to make the best of it.
21. Hetalia: Axis Powers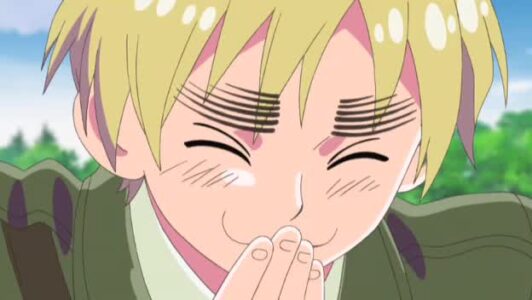 Hetalia is one of the best Christmas anime to watch! In a tumultuous era of World Wars, Germany finds himself allied with North Italy and Japan. Despite being a descendant of Ancient Rome, North Italy is weak and overly in love with pasta, while Japan is reliable but has strange obsessions. Germany must find a way to make this unlikely alliance work, even as the chaotic Allied Forces arrive to stop the Axis Powers. These personified nations act out the events of World Wars I and II in a comedic and entertaining manner, but can't set aside their centuries of differences to fight as a cohesive front.
20. Your Lie in April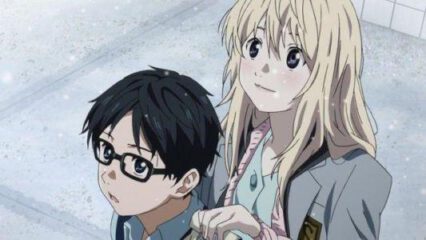 In this drama romance anime, Christmas is a special event! The story follows Kousei Arima, a child prodigy known as the "Human Metronome" for his precise and perfect piano playing. Guided by his strict mother and rigorous training, Kousei dominates every competition he enters and earns praise from audiences. When his mother suddenly passes away, the trauma causes Kousei to lose the ability to hear the sound of a piano and he never performs again. Now a junior high school student, Kousei lives a quiet and unassuming life with his friends Tsubaki Sawabe and Ryouta Watari, struggling to overcome his mother's death while still clinging to music. His monochrome life is turned upside down when he meets the eccentric violinist Kaori Miyazono, who becomes his accompanist and helps him rediscover the joy of music. Together, these two young musicians grow closer as Kaori tries to fill Kousei's world with color.
19. Sailor Moon S: The Movie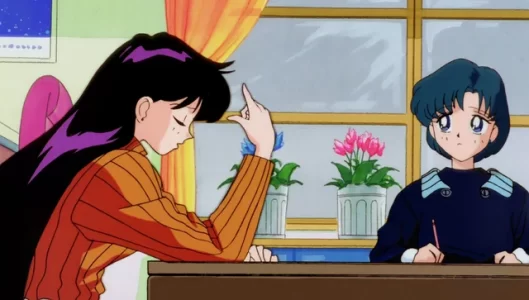 This is one of the best Christmas anime movies to watch! An unusual snowstorm hits Tokyo and the Sailor Senshi discovers that an evil snow queen named Kaguya wants to freeze the entire earth. It's up to the Inner Sailor Senshi, along with the Outers, to defeat the queen and save the world. Meanwhile, Luna falls in love with a human astronomer named Kakeru, whose girlfriend is an astronaut about to take a space shuttle mission. Kakeru becomes ill and Luna wishes she could be human to help him. Can Sailor Senshi save the world and help Luna's love come true?
18. Love Hina Christmas Special – Silent Eve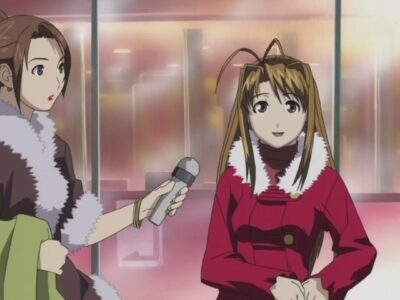 In this Christmas anime, as another round of preliminary tests approaches for Keitaro, so does Christmas. And as the first Christmas of the millennium, there is a rumor that if one confesses their love on this special eve, it will come true. Keitaro has decided what he needs to do on Christmas eve, but being a retaker, can he afford to take attention away from the tests on the same day? The winter has begun in Hinata and Keitaro is not the only one with plans to confess their love on this special Christmas eve. Will Keitaro's wish come true?
17. Santa Company 2019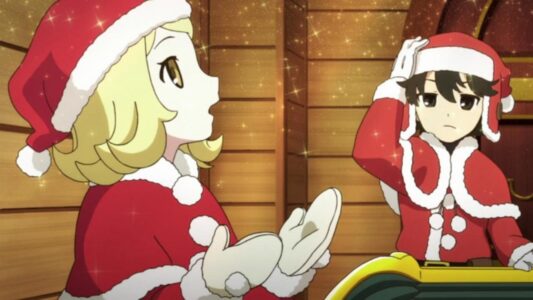 This is one of the best accurate Christmas anime to watch! The story follows Noel, a young girl who is especially lonely at Christmas time because her mother is gone and her father is too busy to come home. One day, she finds herself at the headquarters of Santa Company in Finland, where she learns how the company operates and meets her father, who is the head of the present department. Noel becomes an apprentice Tonttu, assisting with wrapping and preparing presents for delivery. She has until dawn on Christmas Day to become a full-fledged Tonttu, but if she fails she will lose her job and have to leave her new friends behind. On Christmas Eve, a single request is received too late to deliver, so Noel and her friends set out on a desperate mission to deliver the present. Along the way, they encounter Rudolph III, who agrees to help them after meeting Noel, who is almost identical to his former partner. As they journey, Noel and her friends are attacked by sprites called "mukku," but are saved by Pedro and the other Santas. Noel eventually delivers the present and decides that the most important thing about the Santa Company's work is bringing smiles to all the children of the world.
16. Itsudatte My Santa!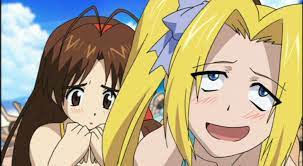 In this Christmas anime, Itsudatte My Santa! The main character Mai, a female Santa in training, appears out of nowhere in front of an unlucky boy named Santa on Christmas Eve, promising him that she will definitely make him happy for one night. This is actually an OVA released and produced by Studio TNK, which is adapted from the manga of the same name, spanning genres of comedy, fantasy, and romance.
15. Inuyasha The Final Acc

In Inuyasha, there are also some Christmas anime moments! Inuyasha, Kagome Higurashi, and their friends must continue their hunt for the remaining Shikon Jewel shards before they fall into the hands of the evil Naraku. As they race to find the shards, Sango and Miroku must decide what is most important to them, and Inuyasha must choose between Kikyou and Kagome. Inuyasha and his brother Sesshoumaru must also resolve their feud and cooperate for their final confrontation with Naraku, as it is a battle they must win to stop his evil and cruelty once and for all.
14. Kanon
When it comes to creating the same atmosphere and setting as Christmas, then Kanon is the best pick! The series follows Aizawa Yuuichi, who as a young child, visited his cousin in the city, but something drastic happened to keep him away for seven years. When he returns, he has no memories of those days. As he settles into the wintry town, Yuuichi meets several young girls who are connected to his past. As he befriends them and interacts with them, his long-forgotten memories from childhood begin to resurface.
13. Fuyu no Sonata (Winter Sonata)
This is one of the best Christmas anime to watch! Based on the Korean drama of the same name, Yoo Jin falls in love with Joon Sang as a young girl. After losing him in an accident, she decides to marry her childhood friend. However, Yoo Jin meets someone who looks exactly like her lost love, putting her in a difficult situation. The tv show features 23 members of the original Korean cast voicing the characters and was broadcasted with Japanese subtitles.
12. Chocotto Sister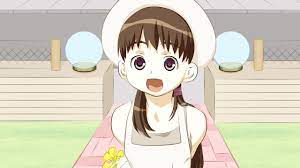 In this Christmas anime, Haruma Kawagoe is an only child who, years ago, prayed to Santa to make his mother well again and give him a little sister. When he least expects it, on one special Christmas, he receives an unusual present – his sister. This heartwarming story shows the power of prayer and the magic of Christmas.
11. Winter Garden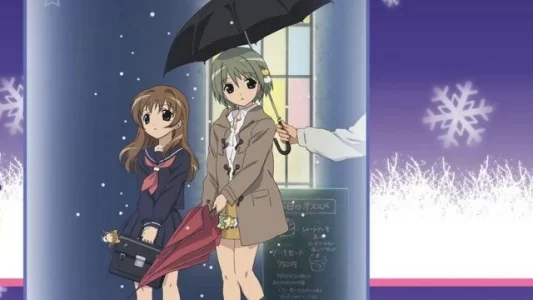 In this anime Christmas story, Dejiko, also known as Di Gi Carat, is a grown-up working part-time at a bakery shop. On Christmas day, she meets a young guy named Senba Takou at a park and again in town. As Dejiko begins to care for Takou and looks forward to meeting him again, he unexpectedly drops by her shop. This is a sweet and bittersweet love story as Dejiko tries to find success in love.
10. The Disappearance of Haruhi Suzumiya

This anime movie is set on Christmas Day. The film follows Kyon arriving at school on a cold December day expecting to spend the day with his fellow SOS Brigade members. However, he is shocked to discover that everything has changed: Haruhi Suzumiya and Itsuki Koizumi are nowhere to be found, Mikuru Asahina does not recognize him, Yuki Nagato is a regular human, and Ryouko Asakura has mysteriously returned. Kyon is the only one aware of the previous reality and must choose between living a normal life or finding a way to turn back time and restore his familiar but chaotic world.
9. White Album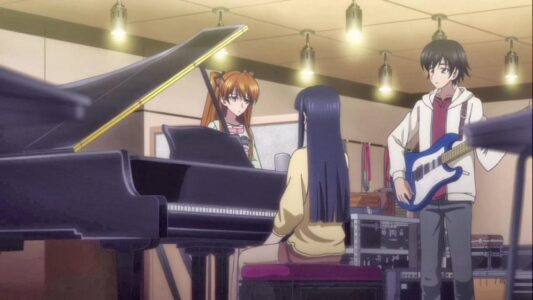 In this heartwarming Christmas anime, Touya Fujii is a college student trying to balance his studies, his job, and his relationship with Yuki Morikawa, an up-and-coming idol singer. As Yuki's fame grows, she faces competition from rival singers and the cutthroat nature of the idol industry. Touya must navigate these challenges and determine whether their relationship can survive the pressures of Yuki's career.
8. 5 Centimeters per Second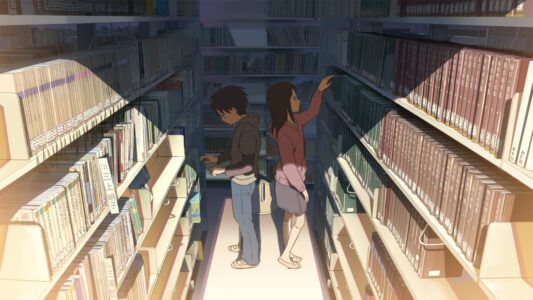 This anime movie is set as Christmas approaches, Takaki Toono and Akari Shinohara are forced to confront the harsh reality of their long-distance relationship. Despite their best efforts to stay in contact, the passage of time and circumstances beyond their control continue to drive them further apart. Struggling to move on and make new memories, they cling to the hope of reuniting and the memories of their past. Byousoku 5 Centimeter is a poignant and emotional tale of love, loss, and the enduring power of memories.
7. Tokyo Godfathers
With their unique blend of compassion and wit, Hana, Gin, and Miyuki navigate the bustling streets of Tokyo, encountering a diverse cast of characters and facing challenges that test their bond and determination. As they search for Kiyoko's mother and confront their own troubled pasts, they come to understand the true meaning of family and the importance of love and acceptance. Tokyo Godfathers is a heartwarming tale of self-discovery and the power of friendship, set against the backdrop of the festive season.
6. Lucky☆Star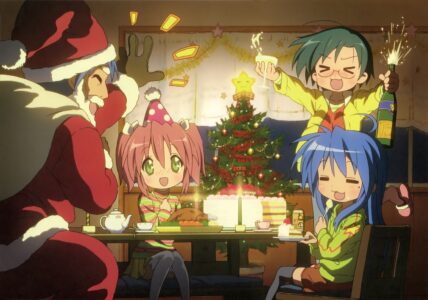 Lucky Star is a popular anime series with Christmas episodes. Lucky☆Star is a comedy story about four high-school girls—Konata Izumi, the lazy otaku; the Hiiragi twins, Tsukasa and Kagami (sugar and spice, respectively); and the smart and well-mannered Miyuki Takara. The girls are always getting into some kind of weird situation. As they go about their lives at school and beyond, they develop a close and lovely friendship – so much so that it's now the basis for their daily antics. They make observations about life, the world, and everything in between. Across any subject, no matter how obscure, you'll find that these sweet anime girls have a lot to say
5. Pokemon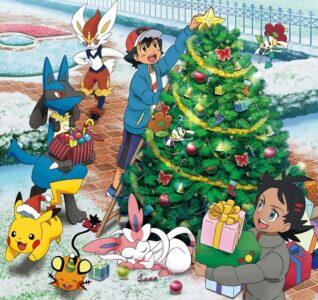 We are approaching Christmas Eve, and Pokémon has a few Christmas specials, one of which is Pikachu's Winter Vacation, airing in two short episodes. It takes place during the winter time, Ash and his friends are out doing errands, unaware of what's really happening right underneath their noses.
4. Sailor Moon S Movie: Hearts In Ice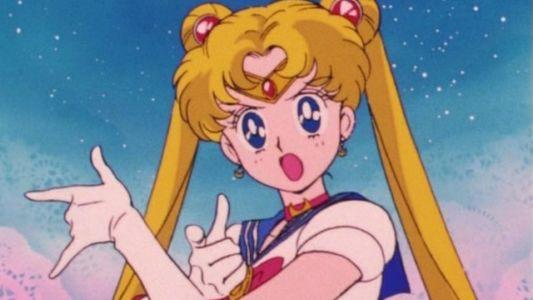 This Sailor Moon anime movie is set in a Christmas time in the city, and Kousei Arima is feeling especially down. He's been struggling to find joy in music ever since the death of his mother, who was a renowned piano teacher. His friends, Tsubaki Sawabe and Ryouta Watari, try to cheer him up, but Kousei just can't shake his melancholy. But when Kaori Miyazono, a young and talented violinist, enters Kousei's life, everything changes. Kaori is full of life and love, and she helps Kousei rediscover his passion for music. However, Kaori is facing her own struggles, as she has a terminal illness that threatens to take her away from Kousei and the rest of the world. As Christmas approaches, Kousei and Kaori must confront their feelings for each other and decide what they truly want in life. Will Kousei find the courage to open up his heart again, or will he let the pain of the past hold him back?
3. Full Moon Wo Sagashite
There are love, music, and Christmas themes in this anime. The series follows Mitsuki, whose friend, Eichi, moved to America 2 years ago. Mitsuki dreamed of fulfilling her dream of being a singer, while Eichi wanted to become an astronomer. Though they can't contact each other anymore, her dream is to one day reach him with her music, just like the full moon lights up the darkest day.
There is just one issue– Mitsuki has throat cancer, which makes speaking and singing difficult. Her grandmother hates music and insists that Mitsuki undergo surgery to remove cancer, but she refuses due to the high risk of permanent damage to her voice. One day, Two Shinigamies appear in front of her and tell her that she has only one year left to live. To make the most out of her last year, Mitsuki decides to become a professional singer with their help.
2. Cardcaptor Sakura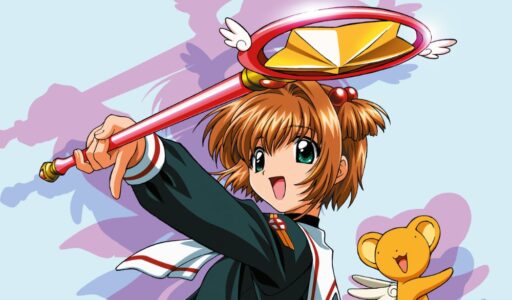 Cardcaptor Sakura is one of those really common anime that features Christmas, magic, snow, and so many beautiful themes that everyone could enjoy, regardless of age or gender. Despite being a typical magical girl anime, the show has lots of little twists and turns in it to maintain a comedic narrative and also offers interaction with another dimension.
A fifth-grade girl Sakura comes home from school one day and finds a magic book in her father's basement library. When she opens the book, it releases magic cards all over the town. Kero, a guardian of cards, told Sakura that not all cards are as evil as she initially thought. They are more powerful than Sakura realized and have an icky sense of humor that came from their maker. Prophesy says a catastrophe will come about if the cards are ever released. Because only someone with magic powers can open their book, Kero chose Sakura to be the Cardcaptor and tasked her with getting all the cards back.
1. Toradora!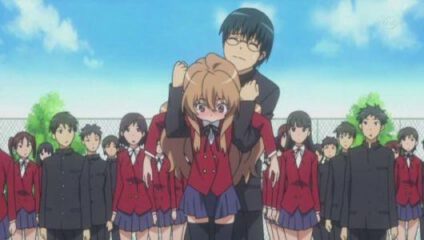 As they work together and get to know each other better, Ryuuji and Taiga begin to understand and support each other, ultimately growing closer and developing feelings for each other. As the anime progresses, and Christmas approaches, they find themselves faced with the challenges of managing their own romantic feelings and navigating the complexities of relationships. Will they be able to confess their feelings and find happiness together, or will the obstacles they face keep them apart?