7. Juuou Mujin no Fafnir
Studio: Diomedea
Episodes: 12 (Sub)
Anime Genre: Fantasy, Harem, Romance, School
Yuu Mononobe is the first and only boy student in this all girl school anime academy, which is called Midgar. But Midgar is not only an all girl academy but also a school exclusive to a group of girls who have extremely powerful abilities in generating dark matter and manipulating it into powerful weaponry.
These types of girls known as D only appeared after the appearance of a number of mysterious, destructive monsters known as "Dragons". Some of these girls are born with symbols on their bodies and powers similar to Dragons. Yuu is the latest member and is so popular for being the only known male D in existence.
Read Also: 8 Best Romance Anime 2019 That'll Make Your Heart Flutter
6. Kampfer
Studios:

 Nomad

Episodes:

12 Sub

Anime Genres:

 Action, Comedy, Ecchi, Romance, School, Shoujo Ai, Super Power
The story of this Comedy all girl School anime series revolves around Natsuru, who One day Wakes up and realizes that he transforms into a beautiful girl. But, when A stuffed tiger "Harakiri Tora"  tells him that he's now a Kampfer, a mystical female fighter, his life becomes a living nightmare!
Putting aside the obvious "plumbing" issues, Natsuru's best childhood friend turns out to swing the other way and she has a crush on his new female body. Natsuru's school has separate sections for boys and girls, so he and she are now double enrolled. The rumor mill has it that he's dating herself.
And there are other Kampfers attending the school who want to take her out, and he's not sure which ones mean "on a date" and which ones mean "permanently." Oh, and did we mention that some Kampfers use swords and guns?! Hormones, fists, and other body parts will fly as the daring, new gender-bender defender must become a contender or die!
5. Seitokai Yakuindomo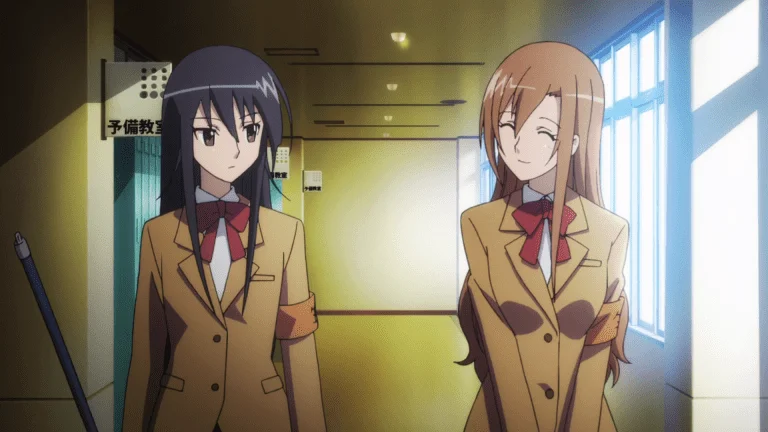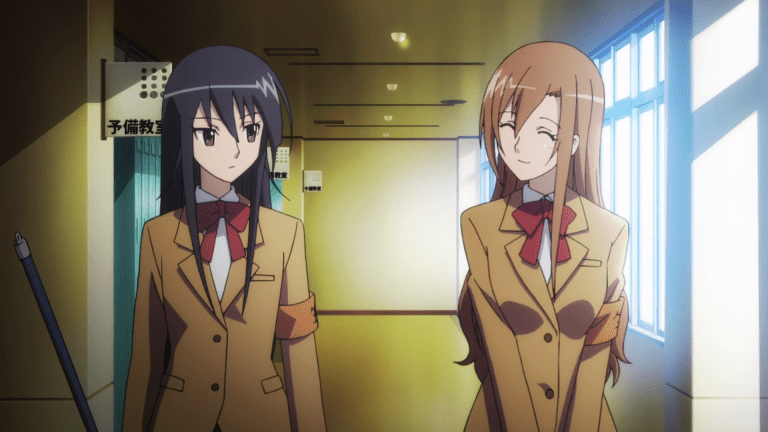 Studios:

 GoHands

Source:

Two Seasons (26 Sub)

Anime Genres:

 Slice of Life, Comedy, School, Shounen
This is one of the best school anime tv shows that follow Takatoshi Tsuda, a boy who joins the Usai Academy, a high school that until recently had been an all girl school. Later they ask him to join the student council as vice-president and a male representative. More girls start coming to the council to get in on the excitement.
Takatoshi's sister Kotomi, a new student at Ousai, is as dirty as the president, while Uomi, the aloof student council president of the nearby Eiryou High School, fits right in with the insanity at Ousai. With loads of absurdity and $exual humor that keeps on coming, Takatoshi needs to harden up if he is going to keep up with all the madness around him.
4. Seirei Tsukai no Blade Dance
Studios:

 TNK

Source:

12 Sub

Anime Genres:

 Action, Harem, Comedy, Supernatural, Romance, Ecchi, Fantasy, School
Seirei Tsukai no Blade Dance takes place at a very prestigious school for holy shrine princesses called Areishia Spirit Academy, where girls trains and receive an elite education in order to become Elementalist. Only females have this privilege… at least until now.
Kamito Kazehaya is the only boy in pretty much all respects except for the fact that he's the first man in thousand years to be able to form a contract with a spirit. Additionally, the headmaster of the school, Greyworth, asks him to join the school and is forcing him to participate in a special tournament that will take place two months down the road.
Continue Reading By Clicking The Next Button