Introduction To The List: Best Anime Where MC is OP But Acts Weak
One Piece and One Punch Man are some of the most popular anime where Mc is Op But Acts Weak. These anime are known for their endearing characters who manage to transform into legendary heroes.
There are so many anime where the protagonist hides his power and pretends to be weak in order to not draw attention from his enemies. This allows them to plan ahead and come up with a better strategy in order to win, Or simply live a life out of trouble.
So, with so many anime Where MC is OP But Acts Weak, we have just selected the best 12 tv shows that you should watch if you're looking for a good anime series to watch!
Seikoku no Dragonar (Dragonar Academy)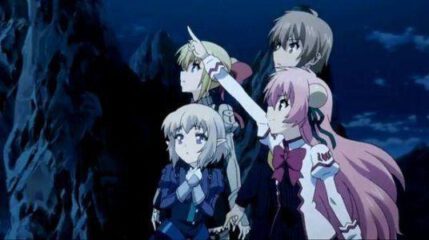 Episodes: 12

Studios:

 C-Station

Genres:

 Comedy, Fantasy, Ecchi, School
Starting off the list of the best Anime Where MC is OP But Acts Weak with Seikoku no Dragonar, which takes place at Dragonar Academy, where students learn to ride dragons easily except for Ash Blake who has a reputation of a "number one problem child."
Poor Ash is the laughing stock at school. Despite his star-shaped mark that everyone knows he's destined for greatness, he has nothing to show for it, because his dragon has never appeared.
Later, Ash had never imagined that one fateful day, his dragon would be in the form of a beautiful girl! And this new dragon is with attitude–especially when she informs him that she is the master, and he is the servant.
Hence, Ash has just started having problems with his girl-like dragon!
Juuou Mujin No Fafnir (Unlimited Fafnir)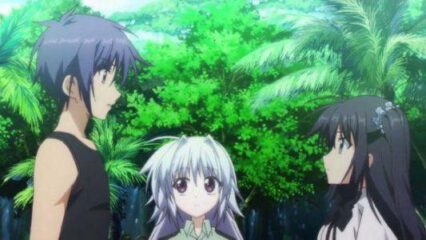 Episodes: 12

Studios:

 Diomedéa

Genres:

 Fantasy, Romance, Harem, School
Juuou Mujin no Fafnir is also one of the best anime that has an MC that is overpowered but pretends to be weak.
The story follows the protagonist Mononobe Yuu, who along with his classmates is fighting against dragons that come around periodically to rampage around the world. Humans and dragons are linked by some sort of marks on their bodies, which give them powers.
The school' students use their powers to fight against the monsters. These students do this while incorporating a little bit of back story for some characters, which keeps the anime interesting.
Nejimaki Seirei Senki: Tenkyou no Alderamin (Alderamin on The Sky)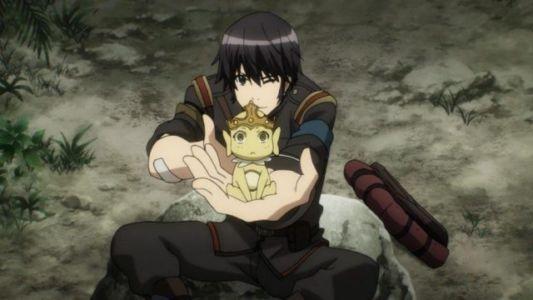 Episodes: 13

Studios:

 Madhouse

Genres:

 Action, Adventure, Fantasy, Military
Next up, here is a good Anime Where MC is OP But Acts Weak. It's visually stunning, gripping, and has its story carefully told without being too hard on the audience. Alderamin On The Sky is an impressive anime in all aspects and is a joy to watch. It's all about war, politics, and how The genius MC Ikta forms his legend using his prodigy military strategy skills.
Ikta struggles to survive in a world ravaged by war. His exciting and dramatic life up to this point is about to be relished in this anime with a fascinating tale of fantastical warfare.
Kyoukaisenjou no Horizon (Horizon in the Middle of Nowhere)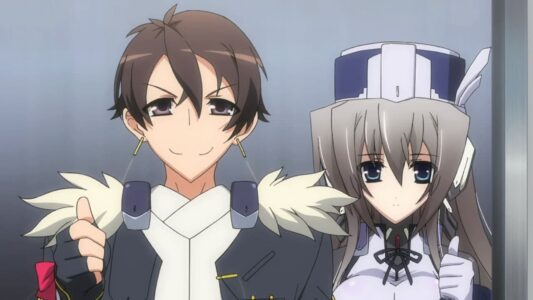 Episodes: 26/Two Seasons

Studios:

 Sunrise

Genres:

 Action, Fantasy, Sci-Fi
Horizon in the Middle of Nowhere is one of the best anime with a main character who is overpowered but pretends to be weak. Awesome action, great music, slapstick easy-to-understand humor, and a good story are also part of what makes this anime so good.
The students of the Ariadust Academy need to pull out all the stops in order to find allies during a reenactment of the 1588 A.D. Spanish Armada invasion of England.
While the class must simultaneously defend the resurrected heir to the Mikawa throne against world superpowers who are now their enemies.
Tales Of The Abyss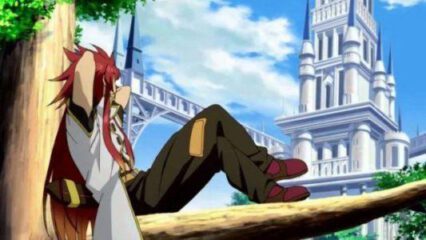 Episodes: 26

Studios:

 Sunrise

Genres:

 Adventure, Drama, Fantasy
Tales of The Abyss is such an amazing anime. It has very easy-to-understand humor and great action, and it's also an anime with a good story.
The story follows the main character Luke, who was locked away in his manor after being kidnapped and losing memories as a child. One day, while honing his sword skills, Luke clashes with a woman who tries to assassinate his master.
During the battle with the woman, Luke and Tear suddenly got teleported to a distant land. Furthermore, their journey quickly escalates into a quest that will either free the world from Score's control or destroy it entirely.
Tears to Tiara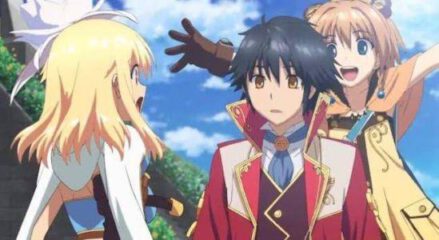 Episodes: 26

Studios:

 White Fox

Genres:

 Action, Adventure, Fantasy
The art style in Tears to Tiara is pretty good, and the clever way that the names of Welsh, Christian, Roman, Greek, British, Latin, and other cultural names are used to produce symbols for the characters is so great.
Without forgetting that The Fight scenes were nice and bloody, and the way the series showcases the anime MC who pretends to be weak but is actually so overpowered.
The story follows the rise of the Divine Empire into their lands, the Ancient Kingdom was very afraid. However, they tried to revive demon king Arawn and although it didn't work out, he came back armed with some mysterious powers. That's just how the epic story begins!
Death March kara Hajimaru Isekai Kyousoukyoku (Death March to the Parallel World Rhapsody)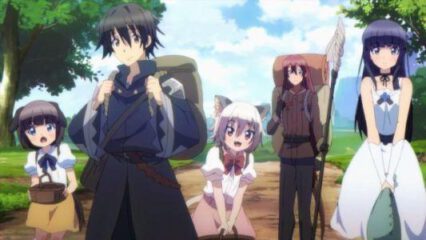 Episodes: 12

Studios:

 SILVER LINK., Connect

Genres:

 Adventure, Fantasy, Harem, Isekai, Reincarnation
If you're looking for an Anime Where MC is OP But Acts Weak and helps people, Death March is a perfect choice. It follows the main character Satou, a computer programmer who was supposed to be taking a nap but suddenly found himself inside his own game, where he was granted incredible powers.
Now, as a high-leveled adventurer armed with a plethora of skills and no way to return to the real world, Satou sets out to explore this magical new world where life is an adventure that's full of girls.
Maburaho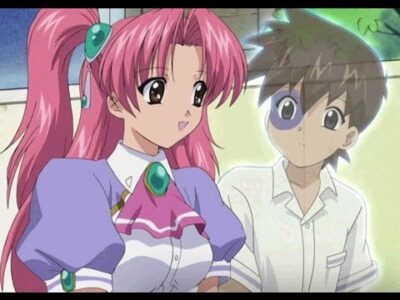 Episodes: 24

Studios:

 J.C.Staff

Genres:

 Comedy, Drama, Romance, Ecchi, Harem, School
This anime is like a regular harem, but it has the little added feature of being great. It's a good break from the sweeter more dramatic anime series. With an overpowered main character surrounded by beautiful female characters, it's worth watching for some fun.
The story in question. It's about a guy with magic that is way beyond anyone else's. The only problem is–he can only utilize its power a few times. So when they heard this, most of the female students decided to make him their lover, for the sole reason of getting his genes
Not only are guys in his school jealous, but now women are also attracted to him. He has to deal with the double edge sword of everyone wanting a piece of him!
Kekkai Sensen (Blood Blockade Battlefront)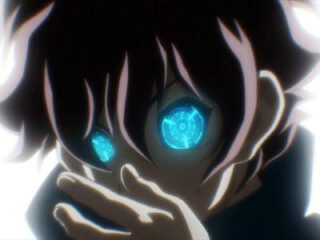 Episodes: 24/Two Seasons

Studios:

 Bones

Genres:

 Action, Comedy, Fantasy, Supernatural, Super Power, Vampire
This story opens in an Old New York City that was destroyed by a portal opening to another world, which did even have the good grace to have a giant squid monster.
In this city, humans co-exist with all manner of strange otherworldly beings. You'll find a shadowy organization called Libra dedicated to keeping the piece here.
Leo enters the main character, through an odd coincidence, and is given a position at "Libra" because of his mysterious "All-seeing eyes." They are strong enough that he doesn't even have to open his eyelids.
This is a good anime where the main character (MC) is obviously powerful but pretends to be weak, following his epic adventures within the Libra Organization as they try to avoid all kinds of possible threats.
Grisaia No Kajitsu (The Fruit of Grisaia)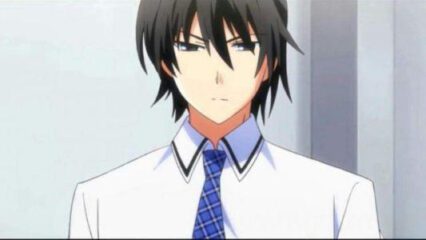 Episodes: 13

Studios:

 8bit

Genres:

 Drama, Romance, Harem, Psychological, School
Yuji Kazami is the anime male protagonist who is overpowered but pretends to be weak, he joins a private school, where there are only five other students, all girls. Most of the story after the intro consists of the girls' backstory and how Yuji interacts with them.
The dark color palette fits the dark side of the story and the character design is pretty good. Some people may feel that Grisaia no Kajitsu's focus isn't on a given story, but on the characters. Grisaia no Kajitsu is an anime series that can be both good and bad depending on how you see it.
Plunderer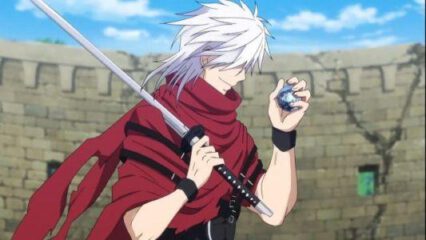 Episodes: 24

Studios:

 GEEK TOYS

Genres:

 Action, Fantasy, Ecchi
Plunderer is a popular anime where the MC is clearly stronger than all the other characters but pretends to be weak so he can live a peaceful life.
In a world where everyone wears the Alcia system has a "Count" on their body — a number that either goes up or down depending on the person's behavior. Hina's mother lost hers, and she is thrown into the abyss.
But her mother's last words send Hina on a quest to find the legendary here "Ace".
Plunderer is an anime about Hina and her friends as they discover the truth about the world, the Abyss, and the legendary Aces.
Mahouka Koukou No Rettousei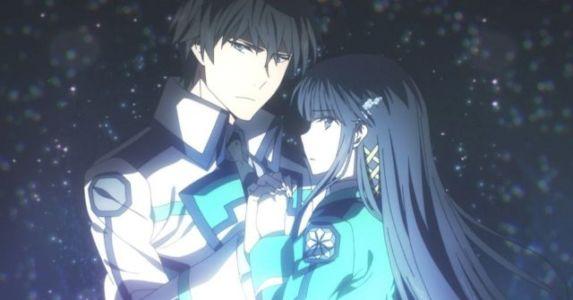 Episodes: 39/Two Seasons

Studios:

 Madhouse, 8Bit

Genres:

 Action, Romance, Sci-Fi, Supernatural, School
Mahouka Koukou no Rettousei is a popular anime that has a Cold MC that seems like he's uncatchable. He pretends to be weak so he can live in peace and leaves it up to others to take care of the occurring problems.
In First High School is where it all began for the two siblings, Tatsuya & Miyuki, who found themselves on different courses. Upon taking the exam, Miyuki was classified in First Course while Tatsuya was further divided into Second Course.
Though Tatsuya has poor practical test scores and he's a "Weed," he has the impressive technical knowledge and physical combat capabilities, as well as unique magic techniques. This makes him an irregular in a magical high school.
Don't Miss: