Anime Like Arifureta From Commonplace to World's Strongest
8. Isekai wa Smartphone to Tomo ni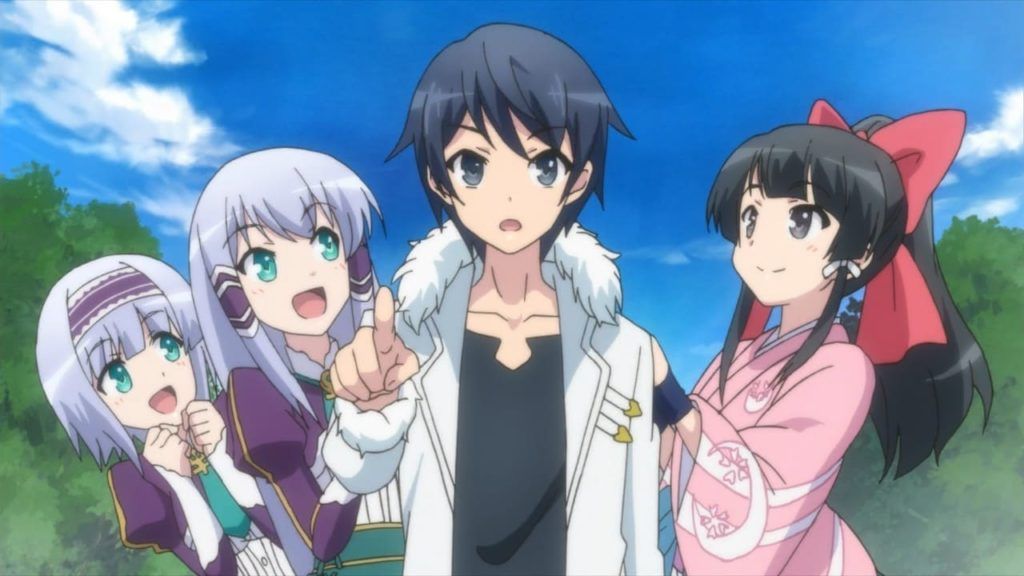 Genres:

 Adventure, Harem, Comedy, Magic, Romance, Fantasy
Isekai wa Smartphone to Tomo ni is an another isekai harem anime series that is so like Arifureta From Commonplace to World's Strongest!
The story begin when A Sudden stray bolt of lightning accidentally kills Touya Mochizuki!
As an apology, God allows him to be reborn in a magical fantasy world and will grant him anyone wishes he desires.
And so, Touya chooses to keep his smartphone with him in the next mysterious world.
In his second chance at life, Touya finds it is filled with magic—which he has an affinity for—and befriends cute girls who are vying for his attention.
He inherits the legacy of an ancient civilization and travels around while he tries to discovers the secrets of this new world. possessing powers that rival this world's kings.
Read Also: The 10 Best Anime Like Vinland Saga 
---
7. Konosuba
Episodes: 20 / Two Seasons

Genres:

 Adventure, Comedy, Fantasy, Magic, Parody, Supernatural
Kazuma dies while thinking that he got hit by a car in the process of trying saving a girl and.
A goddess intervenes and offers him a second chance in another world.
While feeling bad at his laughable and pathetic death.
Kazuma decides to transfers to another world, where he can pick one item of any kind to aid him in his quest.
Then, Kazuma selects Aqua.
Hence, Kazuma has made a grave mistake! Because Aqua is completely useless!
So, Let's follow Kazuma and the rest of his party through countless funny, and silly adventures.
as they struggle to earn money and have to deal with one another's problematic personalities.
However, things rarely go as planned, and they are often sidetracked by their own idiotic tendencies.
Looking for an Anime like Arifureta,  just check Konosuba out
---
6. Sword Art Online
Episodes: 109 / Five Seasons

Studios:

 A-1 Pictures

Genres:

 Action, Adventure, Fantasy, Game, Romance
All Anime Fans know about sword art online which is popular fantasy game anime tv shows, that follows Kazuto Kirigaya  "Kirito," who  is among the lucky few enthusiasts who get their hands on the first shipment of the Virtual Reality game (Sword Art Online).
He logs in to find himself, with ten-thousand others, in the scenic and elaborate world of Aincrad, one full of fantastic medieval weapons and gruesome monsters.
However, in a harsh turn of events, gamers soon discovers that they cannot log out;  as the game's creator has trapped them in his new world until they finish all one hundred levels of the game.
In order to escape Aincrad, Kirito will now have to interact and cooperate with his fellow players.
Some are allies, while others are foes, like Asuna Yuuki, who commands the leading group attempting to escape from the ruthless game.
To make matters worse, Sword Art Online is not all fun and games: if they die in Aincrad, they die in real life.
As a Result, Kirito must adapt to his new reality, fight for his survival, and hopefully break free from his virtual hell.
Read Also: 20 Unknown Animes That you Probably Never Heard Of!
---
5. That Time I Got Reincarnated as a Slime
Episodes: 24

Studios:

 8bit

Genres:

 Fantasy, Shounen
One of the Great anime series that you must watch is this one it's not only Like Arifureta, but also something that maybe you next best anime you have ever watched!
The Story Follows the Lonely thirty-seven-year-old Mikami Satoru, who is stuck in a dead-end job.
Therefore, he is unhappy with his mundane life, but after dying at the hands of a robber, he is reborn as a slime monster in a fantasy realm.
Although, its a fresh start for satoru, but he tries to acclimates to his goopy new existence.
Hence, his exploits with the other monsters set off a chain of events that will change his new world forever.
---