Top 10 Anime where the MC is Loved and Respected by everyone
today's article is unique, the theme we will be covering is exclusive and Loved too, as most anime websites and youtube channels only cover the main genres of japanese animated tv shows.
well, this is not our case, as we dig deep to selects only anime series where the Mc is respected and loved by everyone, it can be due to their overpowers, badass charisma, kindness or just being so cool that no one can resist their charms.
probably, by browsing our website that is covering not only anime but also so many other niches, you have noticed that we highlights things that others dont. because, simply we know what are doing, as all of the staff working in bakabuzz are real fans of what they write about!
Therefore, dont forget to check out our youtube channel Bakabuzz, which is only focusing on anime right now, but soon we will be talking about more various trending topics.
So, stay tuned, and lets for now starts the countdown of our Anime List where the Mc is respected and loved by everyone.
---
10. Seitokai Yakuindomo:
Genres: Comedy, School, Shounen, Slice of Life
The story follows Takatoshi Tsuda, a boy who joins the Ousia Academy, a high school that until recently had been an all-girl school, and by that, you can expect to see sexy girls, lewd scenes, and uncovers some of dirtiest female secrets.
So, Later they ask him to join the student council as vice-president and a male representative. More girls start coming to the council to get in on the excitement.
Takatoshi's sister Kotomi, a new student at Ousia, is as pervert as the president, while Uomo, the aloof student council president of the nearby Eiryou High School, fits right in with the insanity at Ousia.
The Anime depicts loads of absurdity and sexual humor that keeps on coming, where The Mc Takatoshi needs to make himself respected, loved, and harden up if he is going to keep up with all the madness around him.
Read Also: Top 10 Best Anime Series about Revenge and Betrayal
---
9. Isekai Wa Smartphone To Tomo Ni: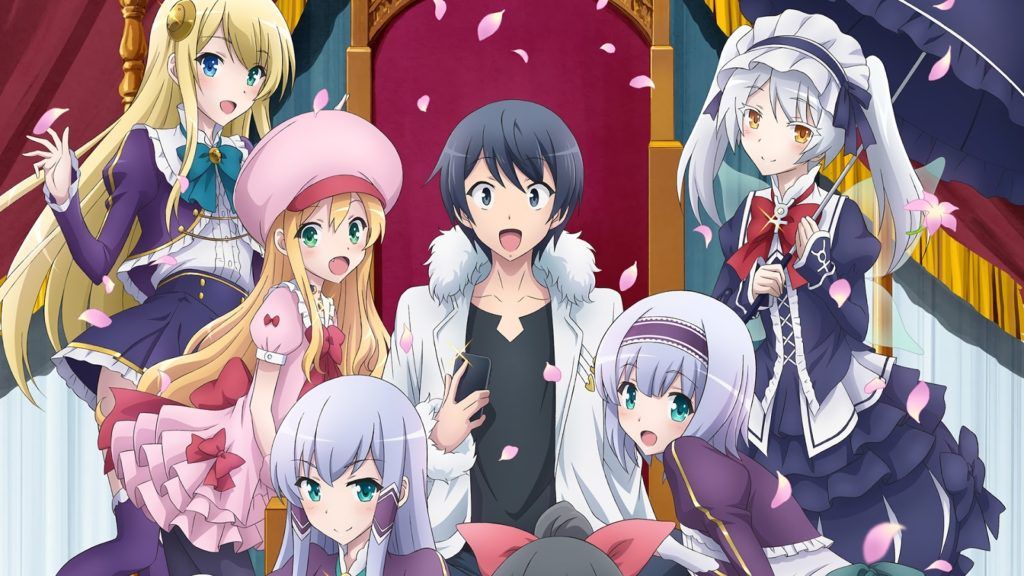 Genres: Adventure, Harem, Comedy, Magic, Romance, Fantasy
The story begins when A Sudden stray bolt of lightning accidentally kills Touya Mochizuki!
As an apology, God allows him to be reborn in a magical fantasy world and will grant him any one wish he desires.
And so, Touya chooses to keep his smartphone that works fine in the fantasy world.
While adventuring in such a fantasy anime world our MC Touya meets many new individuals and forges new relationships, well loved and respected by everyone and he gets to know the secret of the world.
He inherits the memory of an ancient society and operates with the kings of several extremely laid-back nations on his carefree journeys in this new world.
---
8. Black Clover: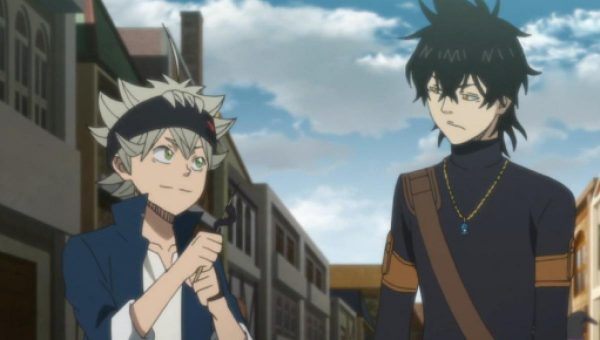 Genres: Action, Comedy, Magic, Fantasy, Shounen
Yuno and Asta are two young heroes with the same dream: that of becoming the next Mage Emperor in the kingdom of Clover, thanks to the omnipresence of magic.
Best friends and brought up side by side since their earliest childhood, our two heroes are however radically different since if Yuno is naturally gifted for magic, Asta is a priori incapable of manipulating it.
Thus, during the awarding ceremony of their grimoire to the school of the magi, Yuno receives the legendary grimoire with four-leaf clover while Asta, him, leaves empty-handed from his exam.
But very quickly, an ancient and mysterious black work decorated with five leaves appeared before him! A grimoire of anti-magic that could well reserve a future full of adventures for our anime mc "Asta", who will quickly have to deal with his extraordinary destiny and make himself respected and loved by everyone.
---
7. Medaka Box: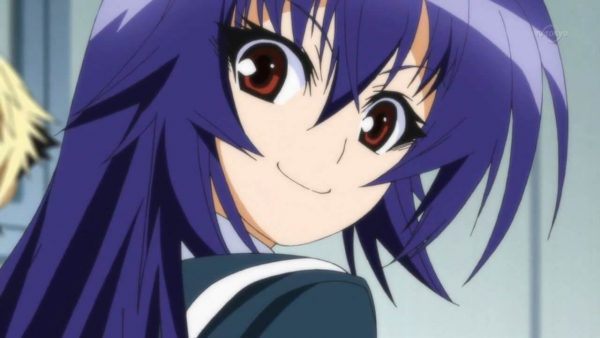 Genres: Action, Comedy, Ecchi, Martial Arts, School, Shounen, Super Power
You should really watch Medaka Box, its a great and amazing Anime series, that follows the much loved girl Medaka Kurokami, a young student at Hakoniwa High School, who thinks that she was born to help others.
Her first decision as the newly elected President of the Student Council is to set up a suggestion box in which students can express their unhappiness and ask for help.
Invested with the powers of the Council and armed with unwavering determination, Medaka can finally fulfill his destiny for the benefit of others.
She will not remain alone long on the Council because her childhood friend Zenkichi Hitoyoshi, probably the only one who really understands her, will remain by her side to protect her, even if she will have to do with the original personality of Medaka.
The requests presented by the students will be diverse and not lacking in originality: putting thugs back on the right track, solving a criminal investigation, finding a lost dog, and even writing a love letter.
---
6. Assassination Classroom: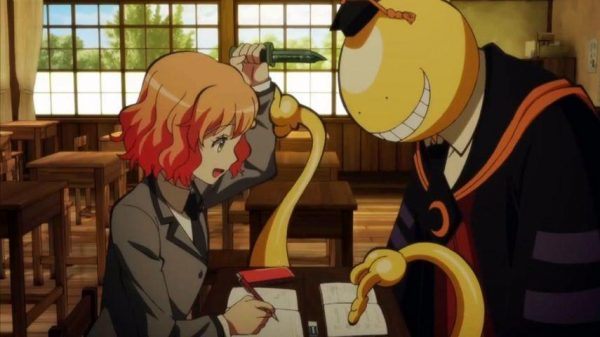 Genres: Action, Comedy, School, Shounen
Oh Yeah! this anime is well loved by all fans, and the mc is well respected by all of his surroundings, i won't spoil the shows for you, but the ending was heart-touching…
the story depicts that Planet Earth is on hold! After partially destroying the Moon, a strange and overpowered being decreed that if no one could kill him in the coming year, the planet would suffer the same fate as his satellite.
During this time, he also demanded to be appointed professor of class 3-E at Kunugigaoka High School, also known as "Class End", the class of hopeless cases.
Students are therefore in the best position to kill this strange professor, baptized Koro-sensei, and thus pocket the astronomical sum of 10 billion yen.
The problem is that the majority of high school students in this class are sorely lacking in self-confidence, crushed by a system that does not suit them.
---
5. Tensei shitara Slime Datta Ken:
Genres: Fantasy, Shounen
The Anime story follows Thirty-seven-year-old Satoru Mikami is a typical corporate worker, who is perfectly content with his monotonous lifestyle in Tokyo, other to gets loved by a girlfriend even once throughout his life.
He falls victim to a random assailant on the streets and is stabbed, however, while succumbing to his injuries, a peculiar voice echoes in his mind and recites a bunch of commands which the dying man cannot make sense of.
After regaining consciousness, he founds himself in a new body of slime in a new world.
In doing so, he acquires the power to devour anything and mimic its appearance and abilities.
Sympathetic to his predicament, Satoru befriends him, promising to assist in destroying the seal. In return, Verudora bestows upon him the name Rimuru Tempest to grant him divine protection.
Now, liberated from the mundanities of his past life, Rimuru embarks on a fresh journey with a distinct goal in mind.
As he grows accustomed to his new physique, his gooey antics ripple throughout the world, gradually altering his fate.
Check Also: The 44 Best Essential Anime for Fans to Watch Right Now
---
4. Handa Kun: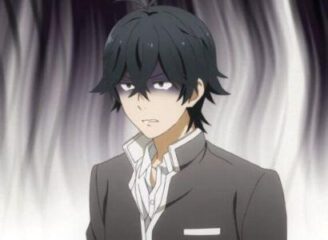 Genres: Slice of Life, Comedy, Shounen
Indeed, Handa always has the impression of being hated by everyone and criticized all day long.
In reality, He is the most popular student on campus, revered by all for his incomparable calligraphy skills, good looks, and cool personality.
Handa often tends to help her neighbor, even if it is not really his intention.
This is how out anime mc turns out to be so loved and likable by several of his other comrades, leading him to feel persecuted again.
---
3. Gintama: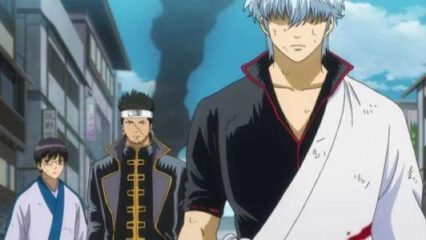 Genres: Action, Comedy, Historical, Parody, Samurai, Sci-Fi, Shounen
The Amanto, aliens from outer space, have invaded Earth and taken over feudal Japan.
As a result, a prohibition on swords has been established, and the samurai of Japan are treated with disregard as a consequence.
Edo Japan's a samurai does not respect rules set by the invaders, fight to defend Earth, but the shōgun cowardly surrenders when he realizes the aliens' power.
He agrees to an unequal contract with the aliens, placing a ban on carrying swords in public and allowing the invaders to enter the country.
---
2. Saiki Kusuo:
Genres: Comedy, School, Shounen, Slice of Life, Supernatural
The Anime story follows the much loved protagonist Kusuo Saiki, a 16-year-old student, who has a wide assortment of supernatural abilities ranging from telepathy to x-ray vision, he finds this so-called blessing to be nothing but a curse.
He always wished to live in peace and lead a normal life, but his strength was causing him trouble and harassment and accumulating constantly.
Though Kusuo tries to stay out of the spotlight by keeping his powers a secret from his classmates, he ends up inadvertently attracting the attention of many odd characters.
Forced to deal with the craziness of the people around him, Kusuo comes to learn that the ordinary life he has been striving for is a lot more difficult to achieve than expected.
---
1 . Sakamoto Desu Ga?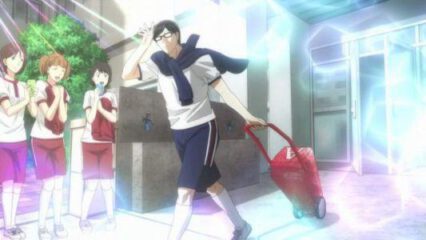 Genres: Slice of Life, Comedy, School, Seinen
a Loved Anime Series, and a Well respected Likable main character called Sakamoto, who in the first year, is the coolest, the sublime, the overpowered, the most badass student in his high school, which makes him very popular with young girls.
The boys, meanwhile and fuming with jealousy, envy him and dream of making him "pay for his arrogance".
They were threatening him, blocking his life, and harm him.
But none of this works on Sakamoto who gets out of all situations by becoming always cooler.
No one seems able to derail him, as all attempts at tripping him up are quickly foiled.
So, will any of Sakamoto's classmates, or even teachers, be able to reach his level of excellence?
See Also: The 23 Best Anime TV Shows to Stream Now!