Introduction: The Best Anime Where Popular Girl Falls In Love With Unpopular Guy
Popular girls tend to think that popular guys are always dating them, but there are some anime series that shows us that not all is what it seems.
These romance, comedy, and school anime series are always filled with hilarious moments that make you laugh and cry. While most of them are classic examples of how love can happen despite gender and social status.
More than anything, these animated tv shows make us feel like we're not alone in our feelings and emotions. It's a safe haven for those who are looking for something to relate to.
You can Check out the video on Our Youtube Channel: Here
The list of Best Anime Where Popular Girl Falls In Love With Unpopular Guy is as follows:
Yamada's First Time: B Gata H Kei
Episodes: 12

Studios:

 Hal Film Maker

Genres:

 Comedy, Romance, Ecchi, School, Seinen
With this show being "perverted", I'm surprised that it's getting much attention from audiences. It seems like a lot of people love this show because it has a good amount of "fanservice" for viewers and feels very light-hearted.
B Gata H Kei is not purely fanservice, there is actually a very funny story, and when there is fanservice it's not that trashy, are-you-kidding-me kind. A girl who thinks her vagina looks weird and wants 100 lovemaking friends! Sounds good Isn't it?
This is one strange yet entertaining show about a female character trying to find intimate romance in her daily life. What's great about this show is how it balances everything from humor and drama to ecchi and romance and you'll love the variety.
Gamers!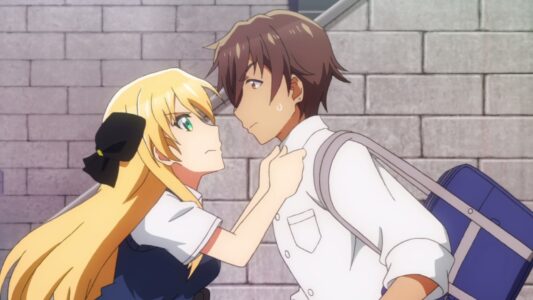 Episodes: 12

Studios:

 Pine Jam

Genres:

 Comedy, Romance, School
Among the best Anime Where Popular Girl Falls In Love With Unpopular Guy, is Gamers. Which is a typical story of Amano, a high school gamer living an average student's life.
One day, he runs into the cutest girl in school and it totally turns him on. He's so out of his mind that he wants to disappear without a trace!
Karen is an exemplary student who is recognized as a school idol. When she discovers that Amano is actually a gamer, she decides to invite him into the game club.
When Amano goes to visit the club, he is made aware of a side of gaming that he was totally not prepared for. There's this sudden feeling that he's been brought up and his life has immediately taken on a new dimension.
Now, Amano is constantly shifting his attention to these strange, unique changes in order to make sure that he doesn't go insane.
Accel World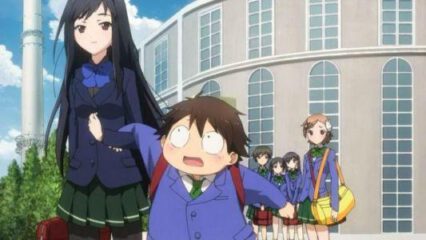 Episodes: 24

Studios:

 Sunrise

Genres:

 Action, Romance, Sci-Fi, School, Video Game
Accel World is another Best Anime Where Popular Girl Falls In Love With Unpopular Guy. The anime follows the story of Haruyuki, a high school student who's only good at games and has no friends.
Haruyuki Arita lives in a world where everything is connected to the internet and he can't seem to catch a break from all of his classmates' bullying. He's been struggling with feeling too inferior to his school. Hence, Virtual reality is his only choice to get better.
When a popular girl introduces him to a mysterious piece of software called Brain Burst and a virtual reality called the Accel World, his life seems to be changing for the better.
Bokutachi wa Benkyou ga Dekinai (We Never Learn)
Episodes: 26/Two Seasons

Studios:

 Silver, Arvo Animation

Genres:

 Comedy, Romance, Harem, School
The anime, Bokutachi wa Bengyou (We Never Learn), is a rom-com anime that follows the story of high school girls, who fall in love with their tutor.
The tutor is Yuiga, who has immersed into hilarious antics by tutoring three beautiful girls, with whom he has a lot more to live for in his last year of high school now. Completely captured by these activities and the companionship they provide, Yuiga finds that he now needs to focus on other important aspects of life too.
However, these girls struggle to balance the pursuit of their dreams with the difficulties of their growing affections toward their respective tutor.
Imouto Sae Ireba Ii. (A Sister's All You Need)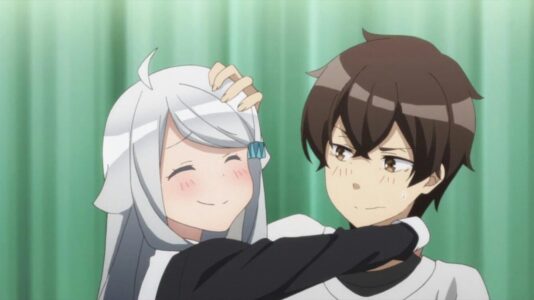 Episodes: 12

Studios:

 SILVER LINK.

Genres:

 Comedy, Romance
This is an anime tv show that has an overarching theme of friendship. It explores how important it is to have friends when you are going through tough times or even just having fun times with your friends.
This is a story about a young author who is obsessed with little sisters and focuses on them to succeed in his talent. He has a small group of friends, which includes a genius novelist, Nayuta Kani, who happens to be in love with him. It also includes a girl from his college; Haruto Fuwa and Kenjirou Toki, his editor.
They regularly play games, go on adventures and learn more about each other to care for them. But as individuals, they also struggle with tasks and issues they have to tend to without fail.
Ore Monogatari!! (My Love Story!!)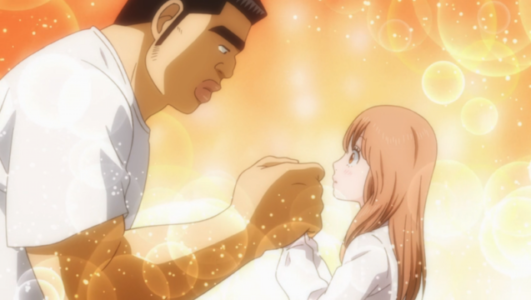 Episodes: 24

Studios:

 Madhouse

Genres:

 Comedy, Romance, Shoujo
Ore Monogatari is an Anime Where Popular Girl Falls In Love With Unpopular Guy. This anime explores the difference between being popular and true love.
Takeo Gouda is not your average high school freshman. With his muscular build and tall stature, he has developed an intimidating exterior, but his true beauty lies behind this intimidating exterior. Takeo is quite literally a hero with an enormous heart.
Too bad the girls don't want him! They often fall for his handsome friend, Sunakawa. Takeo was on the sidelines for so long that he accepted his fate without hesitation. But, one day when he saved a girl named Yamato from a harasser on the train, his dream of a love story might finally be coming true.
Jaku-Chara Tomozaki-Kun (Bottom-Tier Character Tomozaki)
Episodes: 12

Studios:

 Project No.9

Genres:

 Drama, Romance, School
Tomozaki Fumiya is the main character of our anime series, but his personality is rather unique. He's actually pretty good at gaming, but so bad at socializing.
Throughout the show, you'll see Tomozaki-Kun slowly change from being lonely and introverted to becoming open toward new people. Thanks to the energetic and popular Minami Nanami, who makes him feel more confident.
The animation in the anime is really great. It's full of cool visuals and it highlights the situations and dialogues very well.
Ijiranaide, Nagatoro-san (Don't Toy with Me, Miss Nagatoro)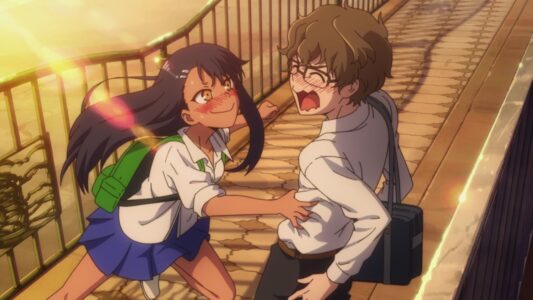 Episodes: 12

Studios:

 Telecom Animation Film

Genres:

 Comedy, Slice of Life
Naoto Hachiouji usually gets teased by Hayase Nagatoro, a student he meets during working on his manga project. After reading his story, she starts to toy with him, referring to him as "Senpai" and skipping his name when addressing him.
Naoto is beginning to feel embarrassed by the relentless antics of Nagatoro, who keeps teasing him and making him feel more and more pressured.
However, Naoto will discover that life can be fun with Nagatoro in his life. He feels like he has a new lease on happiness, not just because of the good company but also the excitement.
Yamada-Kun to 7-nin no Majo (Yamada-Kun and the Seven Witches)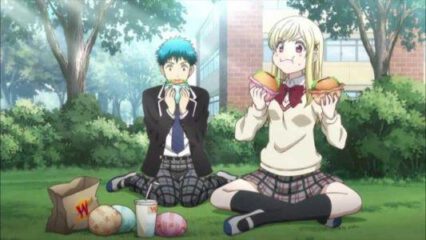 Episodes: 12

Studios:

 LIDENFILMS

Genres:

 Comedy, Mystery, Romance, Supernatural, Harem, School
Yamada-Kun is a romantic comedy anime that revolves around a popular girl and an unpopular guy. It has been praised for its realistic portrayal of the romance between two people who don't really have anything in common with each other.
The series follows the story of a boy – Ryuu Yamada – who one day accidentally kisses a popular girl and later finds out he has witch powers. Yamada is not the only witch in high school, but there are still others out there that they may look for. Now, the Supernatural Studies Club embarks on their journey of finding the identities of all witches.
Horimiya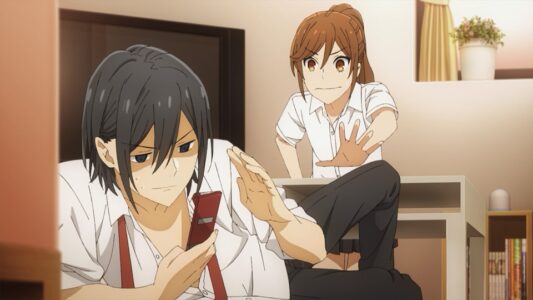 Episodes: 13

Studios:

 CloverWorks

Genres:

 Comedy, Romance, Slice of Life, School
Chances are you've heard this storyline before: A high school student with no friends falls in love with a popular girl during a chance encounter. She just wants to work hard to take care of her family and is not interested in socializing…
However, The popular Hori and the outcast Miyamura share various similarities. Despite their seemingly opposite personalities, the two quickly become friends. They often enjoy spending time together at Hori's house.
Spending time together makes them begin to explore each other's shells, sharing a new side of the world together.
Seishun Buta Yarou wa Bunny Girl Senpai no Yume wo Minai (Rascal Does Not Dream of Bunny Girl Senpai)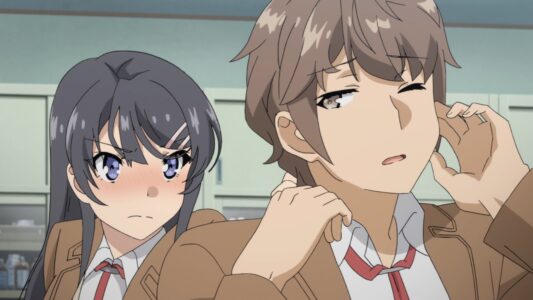 Episodes: 13

Studios:

 CloverWorks

Genres:

 Comedy, Drama, Romance, Supernatural, School
This is another good Anime Where Popular Girl Falls In Love With Unpopular Guy. It's a cute anime that will make you laugh and cry.
The story depicts; There's a rumor about "puberty syndrome," which is an unexplained phenomenon that causes people to have unusual experiences or see things they didn't before. For example, Sakuta Azusagawa suddenly sees a bunny girl in front of him.
The girl's name is Mai Sakurajima, and she is famous for being on hiatus from acting.
Sakuta works with Mai to figure out why others can't see her bunny-girl figure and comes to realize there are many girls in similar situations.
5-toubun no Hanayome (The Quintessential Quintuplets)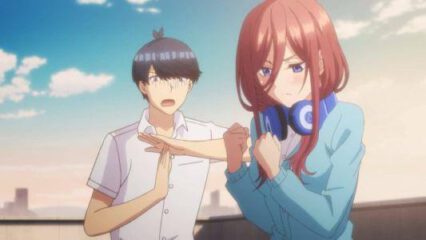 Episodes: 24/Two Seasons

Studios:

 Tezuka Productions

Genres:

 Comedy, Romance, Harem, School
Here we have a good harem plot that can be found in "Gotoubun no Hanayome." The series is overall harmonious with excellent designs and comedic content that sometimes turns into an unrequited romance between a tutor and five pretty sisters.
The plot of this anime is easy to follow and the characters are easy to relate to. Fuutarou is a poor student, who starts his new job as a tutor for these quintuplets, but quickly realizes they're struggling. They hate studying, and he must help them improve their grades.
After some time, these girls start feeling affectionate toward their tutor and their surroundings become less chaotic.
Don't Miss: