10 Best Anime Similar To Game Of Thrones
Game Of Thrones is one of the highest ranked series of all time, due to its well written story and the tools used in making it!
It was the #1 until Breaking Bad has step on it.
However, One punch man scores more votes than the both of them.
So now we are giving you 10 Best Anime Similar To Game Of Thrones.
You can also read more about The 10 Badass Anime Mentors That Looks Useless
[10]- BERSERK
BERSERK is an anime of Kentaro Miura in  1997-2016 with 12 Episodes ,production of Millepensee, GEMBA
Genres: Action, Adventure, Demons, Drama, Fantasy, Horror, Military, Romance, Seinen, Supernatural
⇓Synopsis⇓
Now branded for death and destined to be hunted by demons until the day he dies, Guts embarks on a journey to defy such a gruesome fate.
Steeling his resolve, he takes up the monstrous blade Dragonslayer and vows to exact vengeance on the one responsible.
Also, hunting down the very man he once looked up to and considered a friend.
Along the way, he encounters some unlikely allies, such as a small elf named Puck, and Isidro, a young thief .
As the ragtag group slowly comes together after having decided to join Guts in his quest, they will face incredible danger.

CLAYMORE is an anime of Norihiro Yagi in 2007 with 26 episodes, production of  Madhouse.
Genres:  Action, Adventure, Super Power, Demons, Supernatural, Fantasy, Shounen
⇓Synopsis⇓
When a shapeshifting demon with a thirst for human flesh, known as "youma," arrives in Raki's village, a lone woman with silver eyes walks into town with only a sword upon her back.
She is a "Claymore," a being manufactured as half-human and half-youma, for the express purpose of exterminating these monsters.
After Raki's family is killed, the Claymore saves his life, but he is subsequently banished from his home.
With nowhere else to go, Raki finds the Claymore, known as Clare, and decides to follow her on her journeys.
As the pair travel from town to town, defeating youma along the way, more about Clare's organization and her fellow warriors comes to light.
With every town cleansed and every demon destroyed, they come closer to the youma on which Clare has sought vengeance ever since she chose to become a Claymore.
[8]-LE CHEVALIER D'EON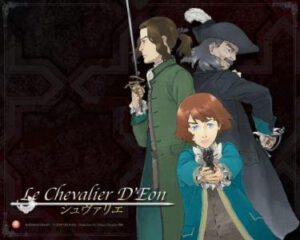 LE CHEVALIER D'EON is an anime of Tow Ubukata in  2006 with 24 Episodes ,production of  Production I.G
Genres: Historical, Magic, Mystery, Seinen, Supernatural
⇓Synopsis⇓
18th Century, France. Lia de Beaumont, loyal servant of Versailles and its King, Louis XV, is found dead in the river Seine.
Floating inside a coffin, on which the word "Psalms" was written, her body had been poisoned by mercury, thus preserving decay.
According to the Church, the soul that belonged to a corpse incapable of being consumed by the soil will forever wander in the human realm, unable to go to Heaven.
This greatly affects D'Eon de Beaumont, Lia's brother and one of the king's spies.
However, he vows to discover by whom – and why – she was murdered. But he never expected that the one who conducting the revenge would be Lia, now possessing D'Eon's body!
And what will the knight do when this quest might risk France itself?
[7]-GUIN SAGA
GUIN SAGAis an anime of Kaoru Kurimoto in  2009 with 26 Episodes ,production of Satelight
Genres: Adventure, Fantasy
⇓Synopsis⇓
The ancient kingdom of Parros has been invaded by the armies of Mongaul, and its king and queen have been slain.
But the "twin pearls of Parros," the princess Rinda and the prince Remus, escape using a strange device hidden in the palace.
Lost in Roodwood, they are rescued from Mongaul soldiers by a strange leopard-headed man, who has no memories except for the words "Aurra" and "Guin," which he believes to be his name.
[6]-Arslan Senki

Arslan Senki one of the 10 Best Anime Similar To Game Of Thrones of Yoshiki Tanaka in 2015 with 25Episodes ,production of SANZIGEN, LIDENFILMS.
Genres:  Action, Adventure, Historical, Drama, Fantasy, Shounen
⇓Synopsis⇓
The story follows the exploits of Arslan, the crown prince of the fictional kingdom of Pars, and it is divided into two parts.
In the first part, after Arslan's father, King Andragoras III, falls victim to a treacherous plot he neighboring nation of Lusitania took Pars
After barely escaping with his life, Arslan rejoins his loyal servant, Daryun.
However, only few companions backed him up, including:
The philosopher and tactician Narsus and his young servant Elam.
Also Farangis, an aloof, cold priestess, and Gieve, a travelling musician and con-man.
Arslan stands against overwhelming odds to assemble an army strong enough to liberate his nation from the Lusitanian army.
"Silvermask", is another contender to Pars' throne.
In the second part, Arslan, as the king of Pars, is defending his country against several external threats, and addressing the needs and hopes of his subjects.
Read More: Top 10 Best Survival Anime | Life or Death!