Anime Where The Main Character is a Villain
Hey Anime Lovers, Welcome to this new anime top list, where we compile 10 Japanese anime series where the main character is a villain.
This Type of anime often met such a great success among fans, due to the interesting twist of making The Anime Protagonist Evil Bad, or villain.
Hence, Keep in mind That some villains on our list are those who morally choose the wrong path but they justify it as good deeds.
So, let us see these stories from these anime villains' points of view.
10. Togainu no Chi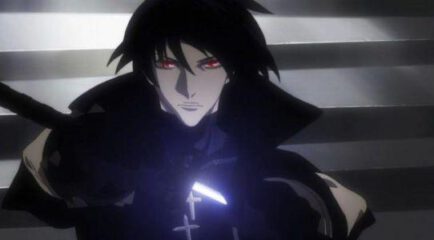 Episodes: 12

Studios:

 A-1 Pictures

Genres:

 Action, Sci-Fi, Shounen Ai
Let's kick off our top list of anime with villain protagonists with this magnificent yet underrated anime series called Togainu no Chi.
This Anime Tv Shows Story is set in a time where The third world war ruined the land of Japan, and the Vischio organization is controlling Tokyo and renaming it Toshima. Furthermore, The Vischio supervises the Igura Game, in which competitors fights and plunge in each other's blood to earn the chance to fight the tournament's king, Il-re.
Moreover, there is also another game known as Blaster which differs from Igura, since you cannot use weapons or kill your opponent. In Blaster to win you have to knock out the opponent. Akira, a young man isolated from his family, is known to be invincible at Blaster. However, his life will turn upside down as soon as he is accused of murder.
Hence, Unable to prove his own innocence, all hope is seemingly lost… that is until the mysterious Emma appears and offers him a chance. Now, to regain his freedom, Akira must join the Igura Game and defeat its undefeatable King.
9. Michiko and Hachin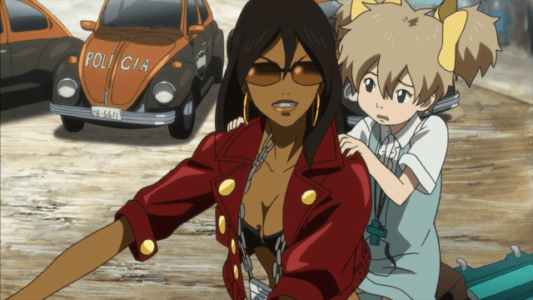 Episodes: 22

Studios:

 Manglobe

Genres:

 Action, Adventure
This is an animated Japanese series that you probably never heard of! but it's really sad that such a masterpiece is being overlooked. This Action Adventure Anime with a Female villain lead follows The criminal Michiko Malandro, who for the Fourth time succeeds to break out of a highly secured prison.
Michiko meets up with Hana Morenos, a young girl captivated by her abusive foster family. Furthermore, Hana dreams that one day she will manage to break out of her captors by her own Prince Charming.
However, her fated prince would turn out to be the criminal Michiko who charges in atop a stolen motorbike, claiming to be her mother. Therefore, The two will starts chasing their dreams and exploring scenes of betrayal, poverty, and child exploitation.
Hence,  Michiko's doings will reach the ears of the criminal syndicate Monstro Preto, and a storm of gang warfare begins brewing over the horizon… Michiko to Hatchin focuses on the story of vibrant people and their clashing agendas, and of all the people connections gathered together by one unreachable man.
Read Also: The Super 10 Fastest Anime Character Of All Time
8. Darker than Black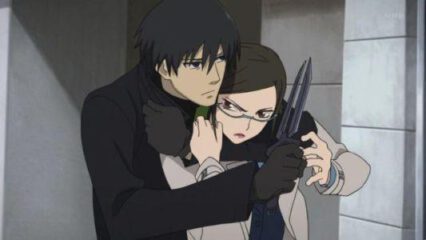 Episodes: 37 / Two Seasons

Studios:

 Bones

Genres:

  Action, Sci-Fi, Mystery, Super Power
As the name says this is one of the most awesome dark anime I have ever seen! and really this anime has everything that makes it enjoyable to watch, be it the badass villain main character, the epic anime fight scenes, legendary superpowers, and villain organizations to deals with, without skipping the magnificent story-line and the epic anime soundtracks.
the story begins in One night, as meteors streak across the star-studded sky, Shion Pavlichenko becomes a Contractor. Despite her brother's transformation, Shion's twin sister Suou continues to live a fairly ordinary life, attending middle school with her friends and getting caught up in the awkwardness of growing up.
However, everything changes when her home is invaded by a masked man cloaked in black, destroying any sense of normality she once had. Revealed to possess latent Contractor abilities of her own, Suou is caught between family, friends, and her own sense of purpose as she ventures into the ruthless world of cutthroats and espionage that Contractors call home.
Meanwhile, in Tokyo, an investigation surrounding Hell's Gate's sudden collapse is underway, and prophetic signs of doom point in the direction of a silver-haired doll.
7. Jigoku Shoujo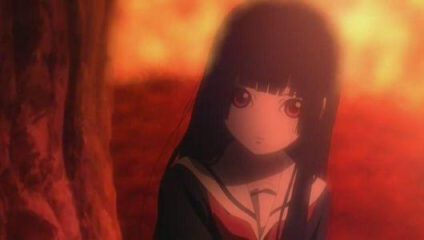 Episodes: 84 / Four Seasons

Studios:

 Studio Deen

Genres:

 Mystery, Horror, Psychological, Supernatural
Are you into horror anime series? this one will make your adrenaline rush! So Have you heard of Hell Correspondence? Hell Girl is a very unique mystery anime series, in each episode the story revolves around a character going through a tough time before they turn into the legendary girl everyone is whispering about.
Only persons with a powerful grudge can access the mysterious website, that allows them to enter anyone's name and have that person be ferried straight to hell. Hence, Ai Enma, the Hell Girl, will not judge whether or not the chosen target deserves punishment; she will merely exact revenge on them for you.
Not much is known about this young girl other than that she swiftly carries out her tasks with the help of three straw dolls. There is just one catch, however—as payment for carrying out such a request, the user must condemn themselves to an afterlife in hell.
Read Also: 7 Anime That Switched Studios To Worse
6. Code Breaker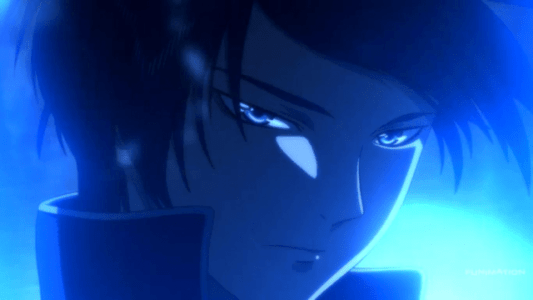 Episodes: 13 

Studios:

 Kinema Citrus

Genres:

 Action, Comedy, School, Shounen, SuperPower, Supernatural 
Code Breaker is a Japanese manga and anime tv show that you really must watch! why? … simply because this anime is with an op mc. So While Riding the bus one day, Sakurakouji Sakura looks out the window to see people being burned alive by our anime villain boy oogami.
Oogami is a Code Breaker, one who "does not exist". He is a seemingly cold-blooded Anime killer who follows the principle of "an eye for an eye", to "use evil against evil". Sakura will then focus on trying to stop supernatural assassins from killing morally corrupt people.
5. Gankutsuou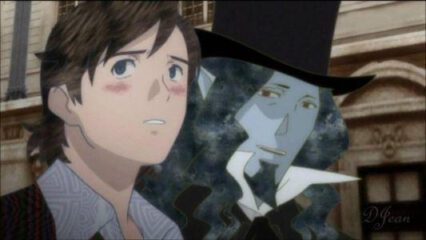 Episodes: 24
Studios:  Gonzo
Genres:   Drama, Mystery, Sci-Fi, Supernatural, Thriller
Here is another great anime series about villains that you will probably fall in love with. First of all, Gankutsuou is a Japanese anime series loosely based on the novel "The Count of Monte Cristo" by Alexandre Dumas.
This animated series tells the story of Albert Morcerf, who happens to befriend a wealthy nobleman, The Count of Monte Cristo, through a series of bizarre events. Fascinated by the Count's charm, Albert invites him to meet his friends and family, all of whom happen to be part of the upper-class society of Paris, France. Unfortunately, little does Albert realize that the Count has ulterior motives in mind.
Read Also: Chocking Anime Scene That Gives Goosebumps
4. Zankyou no Terror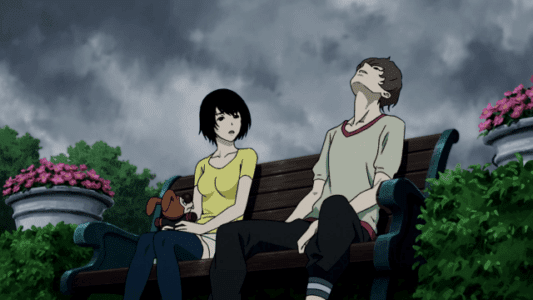 Episodes: 11
Studios: MAPPA
Genres: Mystery, Psychological, Thriller
Zankyou No Terror is a great thriller anime series with two villain main characters who happen to be terrorists, although it's due to their harsh dark past, picking this path is just so devilish.
Painted in red, the word "VON" is all that is left behind after a terrorist attack on a nuclear facility in Japan. The government is shattered by its inability to act, and the police are left frantically searching for ways to crack down on the perpetrators.
The public is clueless—until, six months later, a strange video makes its way onto the internet. In it, two teenage boys who identify themselves only as "Sphinx" directly challenge the police, threatening to cause destruction and mayhem across Tokyo.
Unable to stop the mass panic quickly spreading through the city and desperate for any leads in their investigation, the police struggle to act effectively against these terrorists, with Detective Kenjirou Shibazaki caught in the middle of it all.
Zankyou no Terror anime tv show tells the story of Nine and Twelve, the two evil villain boys behind the masked figures of Sphinx. They should not exist, yet they stand strong in a world of deception and secrets while they make the city fall around them, all in the hopes of burying their own tragic truth.
3. Elfen Lied
Episodes: 13 
Studio: Arms

Genres:

 Action, Horror, Psychological, Supernatural, Drama, Romance, Seinen
Here is another great Psychological anime series, and since I'm into horror and seinen anime themes, frankly Elfen lied is one of the best anime tv shows I have seen so far!
This Anime story follows Two students, who meet a likely harmless girl "Lucy", Lucy is a special breed of human a.k.a "Diclonius,". She is a victim of scientific experimentation by the government.
As a result, she is born with a short pair of horns and invisible telekinetic hands. However, once circumstances give her an opportunity to escape, Lucy unleashes a torrent of bloodshed as she escapes her captors.
She was injured during her breakout, and She is unaware that she's actually a mutant serial killer with a split personality.
Read Also: The 10 Most Beautiful Anime Girls With Silver White Hair
2. Code Geass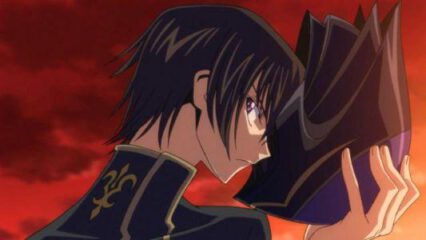 Episodes: 50 / Two Seasons
Studios: Sunrise
Genres:  Action, Military, Sci-Fi, Super Power, Drama, Mecha, School
The Holy Empire of Britannia is establishing itself as a dominant military nation, starting with the conquest of Japan. Renamed Area 11 after its swift defeat, Japan has seen significant resistance against these tyrants in an attempt to regain independence.
Lelouch Lamperouge, exiled prince of Britannia, unfortunately, finds himself caught in a crossfire between the two nations' armed forces. He is able to escape, however, thanks to the timely appearance of a mysterious girl named C.C., who bestows upon him Geass, the "Power of Kings."
Realizing the vast potential of his newfound "power of absolute obedience,". Lelouch embarks upon a perilous journey as the masked vigilante known as Zero, leading a merciless onslaught against Britannia in order to get revenge once and for all. All Hail Lelouch… in order to hear this sentence the anime protagonist has done devilish things in order to rule and command people with his power "Geass" which is one of the most fearsome anime powers ever!
This Action Mecha Anime Series is a legendary anime show that showcases the story of the villain mc Lelouch who is ready to kill even his family members in order to get his revenge.
Read Also: Anime where Main Characters have been through Human Experiments
1. Death Note
Episodes: 37
Studios: Madhouse
Genres:  Mystery, Police, Psychological, Supernatural, Thriller, Shounen
we come at the number 1 on this list of anime series about villains, and it's obvious that Everyone knows about this masterpiece anime " Death Note" such a great tv show that can't happen twice in history. The Anime series showcases that a shinigami can kill any person—provided they see their victim's face and write their victim's name in a notebook called a Death Note.
One day, Ryuk, bored by the shinigami lifestyle and interested in seeing how a human would use a Death Note, drops one into the human realm. High school student and prodigy Light Yagami stumbles upon the Death Note and—since he deplores the state of the world—tests the deadly notebook by writing a criminal's name in it.
Hence, When the criminal dies immediately following his experiment with the Death Note. So, Light quickly realizes and recognizes how devastating the power that has fallen into his hands could be. With this divine capability, Light decides to extinguish all criminals in order to build a new world where crime does not exist and people worship him as a god.
However, the Police quickly discover that a serial killer is targeting criminals and, consequently, try to apprehend the culprit. As a result, the Japanese investigators count on the assistance of the best detective in the world: a young and eccentric man known only by the name of L.