Magic School Anime Series where Mc is Op
Hello, anime fans, Magic powers are believed to be one of the greatest and strongest powers that everyone dreams of, And School life in Anime is just so ideal that we wish to attend these academies! Therefore, this article is combining a list of top 10 magic school anime series where The Mc is Op. We hope that you will find it a very good source of new tv shows to watch.
So let's start our countdown!
10. Qualidea Code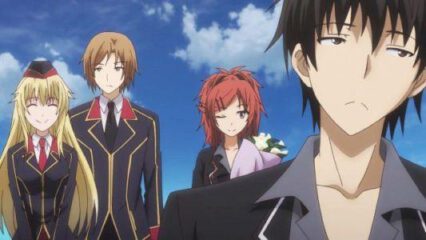 Episodes: 12

Studios:

 A-1 Pictures

Genres:

 Action, Supernatural, Magic
The story of this magic school anime takes place in a world where people continue their war against the "unknown"—the enemy of humanity. Children evacuate to a cold sleep institution during the invasion by the "unknown"  wake up and learn that their bodies gain supernatural powers. In order to protect the country from the "unknown" emerging from the Tokyo bay gate, the boys and girls wage battles in the defense of the cities of Tokyo, Kanagawa, and Chiba.
Read Also: The 18 Sexy Anime School Girls With Pretty Uniforms!
9. Dragon Crisis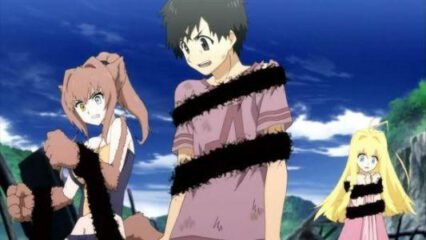 Episodes: 12

Studios:

 Studio Deen

Genres:

 Action, Magic, Romance, School, Seinen, Supernatural
Kisaragi Ryuji's peaceful life turns into an adventure with the return of his second cousin Eriko. Ryuji and Eriko seize a relic box from a black broker. In the box, they find a red dragon girl Rose. In order to protect Rose from the black organization, Ryuji decides to fight using his power as a relic handler. You will undoubtedly enjoy this magic school anime where the mc Ryuji will turn into an op character. Hence, My feedback is that every episode was well paced or the appealing action in a few episodes and the ending but other than that there's not much.
8. Night Wizard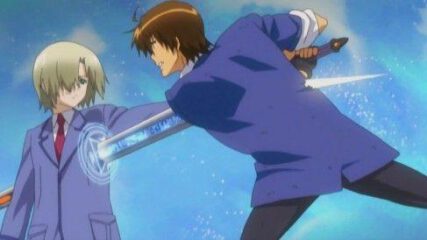 Episodes: 13

Studios:

Unknown

Genres:

 Adventure, Fantasy, Magic, Shounen
Night Wizard is a Magic School Anime that showcases the story of the op mc Renji and his mates who are members of the night wizard group whose mission is to protect the world from impending darkness. Renji Hiiragi's sole desire is to be able to attend school and graduate, however, he can't do so because he is constantly called on missions.
Hopefully, his latest mission is to protect the transfer student Elis Shiho, who is now attending the same academy. On her first day, Elis will meet Renji's friend "Kureha" and then, she will join the Astronomy Club, where she will realize that she too, has the power to become a night wizard. Hence, Along with Renji and Kureha, Elis now starts her adventure of fighting and a new life, as a Night Wizard!
Read Also: The 10 Best Anime Series Where The MC is an OP (Overpowered) Girl
7. Negima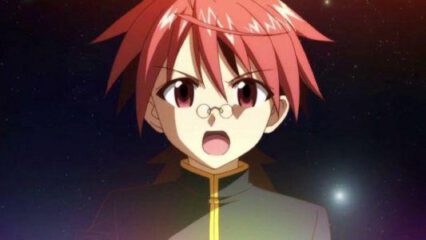 Episodes: 26

Studios:

 Shaft

Genres:

 Adventure, Harem, Comedy, Supernatural, Magic, Romance, Ecchi, Fantasy, School
The Wizard Negi Springfield is a young fresh boy from the Academy of Magic, however, he is doing a manly job! which is training as an instructor at Mahora Academy in Japan. Therefore, there are the 31 schoolgirls of Class 3-A, who are keeping him awake all night cramming for a final exam in willpower.
Even though, Negi is surrounded by flirting and spells. but Darkness is getting closer, and now Negi is gonna need help from his lovely student bodies to drive the ghouls from their school. These lovely girls want to prove that they're the best in class, and they can win extra credit, which is available to those who aren't afraid of fighting phantoms!
6. Munto
Episodes: 9 Ova's

Studios:

 Kyoto Animation

Genres:

 Magic, Romance, Fantasy
Akuto, the main source of energy is running low and the Heavens, a world of islands, hidden beyond time, floating above ours, has united against the Magical Kingdom which uses the most energy. To save both the Magical Kingdom and the Heavens and restore the flow of Akuto, the Magical King Munto must follow a vision and find the girl Yumemi in the lower world. Yumemi herself is just a normal girl except that she is the only one who can see the islands of the Heavens floating above. When Munto appears before her she starts thinking about her and others' responsibility to the world.
Read Also: Anime Series Where The MC is Op (Overpowered) as hell but is Underestimated
5. Witch Craft Works
Episodes: 12
Genres: Action, Fantasy, Magic, Seinen, Supernatural
Studios: J.C.Staff
Honoka Takamiya was perfectly happy with his completely average and normal life. His primary problem in life was the fact that he shared a school with the school's "Princess," Ayaka Kagari. Both girls and boys fawn over her which makes Honoka's life difficult since he rides the same bus as her in the morning and sits next to her in class. What's worse is that if he even idly interacts with her, her fan club takes him out back and beats him up!
One day while taking out the trash he looks up to see a school building falling on top of him! He is saved at the very last moment by the very same beautiful girl, Ayaka, whom he's never even had a full conversation with. She finally speaks to him, revealing that she's been protecting him in secret, but now that someone is attacking him directly she no longer needs to do it covertly. It turns out that Ayaka is a fire witch and there are other witches in the world who want to capture Honoka and use him for the power that he possesses inside of him.
4. Hagure Yuusha no Aesthetica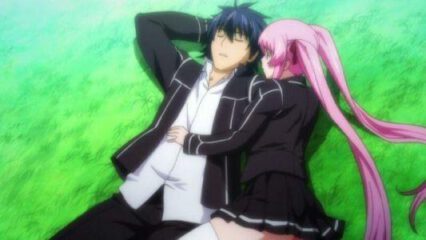 Episodes: 12 

Studios:

 Arms

Genres:

 Action, Super Power, Ecchi, Fantasy
This magic anime follows several young men and women who regularly transfer to a world of sword and magic called Alayzard. Those who survive and return to their homeland are typically gifted with magic abilities. An international training organization known as Babel protects these youngsters and trains them to properly use their powers.
Akatsuki has come back to his world, along with the gorgeous girl Myuu who is the daughter of the Last Dark Lord whom he defeated in battle. As a result, Akatsuki and his new friends must protect Myuu while trying to hide her true identity.
Read Also: Most Exciting Upcoming Anime Series For 2019 Schedule
3. Quanzhi Fashi
Episodes: 36 / Three Seasons

Studios:

 Shanghai Foch Film Culture Investment

Genres:

 Action, Fantasy, Magic, School
He woke up in a familiar world that has vastly changed. His school has become a school that teaches magic, encouraging everyone to become a mighty magician. Outside the city, many wandering magical beasts and monsters attack and prey on humans.
A world of advanced science changed into one of advanced magic. Despite this, his ambition in life, and his situation remain the same. One of the dregs of the society with a struggling father and a disabled step-sister that couldn't walk. However, Mo Fan found when everyone can only have one major element, he can do much more!
2. Trinity Seven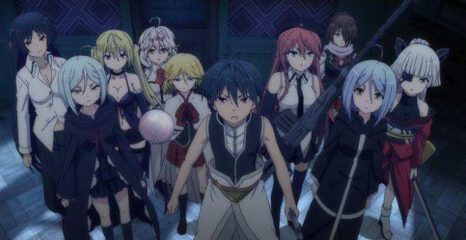 Episode: 12 

Studios:

 Seven Arcs Pictures

Genres:

Action, Harem, Comedy, Supernatural, Magic, Romance, Ecchi, Fantasy, School
In this romantic comedy magic anime, the story focus on Arata Kasuga who suddenly sees his life wiped out by a bizarre incident known as the "Collapse Phenomenon,". This phenomenon causes worldwide destruction and takes his cousin Hijiri Kasuga to another world.
To solve the mystery of the "Collapse Phenomenon" and bring back Hijiri, Arata enrolls in the Royal Biblia Academy. Hence, in this academy, there are seven beautiful female magic users, who will help Arata in his mission.
Read Also: The 10 Anime Series Where Bad Boy Falls in Love with Good Girl
1. Mahouka Koukou no Rettousei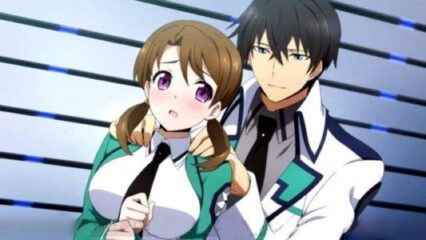 Episodes:  26
Studio: Madhouse
Genres:  Action, Sci-Fi, Supernatural, Magic, Romance, School
In the 21st century, magic, long thought to be folklore, became technological and is taught as a technical skill. In First High School, the institution for magicians. Students are divided into two groups based on their entrance exam scores.
1." Blooms," those who receive high scores, are in the First Course.
2." Weeds" are the reserved students in the Second Course.
Mahouka Koukou no Rettousei is a magic anime that follows the op mc, Tatsuya, and his sister Miyuki Shiba, who are in the First High School. In short, Upon taking the exam, Miyuki is in the First Course, while Tatsuya is in the Second Course. Additionally, his practical test scores and status as a "Weed" show him to be magically inept. The anime mc Tatsuya possesses extraordinary hidden technical knowledge, physical combat capabilities, and unique magic power.
Credit: MyAnimeList