⌈5⌋ 

The World is Still Beautiful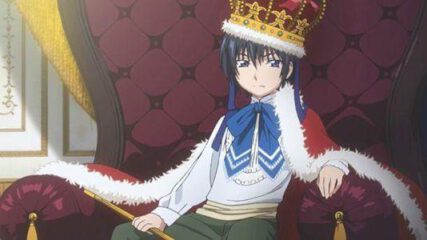 Soredemo Sekai wa Utsukushii is an anime where the mc is forced into a relationship and it's a 2014 Studio Pierrot production.
Genres:

Adventure, Romance, Fantasy, Shoujo
⇓ Synopsis ⇓
In the Sun Kingdom, every day is sunshine, and rain is something that they have never heard of.
However, in a faraway land "the Rain Dukedom", the weather is abnormal, and everybody has the power to create rain with their voices, Livius Ifrikia conquers the entire world and expands the Sun Kingdom's influence in the three short years, Upon learning about the powers to create rain.
So, Livius decides to marry Nike Remercier, one of the princesses of the Rain Dukedom.
However, those outside the Sun Kingdom have spread a rumor that Livius is a cruel, ruthless, and tyrannical ruler, and as word reaches the princess, she begins to prepare herself for the worst, But when she finally meets her fiancé, Nike discovers that he is an entirely different person from what she originally expected.
---
⌈4⌋

Black Butler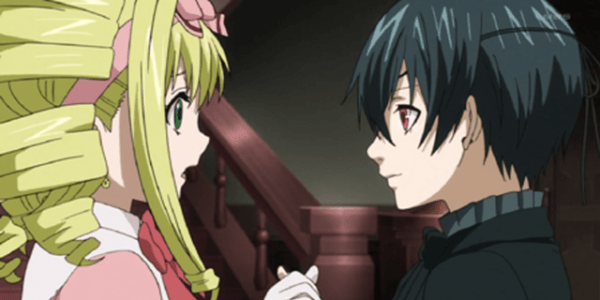 Kuroshitsuji is an anime where mc is in a relationship without his will and it's a 2008  A-1 Pictures production.
Genres:  

Action, Comedy, Demons, Fantasy, Historical, Shounen, Supernatural
⇓ Synopsis ⇓
In the year 2021, a parasitic virus known as "Gastrea" infects humans and turns them into monsters.
What is left of mankind now lives within the Monolith walls?
walls that are made of Varanium, the only material that can hurt Gastrea?
To counter the threat that the Gastrea pose, "Cursed Children".
Officially called Initiators by the Tendo Civil Security, are given partners called Promoters, people who work to guide and protect the young Initiators, These teams of two are sent out on missions to fight the monsters created by the Gastrea virus and keep them at bay.
---
⌈3⌋

The Pet Girl of Sakurasou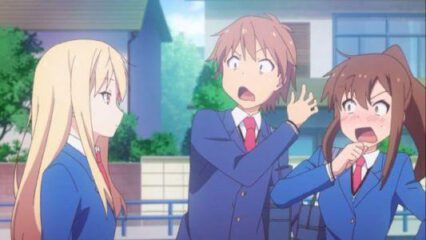 This is an anime where the mc is forced into a relationship and it's a 2012  J.C.Staff production.
Genres:  Comedy, Drama, Romance, School, Slice of Life
⇓ Synopsis ⇓
Sorata Kanda moves into Suimei High School's infamous Sakura Hall.
The satellite dorm and it's eccentric, where his life will turn upside down.
Sorata finds it difficult to fit in with the bizarre collection of dorm residents like Misaki; Jin; Ryuunosuke; and Chihiro.
Hence, Sorata's friend Nanami will push him to find new owners for the many cats so that he can quickly move back into the regular dorms.
However, his desire to escape Sakura Hall wavers when Mashiro Shiina, transfers in during the spring trimester and quickly latches onto him.
As a result, Sorata and Mashiro come out of their shells and trigger change in the lives of those around them.
---
⌈2⌋ 

Wolf Girl & Black Prince
Ookami Shoujo to Kuro Ouji is a 2014 anime releases by TYO Animations Studio.
Genres:

Comedy, Romance, School, Shoujo
⇓ Synopsis ⇓
Erika Shinohara has taken to lying about her romantic exploits to earn the respect of her new friends.
So when they ask for a picture of her "boyfriend".
She shows a photo of a handsome stranger, whom her friends recognize as the popular Kyouya Sata.
Now, She is desperately trying to avoid humiliation, Erika explains her predicament to Kyouya.
Hoping he will pretend to be her boyfriend.
But Kyouya is actually a mean sadi$t who forces Erika to become his "dog" in exchange for keeping her secret.
By accepting his deal, Erika begins to see the real Kyouya the layers of his outer persona.
As she finds herself falling for him, she can't help but question if he will ever feel the same way about her.
Will Kyouya finally make an honest woman out of Erika, or will she be a "wolf girl" forever?
---
⌈1⌋

Nisekoi: False Love
Nisekoi is our number 1 in this list of the best anime where mc is forced into a relationship.
Genres: Harem, Comedy, Romance, School, Shounen
⇓ Synopsis ⇓
Raku Ichijou, a first-year student at Bonyari High School, is the sole heir to an intimidating yakuza family.
Ten years ago, Raku made a promise to his childhood friend.
Now, all he has to go on is a pendant with a lock, which can only be unlocked with the key which the girl took with her.
Years later, Raku wants is to remain away from his yakuza background as possible.
Usually, He spends his daily school days alongside his middle school crush Kosaki Onodera.
However, when the American Bee Hive Gang invades his family's turf, Raku's life will turn upside down.
Raku must pretend that he is in love with Chitoge Kirisaki, the beautiful daughter of the Bee Hive's chief.
So as to reduce the friction between the two groups.
Unfortunately, Raku and Chitoge fall in hate at first sight.
The girl sees him as a pathetic pushover, and Raku sees her as attractive as a savage gorilla.
BakaBuzz Youtube Channel: Baka Buzz