Best Anime Where Bad Girl Fall in Love with Good Guy
Anime Where Bad Girl Fall in Love with Good Guy is our anime-themed list today! We all love Romantic anime series that features couples, along with their sweet stories and hardships.
However, when these anime and manga love stories are featuring a bad girl and a good boy or the inverse, it became more enjoyable to watch, as we thought that is an impossible love!
Hence, this anime top list will show you that sometimes it turns out that Forbidden love provides happiness when there is no happiness.  
Keep in mind this Romantic Anime List, contains Bad Anime Girls, who can be Mean, Sarcastic, sadi$tic, psychotic… and so on.  while the guy is good, quiet, Four-eyes, Smart, and gentle.
So let's see what we have in our list of Anime Bad Girl who Falls in Love with a Good Guy or Boy!
Here We Go…
1. MM!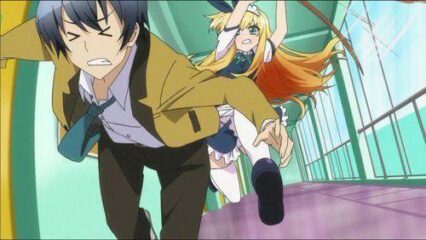 Studios:

 Xebec

Episodes: 12 (Sub/Dub)

Anime Genres:

 Harem, Comedy, Ecchi, School
This Anime Series depicts: that Due to a traumatic incident in the past, Sado is now a ma$ochist, who gets his pleasure from being beaten by pretty bad girls.
This is a weird situation, that leads him to ask the Second Voluntary Club for help with his problem and ends up joining the club after they promise to cure him.
However, things are more complicated, when knowing that all of the members of the club have some serious problems.
The club leader Mio Isurugi fears cats, and she is a self-nicknamed god.
Arashiko Yuuno has a severe panic of men, and Michiru Onigawara is a sadi$t who enjoys making people cosplay.
Together, along with other the odd  Yumi Mamiya, and Noa Hiiragi, they will realize the importance of acceptance and kindness.
Read Also: Top 20 Anime Girls with Brown Hair
10. B Gata H Kei
Studios:

 Hal Film Maker, TYO Animations

Episodes:

12 (Sub/Dub)

Anime Genres:

 Comedy, Romance, Ecchi, School, Seinen
The Story of this Comedy Romance anime tv series highlights  Yamada, A 15-year-old girl,  who seems to be so pretty, but the problem is that she thinks her vajina is weird.
Her aim is to sleep with 100 boys. The trouble is that she is afraid to sleep with an experienced man who will tease her about the fact that she's a virgin.
Yamada knows nothing about dating, relationships, or $ex. that's why she chooses the inexperienced Kosuda Takashi, thinking that he will help her to be a woman.
There's only one problem, Yamada doesn't know anything about relationships, and $ex or seduction, which means their goal will not be that easy.
Read Also: Best 10 Anime Where MC is Forced into a Relationship
9.  Love Tyrant
Studios:

 EMT²

Episodes:

12 (Sub/Dub)

Anime Genres:

 Harem, Comedy, Supernatural, Romance, Ecchi, School
here is a tsundere romance anime that depicts: A beautiful girl named Guri, who appears in front of Aino Seiji.
The girl has a "Kiss Note" that makes two random people kiss each other and turns them into couples.
Despite being dressed up as a shinigami, she's actually cupid.
Suddenly, Guri tries to kiss Seiji, and then… Unavoidable and uncontrollable.
However, Seiji has a crush on the hot and popular Akane Hiyama.
But as soon as Akane hears that he kissed Guri, she reveals the obsessive and psycho feelings that she holds for the unfortunate boy and proceeds to viciously attack them.
This Harem, Ecchi, Romance Anime series tells the story of A forceful love comedy that begins with an angel and a kiss!!
Read Also: Here are the 10 Best Romance Tsundere Anime Series to Watch!
8. Phantom: Requiem for the Phantom
Studios:

 Bee Train

Episodes:

26 (Sub/Dub)

Anime Genres:

 Action, Drama, Seinen, Thriller
The Story of this Thriller Drama Anime Series focuses on A Japanese tourist who accidentally witnesses a bad girl "assassin's" latest murder.
He tried to escape, but he was captured and brainwashed by the assassin, it turns out she is a young woman named Ein, and the leader of Inferno "Scythe Master"..
later, the innocent tourist will be named "Zwei"  and be a member of Inferno with no memories.
Drawn into a world of lies, deceit, and violence, Zwei must fight to survive, hopefully to one day regain his memories and escape from this world.
This is the story of two assassins, Ein and Zwei, who struggle to regain their memories as they work for the Inferno mafia.
Continue Reading By Clicking the Next Button