Outstanding 10 Anime Where The MC Has A Split Personality.
you'll find here some of the most amazing anime series where the mc has a split in personality.
discovering surprising different characters in the one main character, enjoy reading
⌈10⌋

Juubee-chan: Lovely Gantai no Himitsu


Genres:  Game, Sci-Fi, Adventure, Mystery, Magic, Fantasy
Studios:  Madhouse, 1999 production
⇓ Synopsis ⇓
Jiyu Nanohana runs across a scatterbrained 300-year-old samurai who tells her that she is the reincarnation of Yagyu Jubei.
Subsequently, with the help of the "Lovely Eyepatch", she transforms into the legendary swordsman whenever she needs to use his fighting ability.
That is to say, She needs them to do quite often as a rival clan is a dead set on conquering Yagyu to satisfy an old family grudge.
---
⌈9⌋ Black Lagoon

Genres:  Action, Seinen
Studios:  Madhouse, 2006 production
⇓ Synopsis ⇓
Rokurou Okajima, A Japanese businessman, who is living a boring life, one day a Black Lagoon group captured him during a business trip.
The group plans to use him as a  hostage which ultimately failed.
in addition, abandoned and betrayed by his former employer, and Tired of the corporate life.
Therefore, he decides to join the mercenaries that kidnapped him, becoming pa member of their gang.
In order to survive, he must quickly adapt to his new environment and prepare himself for the bloodshed and tribulation to come.
Black Lagoon anime focus on the depths of human morality and virtue.
As Rokurou transforms from businessman to ruthless mercenary. he struggles to keep his values and philosophies intact.
---
⌈8⌋

D.N Angel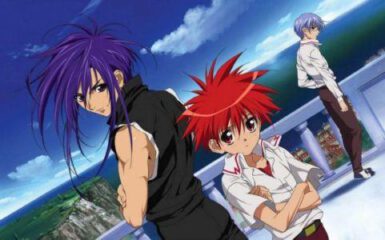 Genres:  Action, Comedy, Magic, Romance, Fantasy, School, Shoujo.
Studios:  Xebec, 2003 production
⇓ Synopsis ⇓
Daisuke Niwa is a clumsy, block-headed, and wimpy middle school student who has few redeeming qualities.
On his 14th birthday, he finally decides to confess his love to his longtime crush Risa Harada, but she rejected him, In an unexpected turn of events, however, Daisuke finds himself transforming into the infamous phantom thief Dark Mousy, whenever Risa sets in his mind.
Though Daisuke is unaware of this strange heritage, his mother is certainly not: since before the boy was born, his mother had been planning for him to steal valuable works of art and let the name of the elusive art thief be known.
as a result of doubt and confusion, Daisuke finds himself struggling in his relationships with classmates and family.
And it is not long before Daisuke realizes that he is not the only one with a fated family legacy.
---
Read also: The 10 Most Beautiful Anime Girls With Silver White Hair