The Top 10 Best Mobile Anime Mobile Games to Play
Mobile anime games are always a great source of entertainment, especially for anime and manga lovers. While there are many different types of mobile games based on anime, the most popular ones are usually RPGs and action games.
Well, The Google Play Store and IOS App Store are full of anime games, but not all of them are worth downloading. Now you will explore various video game genres that have one thing in common 'Anime and Manga themes' along with links to download and install your Favorite anime games on your mobile be it Android, iPhone, or tablet.
There are a lot of great mobile anime games available on the market. However, not all of them are suitable for casual gamers. Some of the best ones to play include:
1. Pokémon GO
This is one of the best mobile anime games that ever happened with its huge number of downloads worldwide and the unique success that Pokemon Go had obtained. Pokémon Go is a free game to play, location-based augmented reality game developed by Niantic for iOS and Android devices.
environment and it has also changed the way we play games. It is one of the most popular mobile anime games in the world and it is constantly being played by millions of people around the globe. This game is so popular that it has become a part of our daily lives, and now you cannot imagine your life without playing this game.
The game Pokemon Go was released in 2016, and since then it has been downloaded millions of times by people all over the world, making it one of the most downloaded apps on mobile.
Download it from here: Platforms: Android 
2. Love Live! School idol festival
"School Idol Project" is a rhythm anime game that has been released in Japan, and later released in the whole world! Many of your favorite anime girls, idols, style, and music have been combined into a unique blend of an anime game that you will absolutely fall in love with.
The music-style game is popular with both adults and children worldwide. Featuring over 100 playable songs, the difficulty can be adjusted to suit you. So go and meet many characters of school idols, who are there for you to become even better. Play through the amazing story put together by concerts, and create your own teams of kawaii idols.
3. Bleach: Brave Souls
Slashing through opponents with a variety of weapons and abilities, we can then win by also completing tasks that require us to wield high-powered powers. This is one of the best mobile anime games adaptation from the Bleach series
What makes this game good is that you will enjoy coming up with new Potentials every time you beat a mission, each is unique and has its own special abilities that can be learned, while each new task is stronger than the first.
For gamers who love playing battle action games that consist of real-time 3D graphics, the Bleach mobile game offers popular FPS'style gameplay that has rich graphics and advanced technologies like fast-paced movement which creates realistic effects on moving objects.
4. Puzzle & Dragons
Puzzle & Dragons is a puzzle video game with elements of RPGs and strategy games developed by GungHo Online Entertainment for mobile platforms. It has been designed to appeal to both casual and hardcore gamers.
This genre is expanding rapidly, and in Puzzle and Dragons, you can play together with your friends at the same time! A full party of anime characters is also included in this game. Take on the various missions to defeat monsters!★ Play against others in Puzzle and Dragons friendly battles or challenging Dungeons. Get stronger through these activities together with your friends.
5. Dragon Ball Z Dokkan Battle
This amazing dragon ball mobile game is just in time for your daily fun to begin. This highly detailed anime game will have you playing around and trying to defeat enemies.
Face off against powerful rivals from the world of the DragonBall franchise. This DB anime action puzzle game full of stunning 2D illustrations and animations has a fantastic storyline in a world where your favorite Dragon Ball characters from the past and present stand against each other in epic battles! Get ready to embark on an epic journey, to save this fantasy world.
6. ONE PIECE Run, Chopper, Run!
In this One Piece anime game, ALL you do is take control of your favorite little reindeer "Chopper" as he races across the world in "ONE PIECE Run, Chopper, Run!". Hence, in this mobile anime game, you can Sprint and leap your way through the terrain, while collecting candies.
And that's not all. Chopper can transform into various forms, which helps him fight off enemies, and this is just like his character development in the manga and anime series.
7. Yu-Gi-Oh! Duel Generation
Yu Gi Oh video game is another free-to-play card game available on iTunes, Google Play Store, and others. If you are looking for the best-selling Yu Gi Oh Duel Generation app then this is the one. Head over to App Store to download it now!
Online Dueling! Play world-class duels with players from across the globe and pick your favorite characters from the anime and manga franchise!
Use the power of cards that features monsters that are powered by the power of magic, and try to collect cards in this exciting mobile game to beat your foes. It is also playable offline and online, which can entertain you while alone or by competing with friends.
Tales of Link is a very cute mobile anime game that you can now play on your Apple iOS or Android device in English. This video game is not quite an anime game adaptation. However, Playing Tales Of Link in English gives you a selection of anime characters to play based on your choice.
this game is great in all aspects !!! can be playable at any time. it has beautiful high-end graphics, superb music, and amazing missions to complete. Furthermore, don't worry, it's not that hard to play.
9. Monster Strike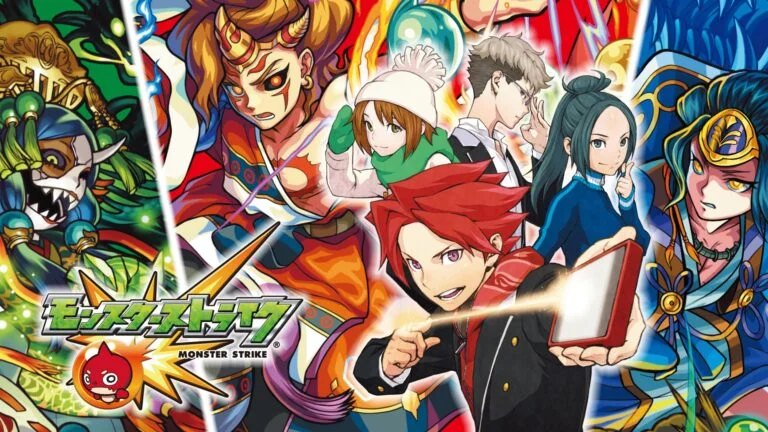 Monster Strike is one of the best free mobile anime games available on iOS and Android. It was created by Yoshiki Okamoto. Games such as this can be enjoyed with friends and family since it is a role-playing physics game with elements of puzzle, strategy, and cooperative multiplayer. The game features powerful demi-fiend monsters to rare undead ones, what kind of creatures will be put in your collection?
10. Digimon Heroes!
Digimon Heroes! is a hybrid of fighting beat 'em up and Card Battle genre. Equip yourself with Digimon characters to create unique finishers and attack others, by using a chain of cards in your hand. It's very important to remember that once you use those cards, new ones will appear. And if you form a chain of three with those, you can launch another attack
It will offer anytime, anywhere, high-quality entertainment content with card-themed action gameplay. This is among the best mobile anime games available for iOS and Android that you should play! So, just download this free Card battle adventure mobile video game and build your teams and conquer your enemies all over the Digital World of File Island.