Anime Expos For Otakus to Attend!
Here is a list of the Largest and Greatest Anime Expos, that celebrate Japanese pop culture in North America, Japan, and worldwide! So, if you are an otaku and you have no idea about anime conventions, let me tell you that you are a total Baka!
Therefore, you've missed something that will excite you, meets unique people, and feeds your brain with more info about Japanese culture. Hence, here are the best anime expos to look for, and just pick the one closest to you. Don't forget to visit their websites for registration and to know the time for their upcoming events!
Let's start our Countdown!
AnimeNEXT
AnimeNEXT is an annual four-day anime expo, that takes place at the Atlantic City Convention Center in Atlantic City, New Jersey. The expo was previously held at the Meadowlands Exposition Center in Se-caucus, New Jersey, and the Garden State Exhibit Center in Somerset, New Jersey.
AnimeNext is one of the biggest anime expos in North America! So, if you have the chance to be there, you will see so many amazing cosplays.
Anime North
Anime North is an anime expo that takes place at the Toronto Congress Center, Toronto, Canada. This Large anime convention is a three-day event that showcases anime, manga, music, games, and all other forms of Japanese Culture!
Comic-Con
There are two Comic-Con Conventions: The first one is San Diego Comic-Con, and the other is New York Comic-Con. Both Anime Expos are big and so popular that they gather so many guests every year. So, just pick The one that coast of is most convenient for you.
Anime Central
This Anime Expo is an annual three-day convention that takes place at the Hyatt Regency O'Hare & Donald E. Stephens Convention Center in Rosemont, Illinois. The Anime Central Expo is organized by the Midwest Animation Promotion Society.
Keep in Mind that Anime Central Showcases Anime, Manga, Gaming and everything related to Japnese Culture Hence, This yearly event brings fans together with personalities from the Japanese and US sectors of the anime and manga, gaming, and cinema industries.
Amecon
Amecom is One of the United Kingdom's largest Japanese animation, comics, and culture expos. Each AmeCon runs for three days and is consists of great events of all flavors, from cosplay workshops and masquerades, attendee run panels and guests, all the way to fan-run skits in the AmeCon Omake.
Every evening they round-up with a party, so after the guests had a day of geeking out, they can have a drink and dance the night away.  join them on their social media accounts: Instagram, Facebook, Twitter
Animecon
Animecon is an anime expo in Finland, it takes place yearly over a weekend in varying Finnish cities. This anime event is a project between anime clubs throughout Finland. Hence, Animecon is a great international convention for fans of anime, manga, cosplay, games, and some other Japanese culture stuff.
Otakuthon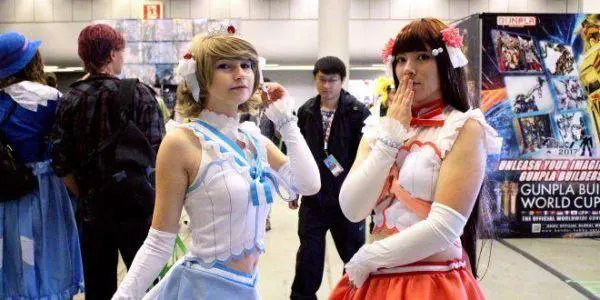 Otakuthon is one of the largest and best anime expos that celebrates Japanese animation, graphic novels, gaming, and pop culture. This Quebec's Anime convention is an annual three-day event, that takes place in downtown Montreal.
Comiket
Comic Market, a.k.a "Comiket", is a biannual dōjinshi fair in Tokyo, Japan. It's A grassroots, volunteer-run event focused on the sale of DIY dōjin. Comiket is one of the best anime expos and Japan's largest indoor public gathering, organized by a single private non-governmental staff.
FanimeCon
Fanimecon is an annual four-day anime expo that takes place at the San Jose McEnery Convention Center in San Jose, California over Memorial Day weekend. The event usually consists of nonstop video programming, costumes, music, games, tournaments, panels, and popular international guests. Hence, It's a Convention of Japanese art and popular culture, that entertains a colorful spectrum of fans and friends.
Jump Festa
JumpFesta is an annual otakus celebration or event in Japan. Therefore, Shueisha, the creator of the various Jump anthologies, sponsors this event. This anime expo was started in 1999 and is held for two days in Tokyo every December.
A-Kon
This annual anime expo is known as Project: A-Kon for a single year. It is a three-day anime festival that takes place in Dallas, Texas on the last weekend of June.
A-Kon is one of the oldest anime expos, as it started in 1990, and is considered North America's longest-running convention primarily focused on anime and manga.
Anime NYC
Among the best and greatest anime expos we have  " Anime NYC", which is an annual three-day event that takes place in November at the Jacob K. Javits Convention Center in New York City. Crunchyroll and various publishers across the Japanese pop culture industry support this convention.
ColossalCon
Colossalcon is an anime, gaming, and Japanese culture three-day expo. This anime event takes place from May 30th – June 2nd, at the Kalahari Resort in Sandusky, Ohio. Hence, They can be your ultimate summer vacation getaway. So, visit them to Start your summer with a splash at Colossalcon!
Sakura-Con
Sakura-Con is one of the greatest anime expos. And is an annual three-day event that takes place during March or April at the Washington State Convention Center in Seattle, Washington. This expo, Presented by the Asia Northwest Cultural Education Association, Sakura-Con is the oldest and one of the largest anime conventions in the Northwest.
Anime Expo
Anime Expo is an annual convention currently held at the Los Angeles Convention Center. This event takes place on July 4th weekend as a four-day exposition.
Anime Expo has grown in scale dramatically and is currently the largest anime and manga convention in North America. Moreover, It is the second longest-running anime convention (after A-kon in Texas) starting in 1992.
Anime Boston
Here is another event that is one of the Northeast's largest anime expos Anime Boston is an annual three-day anime fan festival, that takes place every spring in Boston, Massachusetts, United States. Also, Anime Boston Expo features various events such as a masquerade, an anime music video contest, video programming rooms, an artists' alley and art show, karaoke, gaming, video games, and much more awesome related stuff.
Katsucon
Katsucon is an annual three-day anime expo, that takes place during February at the Gaylord National Resort & Convention Center in National Harbor, Maryland.
This event is organized by Katsucon Entertainment, Inc. (KEI). Hence, they showcase information about Japanese animation, society, and popular culture to fans everywhere.
Japan Expo
Japan Expo is an exposition that showcases Japanese otaku culture. Moreover, It's one of the largest anime expos in the world outside Japan Furthermore, the Japan expo takes place in Paris, France. However, later it expands to include some European and US pop culture as well.
Anime Japan
AnimeJapan is a Japanese anime expo where you can find everything about anime, manga, and otakus. It is one of the largest Anime expos in Japan. Furthermore, they usually exhibit the Biggest Japanese anime companies and organizations. Moreover, their exhibitions consist of showing off displays, organizing sales, stage shows, and other amazing events.
Otakon
Firstly, Otakon is an annual three-day anime expo held during July/August. they launched their activities in 1994, it took place at the Baltimore Convention Center in Baltimore.
Furthermore, In 2017, Otakon moved to a new place, the Walter E. Washington Convention Center in our nation's capital of Washington, DC. Their convention celebrates Asian pop culture (anime, manga, music, movies, video games, etc) and its fandom. The event runs from Friday to Sunday and is packed with a schedule that has tons to do.