Anime Similar to Sword Art Online
Anime like sword art online Recommendations, that will give you the same ecstasy that you've experienced during watching SAO.
Probably a lot of Anime Fans prefers watching anime where characters are living in a fantasy world within a virtual world which might be only found in a video game.
Sword Art Online is a great sample, so if you are really into this kind of Game Anime Like Series!
Lets Start our Countdown!
---
10. Mirai Nikki (Future Diary)
The anime follows Yukiteru Amano, a young boy who is given a dairy with the power to telling the future.
With the help of this amazing power, Yuki participates in a battle royale with eleven others.
The contestants are given special diaries that can predict the future, each diary possessing unique features that give it both advantages and disadvantages.
Within the next 90 days, the contestants must try to survive until there is only one left standing.
Read Also: Anime like Demon Slayer Kimetsu no Yaiba
---
9. Guilty Crown
Ouma Shu is a 17 year-old boy who obtains a rare and great power in his right hand, "voids," or tools/weapons that are the manifestations of peoples' hearts.
He has been usually a shy boy since a childhood tragedy, but both his personality and life change forever when he meets a girl named Yuzuriha Inori.
She is a member of the rebel group called "Undertakers," whose members seek the restoration of self-government in Japan via the ousting of GHQ.
---
8. Overlord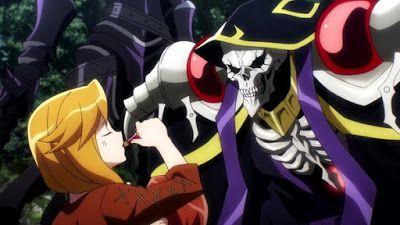 The Anime story center around Yggdrasil, a popular online game which is shut down one day, and this is just like what happens in sword art online.
while, Momonga decides to log out as the server shuts down, he found himself trapped in the world of Yggdrasil as a powerful skeletal wizard.
The world continues to change, with non-player characters (NPCs) beginning to become emotional and becoming life-like.
Momonga becomes cold and calculating while having his emotions suppressed, as if he was not an actual human.
Having no parents, friends, or place in society, this ordinary young man Momonga then strives to take over the new world the game has become.
Read Also: Anime Like Hai to Gensou no Grimgar [Anime Recommendations]
---