Introduction To The 15 Most Expensive Cars of the World in 2021
The passion for exotic supercars has no limits, The love that has been entrenched in the conscience of auto enthusiasts around the world has made them want to get everything new, and do their best to own the most expensive cars of the world.
The world's most expensive cars are on display on this list. These cars are not only luxurious but also represent the finest in automotive engineering. When it comes to purchasing a car, we often think of safety and fuel economy. However, some people want to buy a car that is not just safe and efficient but also luxurious and beautiful. These people will pay any price for their dream car.
Hence, we will present you with a group of the most expensive cars in the world as of the year 2021.
15. McLaren Speedtail
Price: $ 2,250,000
Kicking off the list of the most expensive cars of the world as of 2021, with The Speedtail Model, which is the successor to the iconic McLaren F1 of the Ultimate Series car maker.
McLaren is a British manufacturer of luxury, high-performance sports cars. They have been making cars since 1963 and have been setting records on the track for decades.
McLaren has a wide range of models from the entry-level Sports Series to the Ultimate Series. The company also has a range of supercars that are not in production anymore but are still available to purchase.
This 21st-century edition focus is on speed, and while details are sparse, the futuristic-looking supercar is designed to deliver the 1036-horsepower cargo powertrain from the hybrid powertrain. While The top speed is expected to exceed 250 mph.
The car is aerodynamically designed with a streamlined look and is covered by a large glass canopy.
As with the F1, the seat arrangement in the Speedtail is unique, with the driver seated alone in a center-mounted seat in the front with room for two passengers behind them.
The dashboard features electronic devices spread out across its width. From specific carbon fiber patterns to unique paint and leather treatments, the opportunities for customization are unprecedented, says McLaren.
14. Pininfarina Battista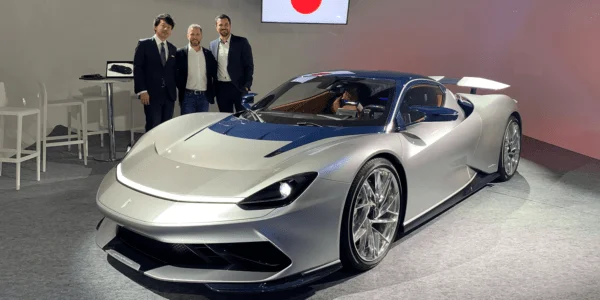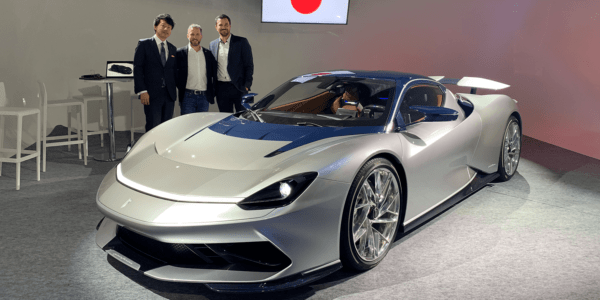 Price: $ 2,500,000
Pininfarina, the famous Italian designer, and automobile designer enter the 2021 world's best supercar sector with an all-electric Battista.
The company today is owned by the Indian automaker Mahindra, which is famous for its off-road vehicles.
It was named after founder Batista "Pinin" Farina and is said that Pininfarina is one of the most prestigious car design firms in the world. They are known for their sleek and beautiful designs. The company has had a hand in designing some of the best cars on the market, including Alfa Romeo, Ferrari, Maserati, and many others.
This is almost an understatement, given that the electric propulsion system produces a crazy 1,900 hp and is good for 0 to 100 km / h (0-62 mph) operation in under two seconds.
Pininfarina says it will travel up to 450 kilometers on a single charge, which turns out to be around 280 miles.
Its elegant carbon fiber exterior is similar to Ferrari in terms of striking visual elements, with graceful curves running from front to back.
The doors are hinged at the top and swing forward and up. There is a large and fluffy double-wing at the back. The interior is suitably high-tech with multiple displays and the ability to select fake engine sounds in the cabin.
13. Mercedes-AMG Project One
Price: $ 2,700,000
Mercedes is a German car company that was founded in 1926. They are one of the most well-known car brands in the world.
Various cars of Mercedes-Benz have been a part of many Hollywood movies, including Risky Business, The Lizzie McGuire Movie, and The Fast and the Furious. The company is also involved in Formula One racing.
Mercedes calls the first project "… a wild mixture of science and spirit", and who are we to discuss this point? It's so named because it's the closest thing to being a street-legal Formula 1 racer.
Its exterior design elements are elegant and purposeful, making it appear to go fast even while it is steady. Inside, there's a rectangular F1-like steering wheel with built-in controls and a gear selection screen, along with a pair of 10-inch HD displays.
As for the engine, the hybrid powertrain combines a turbocharged 1.6-liter combustion engine with four separate electric motors to send more than 1,000 hp to the eight-speed manual transmission.
Take a deep breath, Because, the maximum speed specified by the manufacturer is 217 mph.
In 2021, While most sports cars boast from zero to 60 mph, Mercedes says that its AMG Project One Model is one of the fastest cars in the world that can run from zero to 124 mph in under six seconds with the Race Start function turned on.
12. Koenigsegg Jesko
Price: $ 2,800,000
Koenigsegg is an automobile company that specializes in high-performance sports cars. They are headquartered in Ängelholm, Sweden. The company was founded by Christian von Koenigsegg.
Koenigsegg's 2021 super-car is one of the best cars nowadays in the world, it is named after his father Jesko and is race-focused and road legal.
The successor to the Agera RS, Jesko turns heads with its racing car-like design. A large spoiler in the back helps reduce downforce during speed.
It rides on a carbon-fiber body, grips its necks with a 5.0-liter twin-turbocharged V8 that generates 1,280 hp (or up to 1,600 hp running on E85 biofuel, in some regions).
It features a nine-speed multi-clutch transmission with advanced suspension and active rear steering for precise control.
The ultra-modern interior features two small touchscreens integrated into the steering wheel, and a compact SmartCluster screen mounted above the column.
A companion model, Jesko Absolut, is forthcoming and is said to be the fastest Koenigsegg ever – albeit with the same twin-turbo V8.
The absolute suspension is specially designed for high-speed cornering. Instead of a bulky rear spoiler, a pair of rear hood fins maximize the car's stability.
11. Aston Martin Valkyrie
Price: $ 3,200,000
Aston Martin is a British luxury car manufacturer. They have been in the business for over 100 years and are known for their sports and luxury cars.
Aston Martin is a brand that is among the most expensive cars of the world,  with models that cost up to $1 million.
Named after characters in Norse mythology who decide the fate of soldiers in battle, Valkyrie is considered the star of a road-ready track co-developed with Red Bull Racing.
It makes a stunningly bold visual statement, featuring a lively carbon-fiber exterior with broad shoulders on all four wheels and topped with a domed roof.
It rides on a lightweight carbon fiber chassis and has a mid-mounted 6.5-liter V12 engine that's augmented by an electric motor to produce a stirring power of 1160 horsepower.
The Valkyrie uses side-mounted cameras instead of mirrors to enhance aerodynamics, with small screens mounted to the windshield pillars.
It also covers the blind spots of the car, which is a good thing given that the car's design does not include a rear window.
Inside, the driver and passenger are seated in an upward sloping position that simulates a Formula 1 racer, with four-point harnesses securing the driver and passenger firmly in their seats.
All electrical appliances and switches are mounted above the steering wheel to provide a truly driver-focused service.
10. W Motors Lykan Hypersport
Price: $ 3,400,000
The so-called "first Arab supercar" from W Motors in Dubai played a pivotal role in "The Fast and the Furious 7", and it is considered as one of the most expensive cars of the world ever.
Lykan has been named after a mythical species of a wolf with transforming powers. Its carbon-fiber bodywork looks like a convertible, with a highly angular design, diamond-encrusted LED headlights and a distinctive rear spoiler.
The rear-mounted Lykan twin-turbocharged engine sends spirited 780 horsepower to the rear wheels via a six-speed manual sequential gearbox, with a top speed of 245 mph.
The driver-focused cabin is decked out in carbon fiber and comes with a full rack of amenities that include a 3D infotainment control system.
9. Pagani Huayra BC Roadster
Price: $ 3,500,000
Pagani is an Italian manufacturer of some of the most luxurious and expensive cars of the world.
The company specializes in high-end sports cars that are designed to be both aesthetically pleasing and incredibly fast.
The super-exotic car maker Horacio Pagani ripped off the top of the Huayra, replacing it with a removable hood in carbon and glass to let the sunlight shine through as one drove it to the horizon.
Not only is the Huayra BC Roadster as fast as a racing car, but it also looks every part with its low-carbon-titanium body with dynamic curves and wrinkles, and topped by a large wing-type spoiler at the rear.
The handcrafted twin-turbocharged Mercedes-Benz AMG V12 engine sends 791 hp to the rear wheels via a seven-speed automatic transmission.
It has powerful Brembo Carbon-ceramic brakes at all four corners, rides on 21-inch alloy wheels, high-performance tires in the front, 21-inch rims, and rubber at the back.
8. Bugatti Chiron Pur Sport
Price: $ 3,600,000
The Bugatti models are one of the most expensive cars of the world. they can easily go from 0 to 60 mph in less than 2.5 seconds, and they are one of the fastest cars in the world.
Pur Sport, a Bugatti Chiron limited edition, was developed with an emphasis on unparalleled handling capabilities.
The revised suspension features stiffer springs in the front and rear, and Gripper Michelin Sport Cup tires are found in all four corners. Other enhancements include a "pneumatic blade" wheel brakes to improve aerodynamics and a massive fixed rear spoiler with the Bugatti name.
The front grille features the number 16 under the Bugatti badge to indicate its W16 engine, which sends out 1,500 hp to the seven-speed automatic transmission.
The top speed is 350 km / h (about 220 mph). The cabin is decorated with Alcantara, titanium, and aluminum. It's lighter than the standard Chiron model while saving a lot of savings from a 3D printed titanium exhaust system.
7. Bugatti Chiron Super Sport 300+
Price: $ 3,900,000
Bugatti is a French high-performance luxury car manufacturer and one of the world's most exclusive automobile brands. It is one of only a handful of independent automakers to produce cars that are both supercars and hypercars.
Bugatti cars are known for their exclusivity, so this is why they are considered to be very expensive with prices ranging from $1 million to $3 million dollars per car.
Next up among The most expensive cars of the world in 2021, is the ultimate (at least for now) expression of the Bugatti Chiron.
Designed to honor the company's 110th anniversary, the Chiron Super Sport 300+ is equipped with a turbocharged version of the base car's 8.0-liter W16 engine that delivers a massive 1,600 hp on pavement via a modified gearbox.
It is claimed to have reached an almost unimaginable 304.8 mph, based on a test conducted at the Ehra-Lessien race track in Lower Saxony, Germany.
The supercar also features a lacquered carbon-fiber chassis enhanced with orange stripes.
There is a pair of vertical stake exhaust pipes at the rear, along with modified front and rear dumpers for added aerodynamics.
6. Lamborghini Veneno
Price: $ 4.5 million
Lamborghini is one of the most expensive cars of the world, but it is also one of the best.
The Lamborghini brand was founded in 1963 by Ferruccio Lamborghini. This Italian company has always been focused on speed and power, but also on design and style.
They have made many different models of cars throughout their history, but they are most famous for the sports car models like the Aventador, Veneno, or the Huracán.
Between 2014 and 2015 Lamborghini built only 14 Aventador-based Veneno models.
Each one cost about $ 4.5 million, depending on how its spec, and was available in both convertible and coupe configurations.
Underhood Lamborghini provided a more powerful iteration of the 6.5-liter Aventador V12 engine, which now produces 740 hp (552 kW) and 509 lb-ft (609 Nm) of torque, giving it the ability to run at speeds of up to 60 mph (96 km/ph) Blistering at 2.9 seconds.
Up to 2021, This model is among the most expensive brand new Lamborghini cars ever.
5. Mercedes-Maybach Exelero 
Price: $ 8 million
Like many of the other cars that preceded it, the Mercedes-Benz Maybach Exelero is luxurious, is one of the world's unique vehicles even in 2021, and is obviously among the most expensive cars of the world.
The expert made its debut in 2004, commissioned by Fulda, a German subsidiary of Goodyear, to test its new tires.
Built on the bones of Maybach, the Mercedes Exelero gave it the same twin-turbo V12 engine producing 690 hp (510 kW) and 752 lb-ft (1020 Nm) Meters) of torque.
Listed at the top speed at 218 mph (350 kilometers per hour) and adjusted for inflation, it would cost Exelero over $ 10 million in today's money.
This new model is aimed at those who want to live life on their own terms and it's definitely not for everyone.
4. Bugatti Centodieci
Price: $ 9 million 
Last year Bugatti launched the Centodieci for the first time at Pebble Beach Cars Week, showing the world another extremely rare and super-expensive model.
The car is limited to only 10 dieci units and is a modern throwback to the Bugatti EB110. At the same time, the 110th anniversary of Bugatti was supposed to be celebrated.
His unique design cues won't make everyone fall in love, but at least you don't have to worry about seeing someone else on the road.
At a high price of about $ 9 million, as of 2021, the Bugatti Centodieci is one of the most expensive cars of the world and of all time.
3. Bugatti the Black car
Price: $ 12.5 million
As of 2021, The Bugatti La Voiture Noire is the most expensive officially new Bugatti car ever, with a price tag of $ 12.5 million and a sales price of $ 18.7 million after-tax.
A recent interpretation of Jean Bugatti's personal Type 57 SC Atlantic, La Voiture Noire uses the same 8.0-liter W16 quad-turbo engine as the Chiron, producing 1,479 hp (1,102 kW) and 1,600 Nm (1180 lb-ft) of torque. It contains six – that's right, six exhaust tips, radically new wheels, a robust front end, and a giant light emblem on the back that spells out the brand name. Of course, the unique Bugatti actually has a home.
2. Rolls-Royce Sweptail
Price: $ 12.8 million 
Rolls-Royce is a British luxury car manufacturer and they have been around for over 100 years.
Rolls-Royce is the epitome of luxury and their cars are some of the most expensive cars of the world. Their manufacturing process is painstakingly long and detailed, with every car taking an average of 4 years to complete.
In 2017 the Rolls-Royce Sweptail has technically named "The #1 Most Expensive Cars in the World". The problem is Rolls-Royce has not officially confirmed that number.
But with an estimated $12.8 million, Sweptail one-time beat Bugatti Centodieci with a staggering $ 5 million (if the reports are correct).
The Rolls-Royce Sweptail took more than four years to develop before it debuted at the 2017 Concorso d'Eleganza Villa d'Este.
1. Pagani Zonda HP Barchetta
Price: $ 17.5 million
Pagani is a car company that produces high-end sports cars. Their cars are the best of the best. They are expensive, but they offer a luxury experience that can't be matched by any other car company.
Therefore, the number 1 of the most expensive cars of the world is this little model from Italy. Zonda HP Barchetta is one of a handful of beautiful Paganis on this list.
However, the company has only built three examples – and one of those vehicles went to CEO Horacio Pagani.
According to TopGear, this car was said to have cost $ 17.5 million (€ 15 million) when it debuted a new one in 2018, making it the most expensive vehicle on this 2021 list of costly cars in the world by a few million dollars.
Don't Miss: