The List of the 20 Best Puppy Food Types for a Healthy life for Your Pet
Choosing the best food for your puppy is one of the most important decisions you can make.
Is there any better feeling in the world than getting a sweet puppy? Whatever the breed, overall, they' are a total joy to have around the house.
And to avoid the wrong foods that could seriously affect the puppy, which may cause sciatic dysplasia, especially for some strains.
Here is a good list, where we'll share The safest and most recommended puppy food types, to avoid any problems and live in peace with your puppy.
Here WE Go:
---
20. Royal Canin Jack Russel Terrier Puppy Dry Dog Food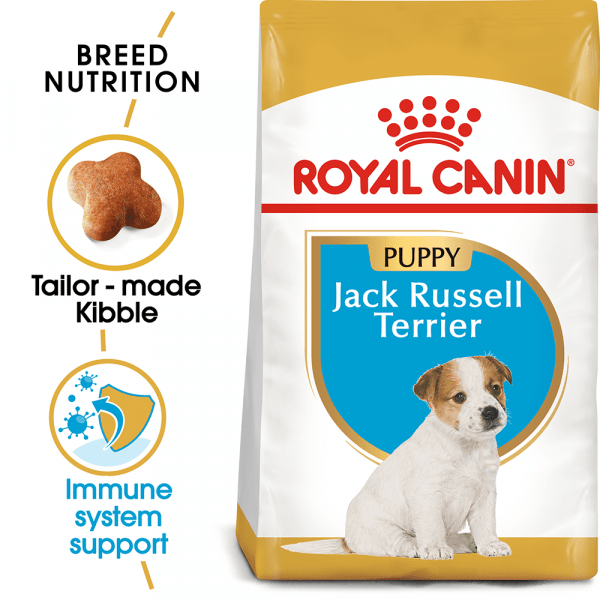 If you have a pet Jack Russel and wants to have a dog food specially formulated for.
Then Royal Canin Jack Russel Terrier Puppy Dry Dog Food is one of the perfect dog food options.
That combines all the nutrients your pet needs to stay active and healthy.
It provides the daily needed amount of calcium, protein, phosphorus and other essential vitamins to support your dog's healthy growth.
It also boosts your puppy's immune system, helping it combat diseases and aids digestion.
Read Also: The 23 Most Lazy Animals in the Planet you Didnt know About!
---
19. Holistic Select Natural Dry Food for Small and Mini Breed Puppy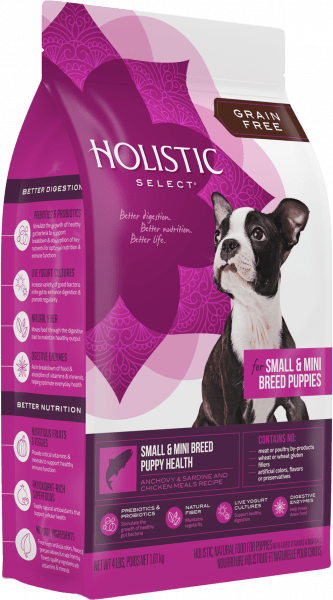 This food provides Grain-free, with protein and fat levels to support small breed's caloric needs plus prebiotics & probiotics, live yogurt cultures, digestive enzymes, and natural fiber these recipes enhance digestion and total body health.
With its unique digestive support system, this food offers small kibble pieces, and it's easy for your little pup to chew and digest.
The emphasis on probiotics and enzymes makes Holistic Select a solid nutritional choice for your puppy.
---
18. Natural Balance Small Breed Bites Original Ultra for Puppies to Adults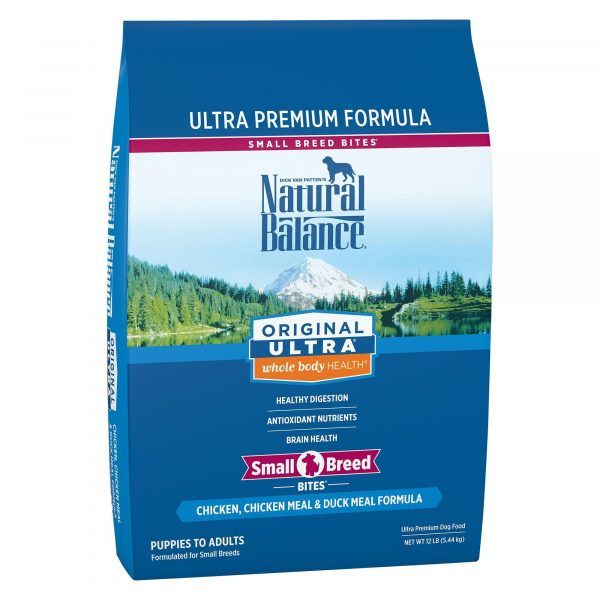 Designed to nourish your dog's total health and well-being, Natural Balance Original Ultra Grain-Free Chicken Formula Small Breed Bites Dog Food is crafted by expert nutritionists to provide an optimal balance of premium protein sources and high-quality ingredients that your dog will love.
Chicken is the main protein source accompanied by a salmon meal for healthy brain development.
Rice and oats are used to ease the digestive process.
Frankly, This food is a good selection for puppies with allergies.
---
17. Chicken Soup for the Soul Puppy Food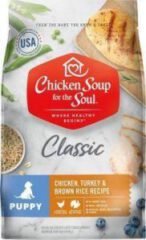 Give the newest member of your family the nutrition he needs with Chicken Soup for the Soul Puppy Dry Dog Food.
Chicken Soup for the Soul Puppy gets the majority of its meat protein from fresh poultry and poultry meal.
Our dry matter label analysis reveals the recipe contains 33% protein, 20% fat and 39% estimated carbs… resulting in a fat-to-protein ratio of about 60%.
Furthermore, It Contains DHA for proper eye and brain development with antioxidants and super-foods like apples, blueberries, and spinach to help build immune health.
This product makes an exceptional choice for both small and medium puppies. Highly recommended.
---
16. Castor & Pollux Organix Dry Puppy Food
Castor & Pollux emphasize the importance of free-range meat and the avoidance of corn, wheat, soy, and artificial preservatives.
It's enhanced with vitamins and minerals, and omega-3 and 6 fatty acids, plus probiotics to provide a complete diet for puppies.
The main protein is free-range organic chicken, and all products originate in the USA. This natural food is appropriate for puppies with or without allergy and digestive concerns.
---
15. Wellness Complete Health Puppy Food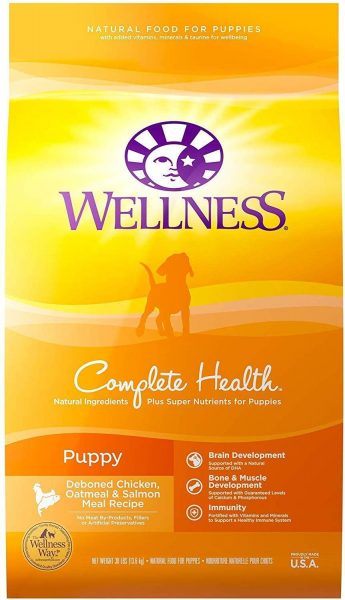 Wellness Complete Health combines natural, premium proteins and wholesome whole grains to deliver a balanced diet full of the nutrients your dog needs for a lifetime wellbeing.
Each recipe is crafted with antioxidants to support strong immune systems and balanced nutrients for optimal energy.
---
14. Blue Buffalo Freedom Grain-Free Chicken Recipe for Small Breed Puppies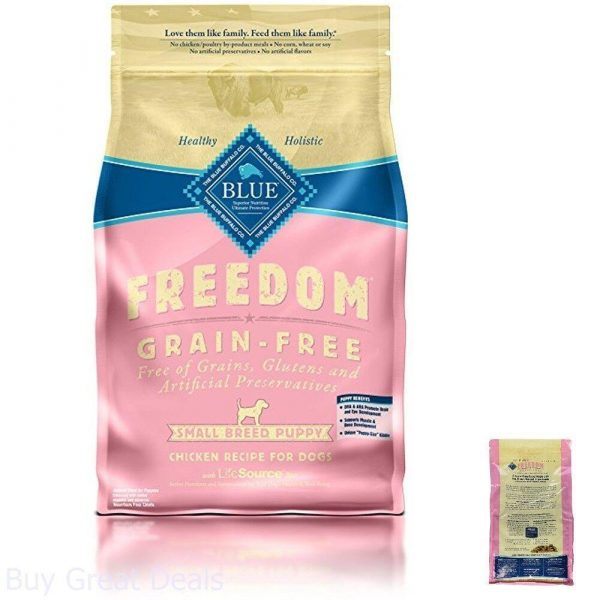 Blue Buffalo offers a grain-free puppy food that relies on quality chicken and turkey for protein and flavor.
This delicious, 100% grain-free and gluten-free kibble features real chicken first and is completely free from poultry by-product meals, corn, wheat, soy, and artificial flavors and preservatives.
Oh Yeah, furthermore, Barley and oatmeal are added to this food for better digestibility.
---
13. ORIJEN Puppy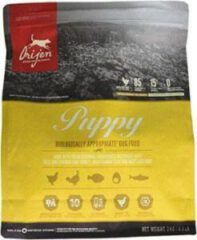 Meat and Protein Rich, Made with 85% quality animal ingredients, ORIJEN Puppy features a richly nourishing and Biologically Appropriate protein level of 43% to closely replicate your puppy's natural diet.
the recipe contains 23% fat and 26% estimated carbs… resulting in a fat-to-protein ratio of about 53%.
Rich in animal fat fuel optimum growth and development, all puppies require richly nourishing animal fat.
---
12. Canidae All Life Stages Dry Food for Puppies, Adults, and Seniors Duck Meal, Brown Rice, and Lentils Formula
Consumers rave over Canidae All Life Stages Dry Food, versatile food that covers multiple life stages.
Formulated with just nine simple, wholesome ingredients, this recipe boasts chicken as its first ingredient, for a protein-rich, muscle-boosting meal your growing puppy will love.
Wholesome veggies provide a powerhouse of whole food nutrition, while a blend of probiotics, antioxidants, fatty acids, and vitamins provides the digestive, immune and nutritional support your baby dog needs to thrive.
Duck and ocean fish provide protein sources, while brown rice and oats make it a highly digestible food choice.
Dogs love the flavor of the food, and the natural ingredients, like cranberries, lentils, and Vitamin A, promote healthy body functions and eyesight.
---
11. Merrick Grain-Free Puppy Plate
Merrick Grain-Free Real Protein Dog Food's first ingredient is real and wholesome deboned meat or poultry.
Our dry matter label analysis reveals the recipe contains 53% protein, 26% fat and 13% estimated carbs… creating a fat-to-protein ratio of about 50%.
A puppy recipe fit for the Best Puppy Ever's first year of life.
This Merrick puppy recipe makes a great wet alternative to a dry diet… and it makes a flavorful "topper" to help enhance the taste of almost any kibble. This is Highly recommended.
---
10. Taste of the Wild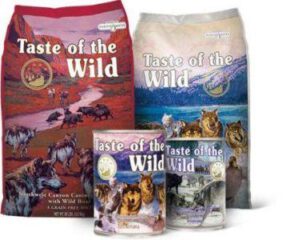 Taste of the Wild is made with premium meats like wild boar; buffalo; smoked salmon and turkey; and roasted bison, lamb, quail, venison, and duck.
Every formula is grain-free and provides lasting energy with complex carbs from sweet potatoes and legumes.
Crude Protein: 32.0 % min
Crude Fat: 18.0% min
See Also: The Best 25 Names for Male dogs with their Meanings of 2020
---
9. Blue Buffalo Basics Limited-Ingredient Dry Puppy Food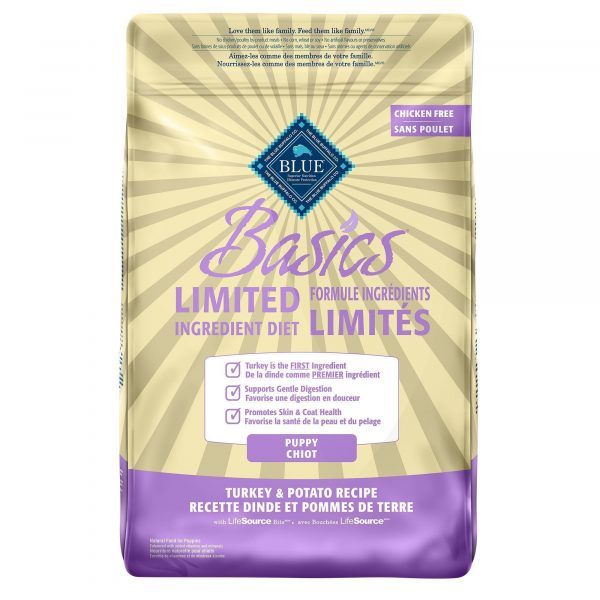 This limited-ingredient puppy food offered by Blue Buffalo is perfect for puppies with sensitive stomachs, digestive issues, or allergies.
It is a limited ingredient dog food that doesn't contain any chicken, beef, corn, wheat, soy, dairy or eggs making it a good option for puppies with food sensitivities.
Formulated with high-quality proteins and carbohydrates to support healthy growth and development, it also contains DHA for your puppy's cognitive development.
---
8. Go Carnivore Puppy Chicken, Turkey and Duck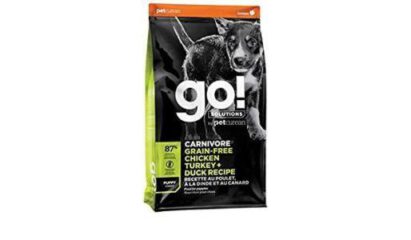 Give your young furry friend a diet packed with protein with Go! Solutions Carnivore Grain-Free Chicken, Turkey + Duck Puppy Recipe Dry Dog Food!
This food contains 100% fresh chicken, turkey, trout, duck and salmon, as well as premium quality chicken, turkey, salmon, duck and herring meals.
the recipe contains 40% protein, 20% fat and 32% estimated carbs… producing a fat-to-protein ratio of about 50%.
This grain-free, protein-rich recipe provides complete and balanced nutrition including fruits and veggies, with antioxidants to support immune system function.
With no by-product meals, added growth hormones, artificial preservatives, wheat, corn or soy, you can feel confident feeding your puppy a diet to help him grow big and strong.
---
7. Royal Canin Sensible Digestion Adult Dog Food For Mini Breeds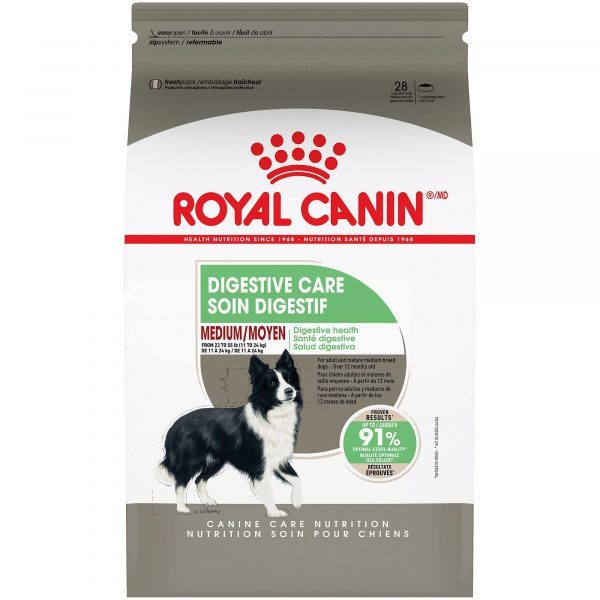 Royal Canin Sensible Digestion Adult Dog Food contains a unique combination of nutrients.
To help support any small dog breed's daily nutritional needs, And to promote a healthy digestive system, Since small dog breeds can be very picky with the food you offer to them.
This satisfies their fussy appetite due to its special formulation and appetizing aroma. While at the same time promotes healthy dental health.
---
6. Wellness Core Puppy
Wellness CORE wet dog food is grain-free, filler-free and packed with premium quality animal protein along with a proprietary blend of botanical and nutritional supplements to ensure your puppy has the nutrition they need to thrive from their CORE.
---
5. Weruva Dogs in the Kitchen Grain-Free Dog Food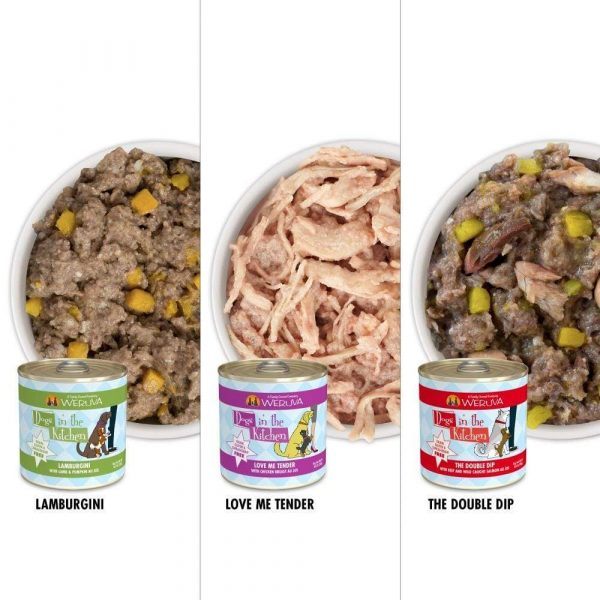 Veruca's Dog in the Kitchen Grain-Free Dog food is a great way of dispensing the perfect amount of dog food for each and every meal.
While also providing a variety of flavors every mealtime, which will make your dog always looking for more.
Each pack is made out of high-quality protein and fresh vegetables, And comes in six different flavors, with four packets each.
Furthermore, it comes with silicon that can cover which fits all 3 popular sizes of canned pet food, which will keep your pet food fresh while containing unwanted odors.
---
4. Royal Canin Mini Puppy Dry Dog Food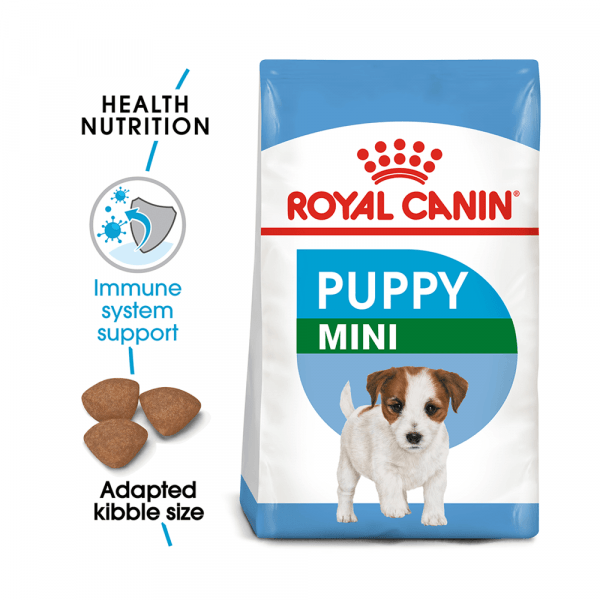 We all know that puppies need a certain combination of nutrients in order to grow healthy.
Compared to the basic dog food options we provide for adult dogs, Royal Canin Mini Puppy Dry Dog Food is specially formulated for young puppies up to 10 months old.
This provides the pups their needed energy and nutritional intake during their short yet rapid growth period.
It also supports and fortifies its immune system and promotes healthy digestion.
In a small kibble-sized design, this is so ideal for the pup's small jaws and picky appetite.
---
3. Nutro Wholesome Essentials Small Breed Dry Puppy Food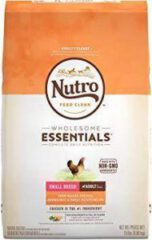 Nutro offers a small breed puppy food that covers all the necessary bases for proper puppy growth and development.
With non-GMO chicken and lamb as the main protein sources, this puppy food has vegetables and fruits, as well as important amino acids.
This natural dog food provides great nutrition for your small breed's unique needs and it contain Omega 3 fatty acids like DHA for healthy growth and development for your puppy, plus vitamins, minerals and other nutrients.
Also, These recipes are also crafted with Omega 3 & 6 fatty acids, to promote healthy skin and a soft, shiny coat and calcium to build strong bones and joints.
---
2. Hill's Science Diet Dog Food with Puppy Toy Kit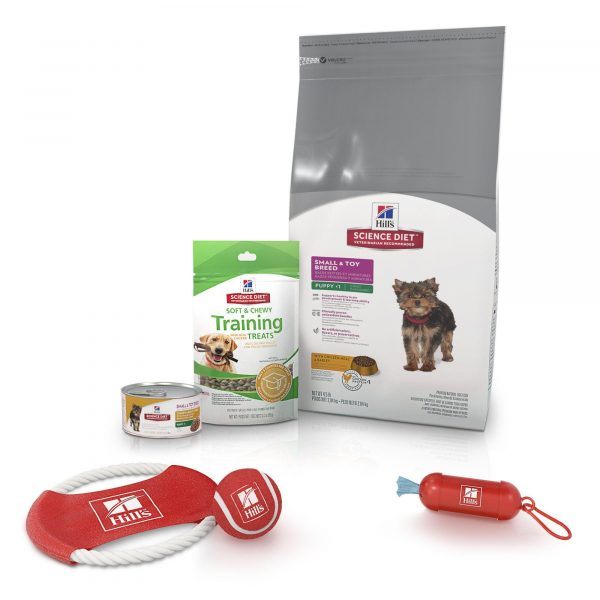 Hill's Science Diet with Puppy Toy Kit is a great deal. If you are looking for healthy dog food, small toys and other essentials for your dog's needs.
Furthermore, The package also includes the Hill's Science Diet Dry Dog Food with Chicken Meat and Barley, for the overall balance of nutrition.
The Hill's Science Chicken-and-Barley Entree Wet Puppy Food is formulated with balanced nutrition for your puppy's immunity, To fight against disease and for added energy, And Hill's Science Training treats for a much tastier reward during training.
Besides, the package includes a tennis ball, tug toy, a red plastic bag dispenser with a Carabiner clip, and 20 bags for cleaning up poop during walks.
---
1. Iams ProActive Health Smart Puppy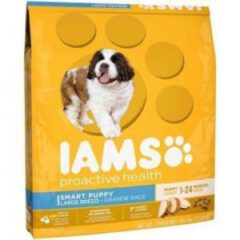 IAMS ProActive Health Smart Puppy Food is a veterinarian recommended and made with real ingredients.
Our recipe starts with farm-raised chicken and includes wholesome grains and veggies.
Moreover, our quality, contains digestible ingredients, that provide puppies a strong immune system, healthy skin and coat, and strong bones.
Check Also: The Top 10 Adorable Animals you can see ever