Introduction to King Mohammed VI Net Worth, Biography, Family, and Assets
King Mohammed VI Net Worth Mohammed VI, the current King of the kingdom of Morocco, ascended the throne on July 23, 1999, following the death of his father, King Hassan II.
In 2022, Morocco's King Mohammed VI net worth is estimated at 2.5 billion US dollars, which makes him the richest king in the African continent in 2022 and the fifth richest king in the world.
The state of Morocco is located in the continent of Africa, specifically in the 
northwest of the continent of Africa, and Morocco is bordered on the north by the 
Mediterranean Sea, on the south by the state of Mauritania, and on the west by the 
Atlantic Ocean, and on the east it is bordered by the State of Algeria. As for the capital of Morocco, it is Rabat, and its official currency is the Moroccan dirham.
| | |
| --- | --- |
| Full name: | Sidi Mohammed Bin Hassan al Alaoui |
| Born: | 21 August 1963  |
| Nationality: | Morocco |
| Reign: | 23 July 1999 – present |
| Mohammed VI Net Worth | $2.5 Billion |
Education of Mohammed VI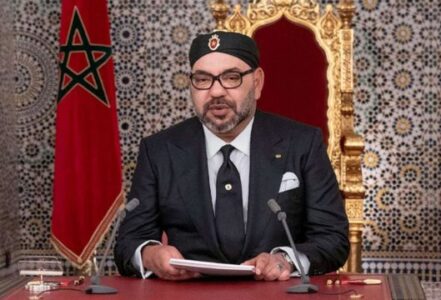 The late Hassan II was keen to educate his son, King Mohammed VI, from his young age, religiously and politically…
At the age of four, he began attending the Qur'anic school in the royal palace.
King Mohammed VI of Morocco studied first primary and secondary at College Royal and obtained his baccalaureate (1981).
He obtained a bachelor's degree in law from Mohammed V University in Agdal (1985).
Mohammed VI was appointed President of the Pan Arab Games, and was commissioned Colonel Major of the Royal Moroccan Army, in addition to the position of Coordinator of the Offices and Services of the Royal Armed Forces. (From November 26, 1985, to 1994)
He obtained his first Certificat d'Études Supérieures (CES) in Political Science In 1987.
Mohammed obtained a Diplôme d'Études Approfondies (DEA) in Public Law. (July 1988)
Mohammed received his Ph.D. (Doctor of Philosophy) in law with distinction from the French University of Nice, Sophia Antipolis, France, for his thesis on "EEC-Maghreb Relations". (October 29, 1993)
On July 12, 1994, he was promoted to the military rank of Major General, and in the same year, he became President of the Supreme Council of Culture and Commander-in-Chief of the Royal Moroccan Army.
The family of King Mohammed VI of Morocco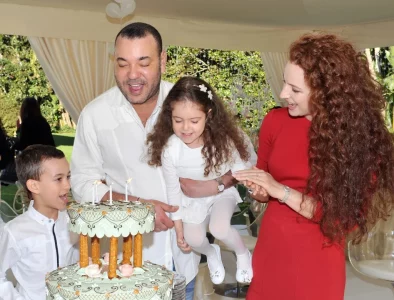 King Mohammed VI of Morocco has one brother, Prince Moulay Rachid, and three sisters: Princess Lalla Meryem, Princess Lalla Asmaa, and Princess Lalla Hasnaa.
Mohamed married Salma Bennani in Rabat on March 21, 2002. She is the first wife of a Moroccan ruler who has been publicly recognized and bestowed with a royal title.
They have two children: Crown Prince Moulay Hassan, who was born on May 8, 2003, and Princess Lalla Khadija, who was born on February 28, 2007.
Muhammad's birthday on August 21 is a public holiday, although celebrations for his aunt's death in 2014 were canceled.
Morocco's King Mohammed VI Net Worth In 2022
Mohammed VI, King of Morocco has a lot of different businesses in various fields, one of which includes his net worth – it's estimated to be at least $2.1 billion and up to $8.2 billion.
Forbes America's business magazine has labeled King Mohammed VI as being Africa's richest king and the 5th wealthiest monarch in the world.
The King of Morocco has twelve royal palaces with 1,100 servants, with an annual budget of €1 million per day. Mohammed VI also owns, in his personal capacity, a castle in France which he inherited from his father and whose Berber mother Lalla Latifa Hanum lives there.
Mohammed VI also owns the Royal Mansour Hotel in Marrakech, which opened in 2011. It has three restaurants under the supervision of Chef Yannick Alino who is a Michelin star.
He also owns a yacht worth 88 million euros, 70 meters long and 13 meters wide, and is classified as one of the 10 largest sailing yachts in the world, with a master suite, two VIP and three double, with a capacity of 12, plus 12 crew members.
The King of Morocco uses two private aircraft (Boeing 737 and Boeing 747) and a C-130 Hercules (designated for actual furniture and luggage). The actual fleet also includes two Gulfstream aircraft (the G550) valued at around € 60 million.
Moreover, Mohammed VI owns about 600 luxury cars, as he loves luxurious and old cars known internationally from the brands Mercedes, Land Rover, Ferrari, Bentley, Rolls-Royce, Cadillac, or Aston Martin, and many more collectibles.
Mohammed VI is also known for his passion for luxury clothes and accessories, he owns a Swiss watch worth 1,000 diamonds valued at more than a million euros which he wore in 2018 during a visit to Dubai.
King Mohammed VI Personal Life
Mohammed VI ascended to the throne following his father's death on 23 July 1999, then he married Princess Lalla Salma on 14 September 2002 at the Royal Palace in Rabat, and they have two children: Prince Moulay El Hassan (born 2003) and Princess Lalla Khadija (born 2007). 
There are a lot of questions about his wife Lalla Salma, as she has been dubbed the 'Ghost Princess'. The princess disappeared from public view a few years ago and there's no clear reason for it.
There are blurry Instagram photos, swirling rumors, and competing theories. The lingering question is, where is Morocco's "missing" Princess? Has she divorced the King of Morocco?
Don't Miss: