The 20 Best Disney Movies about Animals You Should Check Out Right Now
Today we're going to be taking a closer look at good animals in Disney movies. Let's hope today's article is as enlightening and interesting as previous ones!
Therefore, Disney movies are known for featuring many types of animals, some of them being The Lion King, Coco, and Dumbo. Hence, this list will tell you what the best Disney animal movies are, both animated and live-action that you should really watch them!
Here we go:
20. Bambi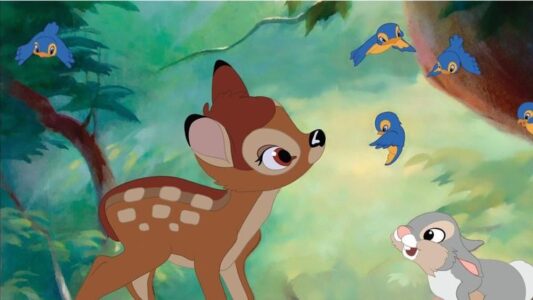 Kicking off the list of the best Disney movies about animals with Bambi, a 1942 American animated drama film that has many kinds of animal characters to get you hooked! directed by David Hand, produced by Walt Disney, and based on the book Bambi, A Life in the Woods by Austrian author Felix Salten.
The story follows the young Bambi fawn, after the death of his mother killed by a hunter, who must learn to survive alone in the forest. He soon finds a young companion, the Panpan rabbit, as mischievous and resourceful as Bambi is clumsy and clumsy.
19. The Jungle Book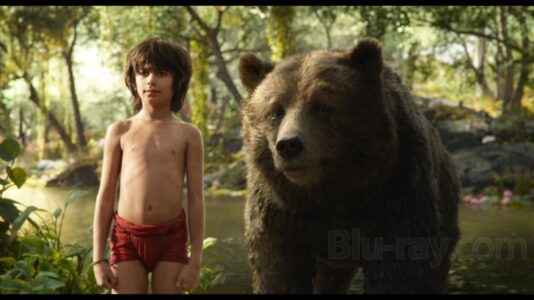 Another popular Disney movie with animals is The Jungle Book, a 2016 American fantasy adventure film directed and produced by Jon Favreau, from a screenplay written by Justin Marks and produced by Walt Disney Pictures.
Based on Rudyard Kipling's eponymous collective works and inspired by Walt Disney's 1967 animated film of the same name, Mowgli is a "man-cub" raised by the Indian wolf Raksha and her pack, led by Akela, in an Indian jungle ever since he was brought to them as an infant by the black panther Bagheera.
Bagheera trains Mowgli to learn the ways of the wolves, but the boy faces certain challenges and falls behind his wolf siblings, while Akela objects to him using human "tricks", like building tools, instead of learning the ways of the pack.
18. Zootropolis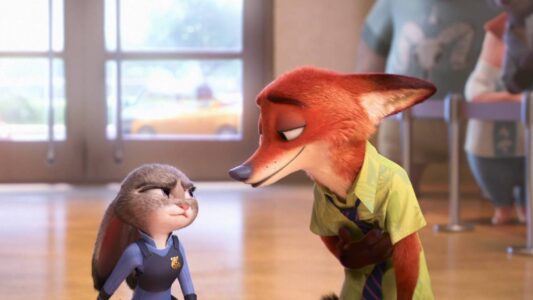 Zootopia is a 2016 American 3D computer-animated comedy film about the animal world, produced by Walt Disney Animation Studios and released by Walt Disney Pictures. It is the 55th Disney animated feature film, directed by Byron Howard and Rich Moore.
This Disney animal movie is set In a world populated by anthropomorphic mammals, rabbit Judy Hopps from rural Bunny-burrow fulfills her childhood dream of becoming a police officer in urban Zootopia. Despite Judy being the academy valedictorian, Chief Bogo doubts her potential and delegates her to parking duty. On her first day, she is hustled by a con artist fox duo, Nick Wilde and Finnick.
17. Finding Dory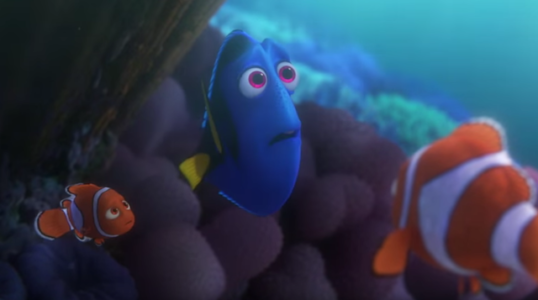 Finding Dory is a 2016 American animated adventure film produced by Pixar Animation Studios and released by Walt Disney Pictures. The screenplay was written by Stanton and Victoria Strouse, Directed by Andrew Stanton with co-direction by Angus MacLane.
This is among the best Disney movies about sea animals that depict the story of Dory. With vague memories of her past, an amnesiac blue tang fish, Dory, sets off in search of her long-lost parents Jenny and Charlie, with the help of her friends, clownfish Marlin and his son Nemo, after accidentally swimming into him.
16. The Good Dinosaur
Among the best animal movies by Disney is The Good Dinosaur, a 2015 American animated drama film produced by Pixar Animation Studios and released by Walt Disney Pictures.
The plot: A rainstorm separates Arlo, a young Apatosaurus, from his family. While traveling through a harsh landscape, he befriends Spot, a feral human kid, who helps him reunite with his family.
15. Christopher Robin
Christopher Robin is a 2018 American fantasy comedy-drama film directed by Marc Forster and written by Alex Ross Perry, Tom McCarthy, and Allison Schroeder, from a story by Greg Brooker and Mark Steven Johnson. The film is inspired by A. A. Milne and E. H.
The young boy who loved embarking on adventures in the Hundred Acre Wood with a band of spirited and loveable stuffed animals has grown up and lost his way. Now it is up to his childhood friends to venture into our world and help Christopher Robin remember the loving and playful boy who is still inside.
14. Moana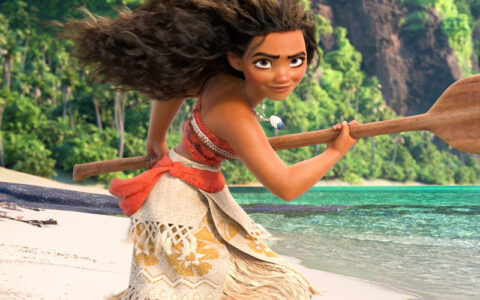 Moana is a 2016 American animated musical adventure film It is the 56th Disney animated feature film. Directed by Ron Clements and John Musker, produced by Walt Disney Animation Studios, and released by Walt Disney Pictures.
This Disney animated film features many animals and is based on stories from Polynesian mythology, the inhabitants worship the goddess Te Fiti, who brought life to the ocean using a pounamu stone as her heart and the source of her power. Moana, daughter of chief Tui, embarks on a journey to return the heart of goddess Te Fitti from Maui, a demigod, after the plants and the fish on her island start dying due to a blight.
13. Frozen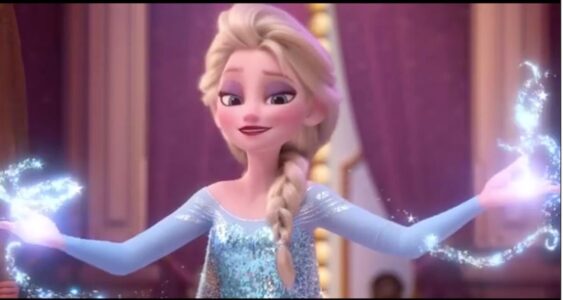 Although Disney animation had produced a couple of recent hits, nothing could've prepared the studio for the box office behemoth better than "Frozen." While not the first film to bring the Disney fairy tale formula into the 21st century, "Frozen" found the perfect balance of timeless themes and contemporary values.
Most notably, it explored how the bonds of sisterhood can be as strong, if not stronger, than a romantic relationship. The true love story here is between two siblings who would move entire icebergs for one another. This beautiful message is conveyed through a witty screenplay and hammered home via a bewitching soundtrack. Not only the highest-grossing animated film of its time, "Frozen" was the first Non-Pixar Disney film to win the best-animated award in the Oscar.
12. Frozen II
Frozen II, is a 2019 American animated musical fantasy film produced by Walt Disney Animation Studios. The film received a nomination for Best Original Song for "Into the Unknown", at the 92nd Academy Awards.
King Agnarr of Arendelle tells a story to his young children, Elsa and Anna, that their grandfather, King Runeard, established a treaty with the neighboring tribe of Northuldra by building a dam in their homeland, the Enchanted Forest.
However, a fight occurs, resulting in Runeard's death and enraging the elemental spirits of Earth, Fire, Water, and Air of the forest. The spirits disappear and a wall of mist traps everyone in the Enchanted Forest. Young Agnarr barely escapes due to the help of an unknown savior.
Elsa the Snow Queen has an extraordinary gift, the power to create ice and snow. She travels to the enchanted forests and dark seas beyond her kingdom an adventure that soon turns into a journey of self-discovery.
11. The Emperor's New Groove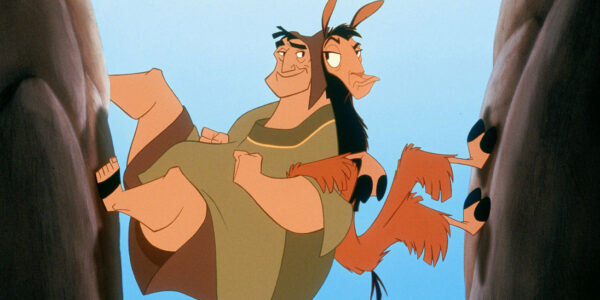 Originally, this film was an intended musical entitled "Kingdom of the Sun." it eventually became a  comedy about a peasant and an emperor-turned-llama. While the troubled production seemed to spell disaster, "The Emperor's New Groove" emerged as one of Disney's funniest movies with animal themes.
This is perhaps the closest Disney has ever come to making a feature-length Looney Tune, giving the animators a chance to stretch their comedic muscles like never before. The fast-paced slapstick, clever fourth-wall breaks, and hilarious voiceover work offered a refreshing change of pace. While not a huge hit upon release, you can definitely see how the film helped shape the more self-aware humor modern Disney fare has become known for.
10. Incredibles 2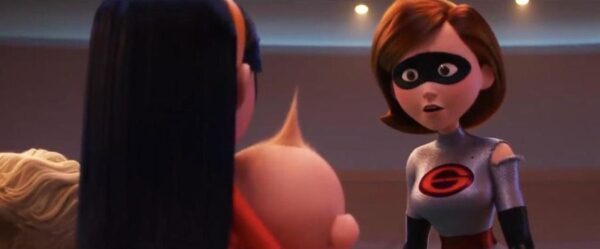 Incredibles 2 is a 2018 American computer-animated superhero film produced by Pixar Animation Studios and released by Walt Disney Pictures. Written and directed by Brad Bird, it is the sequel to The Incredibles (2004) and the second full-length installment of the franchise.
the Incredibles and Frozone battle the underminer who has just appeared to terrorize Municiberg. Though they prevent the destruction of City Hall, they are unable to stop him from robbing a bank and escaping. The collateral damage caused by the incident outrages the government and prompts them to shut down the Superhero Relocation Program, leaving the Parrs and other superheroes without financial assistance.
Violet's love interest Tony Rydinger also discovers her superhero identity, forcing agent Rick Dicker to erase his memory of her. Frozone informs Mr. Incredible and Elastigirl of an offer from Winston Deavor, a wealthy businessman. He and his sister Evelyn propose sending the heroes on secret missions which will be recorded and publicized to regain public trust in superheroes.
9. Mary Poppins Returns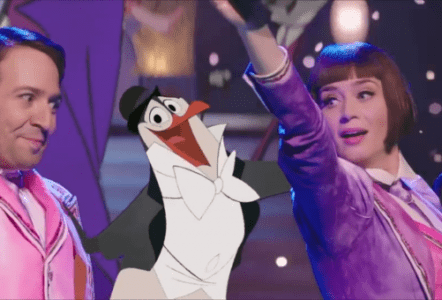 Mary Poppins Returns is a 2018 American musical fantasy comedy film directed by Rob Marshall, with a screenplay written by David Magee and a story by Magee, Marshall, and John DeLuca. Based on the book series Mary Poppins by P. L.
Now an adult with three children, bank teller Michael Banks learns that his house will be repossessed in five days unless he can pay back a loan. His only hope is to find a missing certificate that shows proof of valuable shares that his father left him years earlier. Just as all seems lost, Michael and his sister receive the surprise of a lifetime when Mary Poppins — the beloved nanny from their childhood arrives to save the day and take the Banks family on a magical, fun-filled adventure.
8. Coco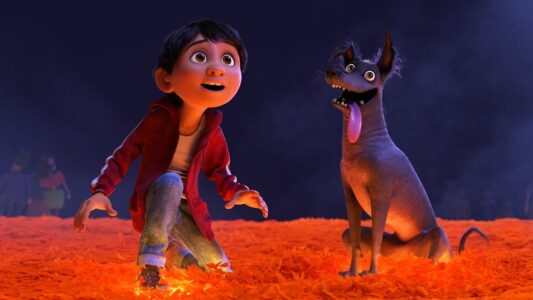 If you are looking for some good Disney movies about animals that are dog-focused then Coco has that! It is a 2017 American 3D computer-animated fantasy film produced by Pixar Animation Studios and released by Walt Disney Pictures. based on an original idea by Lee Unkrich, it's directed by him and co-directed by Adrian Molina.
On paper, "Coco" may sound run-of-the-mill with a young boy named Miguel who loves music. He pursues his love for singing in spite of his family's ban on music. He stumbles into the Land of the Dead, where he learns about his great-great-grandfather who was a legendary singer.
Coco is a wildly imaginative tribute to Mexican culture, transporting us to a world where the Day of the Dead roars to life. The music, particularly the Oscar-winning song "Remember Me," is infused with the film's DNA. just as music can be interpreted in many various ways, "Coco" shows us that there are multiple sides to every story. If we just open our ears and listen, our entire worldview could be changed. It's a lesson we won't soon forget.
7. Inside Out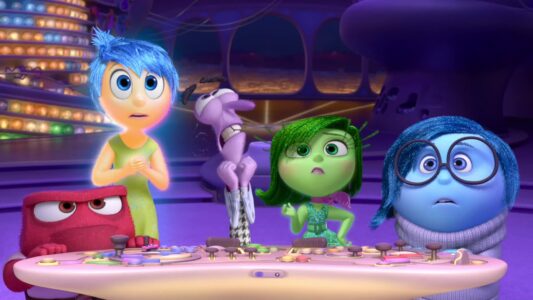 Inside Out is a 2015 American 3D computer-animated comedy movie produced by Pixar Animation Studios and released by Walt Disney Pictures. The film was directed by Pete Docter.
Inside Out focuses on the young Riley eleven-year-old, who is uprooted from her Midwest life and moved to San Francisco, her emotions – are fear, anger, joy, disgust, and sadness. Conflicted about how best to navigate a new city, house, and school, and struggle to cope with her new life.
6. Big Hero 6
Big Hero 6 is a 2014 American 3D computer-animated superhero film produced by Disney Animation Studios and released by Disney Pictures. Directed by Don Hall and Chris Williams.
Hiro Hamada is a 14-year-old prodigy, a high school graduate, and a robotics genius living within the futuristic city of San Fransokyo who spends much of his free time participating in illegal robot fights. To redirect Hiro, his older brother Tadashi takes him to the research lab at the San Fransokyo Institute of Technology, where Hiro meets Tadashi's friends, Go Go, Wasabi, Honey Lemon, and Fred.
Hiro also meets Professor Robert Callaghan, the head of the university's robotics program. Amazed, Hiro decides to apply to the university.
5. Ratatouille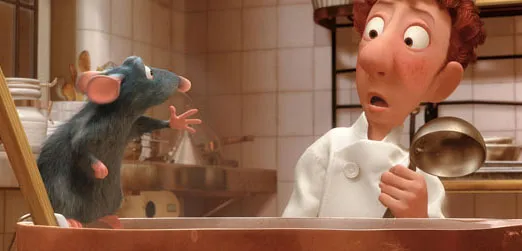 Ratatouille is a 2007 American computer-animated comedy film produced by Pixar and released by Walt Disney Pictures, and spans genres of family and comedy and focuses on animal and human characters.
Remy is a highly intelligent and idealistic young rat with unusually acute senses of taste and smell, who dreams of becoming a chef like his idol, the late Auguste Gusteau. However, the rest of his rat colony, including his brother Emile and his father Django, are interested in food only for sustenance.
One day, when the colony is forced to flee their home because of Remy and Emile's wild encounter with the homeowner whose ceiling housed their colony, Remy is separated from the clan and eventually finds himself above the kitchen of Gusteau's Restaurant in Paris.
4. Winnie-the-Pooh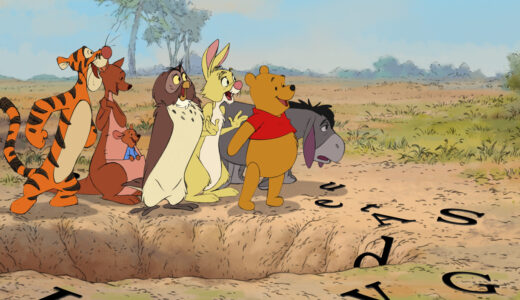 Winnie the Pooh is a 2011 American animated musical comedy film about animals, produced by Walt Disney Animation Studios and released by Walt Disney Pictures. The 51st Disney animated feature film, the film was inspired by A. A. It is also Disney's latest animated film using traditional animation as of 2020.
Winnie the Pooh wakes up to find that he is out of honey, Things take a turn when he learns that Eeyore has lost his tail. Pooh, Piglet, Rabbit, Owl, Kanga, and Roo come to the rescue while Tigger has his bouncing fun, and Christopher Robin decides to hold a contest to see who can find a replacement for Eeyore's tail.
The prize for the winner is a fresh pot of honey. After several failed attempts for what would replace Eeyore's tail, Kanga suggests that they use a scarf, which unravels.
3. The Princess and the Frog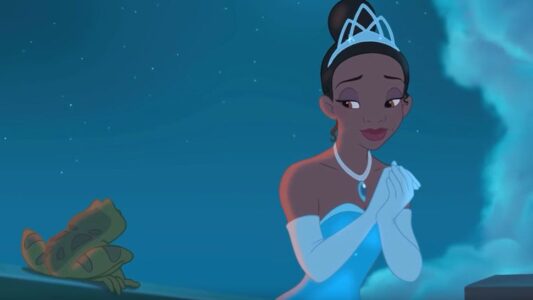 The Princess and the Frog is a 2009 American animated musical fantasy film produced by Walt Disney Animation Studios and released by Walt Disney Pictures. The 49th Disney animated feature film, film is loosely based on the novel The Frog Princess by E. D.
In 1912 New Orleans, a girl named Tiana and her friend Charlotte La Bouff listened to Tiana's mother read the story of The Frog Prince. Charlotte, being a believer in true love, finds the story to be romantic, while Tiana proclaims she will never kiss a frog.
Fourteen years later (in 1926), Tiana has grown into an aspiring young chef who works as a waitress for two local diners, so she can save enough money to start her own restaurant, a dream she shared with her father, who is implied to have died in World War I.
2. Dumbo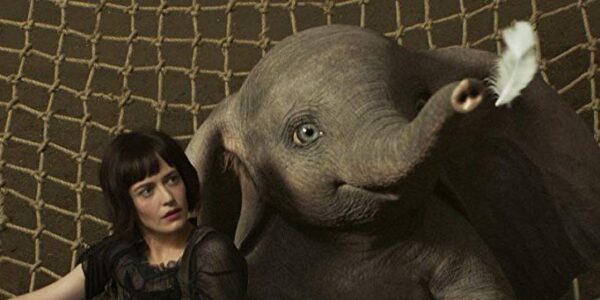 Dumbo is a Disney 2019 American fantasy adventure movie about an elephant directed by Tim Burton, with a screenplay by Ehren Kruger. The film is a live-action reimagining of Walt Disney's 1941 animated film of the same name, which was based on the novel by Helen Aberson and Harold Pearl.
Struggling circus owner Max Medici enlists a former star and his two children to care for Dumbo, a baby elephant born with oversized ears. When the family discovers that the animal can fly, it soon becomes the main attraction — bringing in huge audiences and revitalizing the run-down circus. The elephant's magical ability also draws the attention of V.A. Vandevere, an entrepreneur who wants to showcase Dumbo in his latest, larger-than-life entertainment venture.
1. The Lion King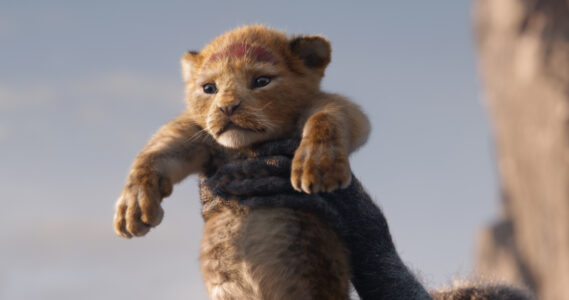 The Lion King is a 2019 American musical film directed and produced by Jon Favreau, written by Jeff Nathanson, and produced by Walt Disney Pictures. It is a photorealistic computer-animated remake of Disney's traditionally animated 1994 film of the same name.
This is one of the greatest Disney movies about animals I have ever seen so far! so watch it and follow Simba, who idolizes his father, King Mufasa, and takes to heart his own royal destiny on the plains of Africa. But not everyone in the kingdom celebrates the new cub's arrival. Scar, Mufasa's brother — and former heir to the throne — has plans of his own.
The battle for Pride Rock is soon ravaged by betrayal, tragedy, and drama, ultimately resulting in Simba's exile. Now, with help from a curious pair of newfound friends, Simba must figure out how to grow up and take back what is rightfully his.
See Also: