Who Are The Boyfriends of Taylor Swift as of 2022?
Taylor Swift is one of the most famous singers in the world. She has been in the spotlight since she was a teenager and she is only now just turning 30 years old. She has been in relationships with many celebrities, including Joe Jonas, Taylor Lautner, Jake Gyllenhaal, John Mayer, and Calvin Harris.
This list includes all of the famous exes and boyfriends of Taylor swift who marked her personal life. The list also includes her actual plan with her current boyfriend, Joe Alwyn.
10. Taylor Swift and Joe Jonas's Chemistry
Among all the boyfriends of taylor swift, Joe Jonas is the one who is really famous up to now. They dated from July 2008 to October 2008, and their relationship lasted for a few months before Taylor publicly told Ellen DeGeneres that he broke up with her over a 27-second phone call
Taylor didn't stand the breakup and she has written tribute songs "Last Kiss" and "Forever and Always". However, things got even more strained between them when Joe went on to date actress Camilla Belle.
Taylor Swift has written several catchy songs about her rival, including "Better Than Revenge" about Camilla.
9. Lucas Till & Taylor Swift's Romantic Relationship
It seems like sparks of love flew between Lucas and Taylor Swift when he starred in her "You Belong With Me" music video. They had a short-lived romance, but it was clear that they couldn't make things work for them & Lucas explained the reason why to MTV during an interview.
They dated from March 2009 to April 2009. "It didn't work out after all because they were just too nice", Lucas Till said. It was love at first sight but once things got tough, it wasn't easy to see the other person's point of view, so they think it was probably better that they went their separate ways.
8. Twilight's Star Taylor Lautner and Taylor Swift
They meet each other by being co-stars of the rom-com Valentine's Day, Taylor Swift and Taylor Lautner have been dating since 2009.
Although there were a few instances where they bore one of Hollywood's cutest nicknames, "Taylor Squared," a source close to Taylor said that "they went out on a few dates and realized this was just not going anywhere."
Taylor Lautner is probably one of the hottest boyfriends of Taylor Swift, and it is so sad to see them break up! Well, "Back to December" is reportedly about Taylor Lautner and has lyrics referring to his tan skin and sweet smile.
7. John Mayer and Tylor Swift's Relationship
John Mayer was briefly dating Taylor Swift from December 2009 to February 2010 period. Though their romantic connection quickly ended, they collaborated on one song called "Half of My Heart" for his album Battle Studies.
Taylor had already let it slip it was about John, so she entitled the song "Dear John" about him. There are so many hints about their relationship in the lyrics that few people didn't guess who it is about. Taylor has already spilled the beans on her emotions for him, so all she does then is rely on her singing skills to covey her feelings!
6. Taylor Swift and Jake Gyllenhaal Sweet Relationship
Back then, Taylor Swift and Jake Gyllenhaal were some of the most popular celebrity couples in Hollywood. There was a lot of speculation as to what caused the breakup. The two have been spotted together at different events throughout the time they were together and they have never said anything about their relationship status.
By the time New Year's Eve came, Jake and Taylor had broken up. In an interview, Swift said that she was not ready to talk about her personal life and that she would be releasing a new album soon. She also mentioned that she wanted to take some time off from dating for herself.
Taylor Swift is an open book for most of her personal life. Even her breakup with him is an open secret. Yes, it's safe to say that the lyrics of the song "All Too Well" are about him.
5. Conor Kennedy and Taylor Swift, The Super Couple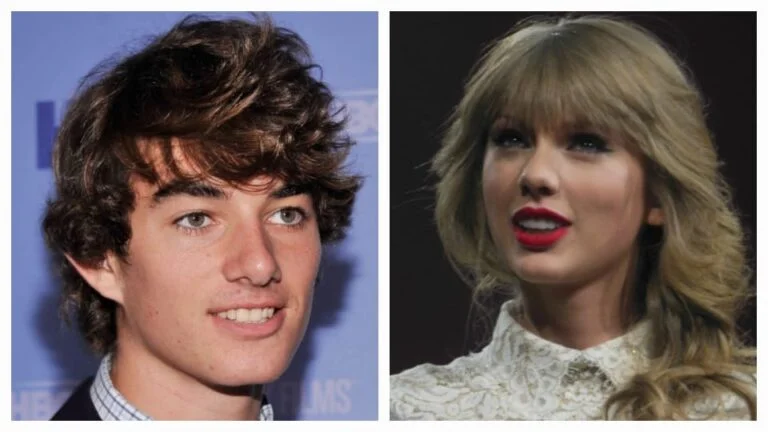 Taylor Swift and Conor Kennedy's intense romantic summer affair was first spotted in Mount Kisco, New York when the couple was seen enjoying a pizza together.
The two continued to do a lot of trivial "super couple" activities together including smooching on his family's estate in Hyannis Port, MA, and swimming in the ocean.
However, it seems that things arent so well between Taylor and Conor as his family accused Taylor of crashing the wedding of Conor's cousin Kyle in August. Taylor denied it, but it seems that things still went south. As the summer ends, Taylor and Conor's relationship cooled off too. They broke up in October.
4. Harry Styles's one-month dating with Taylor Swift
In December 2012, Taylor Swift began dating Harry Styles from One Direction. their relationship only lasted a month but they sure went all in. It sounds like they had a lot of passion for each other and we think it's really amazing that she was able to get an entire album out of it.
At first, it seems like Harry Styles would be one of the best boyfriends of Taylor Swift, as the duo was seen loving each other, going through some cute strolls through NYC, and even kissing at midnight on New Year's Eve!
Taylor Swift's 2013 album was partly about her breakup with Harry Styles and the single "I Knew You Were Trouble" off the same album marked their breakup.
3. Dj Calvin Hariss is a famous Ex Bf of Taylor Swift
Next up amid the boyfriends of Taylor Swift we have Calvin Hariss. It's no secret that Taylor Swift and Scottish DJ Calvin Harris became friends after Ellie Goulding introduced them at the Elle Style Awards in February 2015.
Right after a month, Taylor Swift and Calvin Harris went public with their relationship. The two had a whirlwind romance, Calvin and Taylor had heaps of nice things to say about each other.
However, Their lovely relationship only started in March 2015, Unfortunately, will end up with a broken up in June 2016. just after celebrating their one-year anniversary just shortly after Calvin got into a car crash.
2. Actor Tom Hiddleston as the Boyfriend of Taylor Swift
In 2016, the country singer attended the Met Gala while being seen dancing with Tom Hiddleston. Furthermore, after that pictures of her and Tom cuddling and kissing on a beach in Rhode Island made their way onto the internet and made the buzz because it is just been two weeks after her breakup with Calvin Harris.
They had a whirlwind, PDA-filled romance that took them all over the world. With stops in Italy, Tennessee, Rhode Island, New York City, Australia, and England.
In September 2016, They abruptly ended their relationship after only 3 months of dating because it seems Tom wanted the romance to be more public.
1. Taylor Swift is currently dating Joe Alwyn
Taylor Swift and Joe Alwyn have been dating now for four years since they met probably by the end of 2016. They haven't been shy about staying quiet, but they made it clear from the beginning that they were going to keep their relationship intimate and private.
Reports say the two have been doing a good job at keeping their relationship hidden and protected – it's shown how much they care about each other, and that Joe Alwyn is among the best boyfriends of Taylor swift up to now. Furthermore, they are still together as of the time of this writing (January 2022), They've discussed the future and Taylor sees herself marrying Joe one- day.
Conclusion:
We come up to the end of our article about the boyfriends of Taylor Swift who have been a part of her life since she was a teenager. In this article, we discussed who were the boyfriends of Taylor Swift, when and where they met each other, and how their presence has affected her career, and what they have contributed to it.
Don't Miss: