The Top 20 Hot Ecchi Harem Anime Series!
The 20 Hottest Ecchi Harem Anime Series!
⌈16⌋

Monster Musume no Iru Nichijou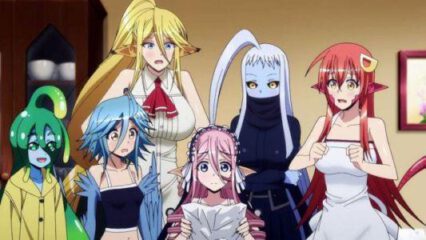 How Many Episodes: 12
Synopsis:
Kimihito Kurusu is living a life where he's the man of the house–a house full of irresistible monster girls.
What's a young man to do while his parents are abroad?
Welcome to progressive Japan, where non-human species are allowed to mix and mingle with daily society! But before you get any naughty thoughts, the Interspecies Exchange Act prohibits any sort of sensual interaction between two species.
Think the law will stop Kimihito and his newfound abnormal harem? There's always a loophole.
---
⌈15⌋

Trinity Seven
Genres: Action, Harem, Comedy, Supernatural, Magic, Romance, Ecchi, Fantasy, School
Studios: Seven Arcs Pictures
Episodes:  12
Summary:
In this romantic comedy magic Ecchi harem anime, the story focuses on Arata Kasuga who suddenly sees his life wiped out by a bizarre incident known as "Collapse Phenomenon,".
This phenomenon causes worldwide destruction and takes his cousin Hijiri Kasuga to another world.
To solve the mystery of the "Collapse Phenomenon" and bring back Hijiri, Arata enrolls in the Royal Biblia Academy.
Hence, in this Academy, there are seven beautiful female magic users, who will help Arata in his mission.
---
⌈14⌋

Strike the Blood
Episodes:

 24

Studios:

 Silver Link., Connect

Genres:

 Action, Harem, Supernatural, Ecchi, Vampire, Fantasy, School
Summary:
Kojou Akatsuki's days as an ordinary high school student, who during a fateful encounter leaves him with the remarkable abilities of a vampire.
It isn't long before he is thrust into the center of attention when it is discovered that he is the fourth primogenitor.
Fearing Kojou's destructive potential, the Lion King Organization sends in an apprentice sword-shaman.
Yukina Himeragi, must monitor, and should he become a threat, she must kill the boy deemed the world's most powerful vampire.
The Anime highlights the two, who forms an unlikely alliance as the mc Kojou comes to terms with his abilities and ready to unleash his power to save his lover and they struggles to keep the city safe from various emerging chaotic forces.
---
⌈13⌋

Sekirei
Episodes: 25 / Two Seasons

Studios:

 Seven Arcs

Genres:

 Action, Comedy, Ecchi, Harem, Super Power
Synopsis:
Minato Sahashi fails in his college entrance exams for the second time, resulting in him being regarded as worthless by those around him.
However, the course of his seemingly bleak future changes dramatically when a beautiful, supernatural woman falls from the sky and into his life.
That woman, Musubi, is a unique being known as a "Sekirei," a humanoid extraterrestrial with extraordinary abilities.
These aliens are known for kissing humans carrying the Ashikabi gene in order to awaken additional latent powers deep within.
Musubi kisses the bewildered Minato, initiating a bond between the two of them.
This drags him into the high-stakes world of the Sekirei.
where he and his new partner must compete against others in a battle for survival called the "Sekirei Plan."
However, unbeknownst to the contestants, there is far more at risk than what the competition initially entailed.
---