The 20 best celebrity homes that will amaze you with their beauty and wonderful organization
Today we're going to explore the 20 most luxurious celebrity homes out there. You won't believe how much luxury and extravagance these rich famous people have access to. You'll want to pull any strings you can just so you can spend a day with them in their homes.
The decision to buy a new home is one of the most important decisions you'll make and something most of us will spend decades paying off for. But for some celebrities, buying multi-million dollar homes in cash is an easy task that allows them to own an elegant and refined property.
It's time for the countdown – these are some of the best celebrity homes that will amaze you. Keep reading to find out!
20. Jennifer Lopez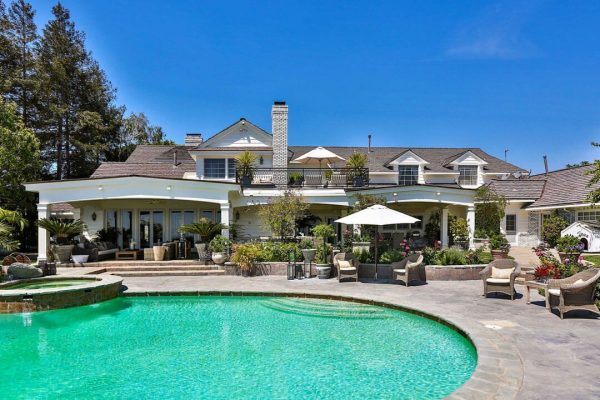 Kicking off the list of the best celebrity homes with that of Jennifer Lopez. Jennifer is an American actress, singer, dancer, fashion designer, producer, and businesswoman. J.Lo bought this 14,000 sq. ft. Bel-Air mansion for a mere $28 million in 2016. The home features 7 bedrooms, 13 bathrooms, 10 carved wood or stone fireplaces, floor-to-ceiling windows, and a vaulted ceiling in the main living room, a downstairs pub, a 30-seat screening room, and a stone-accented kitchen with skylights.
The outside is so spectacular too, thanks to 2 guesthouses, a terrace with an infinity pool, a 100-seat amphitheater, a vineyard and organic vegetable garden, a man-made swimming pond with beach, a pagoda with a fire pit, and a mini-golf course.
19. Tom Cruise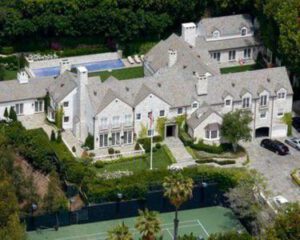 Among the richest actors is Tom Cruise, who owns one of the best homes ever seen, spanning 298 acres just outside of Telluride, CO. Tom Cruise's home includes floor-to-ceiling windows in the living room, permitting for panoramic views of the mountains. Cedar timbers flank the walls and ceilings, while a native stone was used to create a magnificent fireplace.
Inside the home, you'll find a home gym, rec room, and library. Outside, there is a private trail system, a lighted court for basketball, tennis, and hockey, a private motocross track, and a quaint 1,600 sq. ft. guesthouse with 3 bedrooms and 3 bathrooms.
18. Oprah Winfrey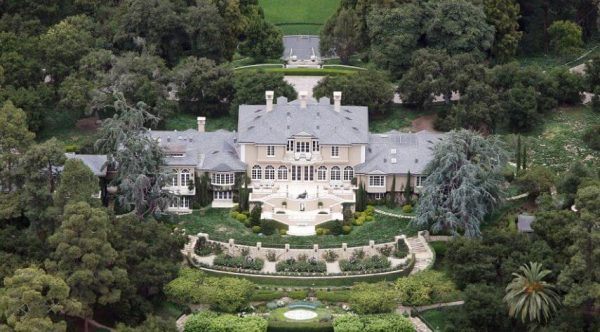 Talk show host Oprah Gail Winfrey is among the best celebrities who owns a beautiful home, consisting of 6 bedrooms and 14 bathrooms, in a Neo-Georgian style. The main home includes a gourmet kitchen, wine cellar, theater, and multiple terraces that make it easy to enjoy the beautiful grounds.
Outside, there are riding rings, paddocks, covered stalls, a horse trainer's home, and a state-of-the-art stable and barn, as well as a pool, two outdoor fireplaces, multiple ponds, a 2-acre avocado grove, a koi pond, rose gardens, and an entertainment area.
17. George Clooney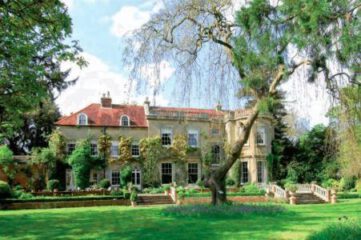 George Timothy Clooney is another famous celebrity who owns a beautiful and luxurious home. The American actor, director, producer, and filmmaker owns one of the best celebrities homes out there, which was constructed during the 18th century on the banks of Lake Como, the home is, today, the perfect mix of its original charm and all the modern amenities one would expect in a house.
His property has ornately carved ceilings and tile floors, but has been renovated to include a full gym, huge spa-like bathrooms, and a "pizza room." The grounds are spectacular and include landscaped gardens, a pool, tennis courts, a garage for his multi bikes, and an outdoor theater.
16. Celine Dion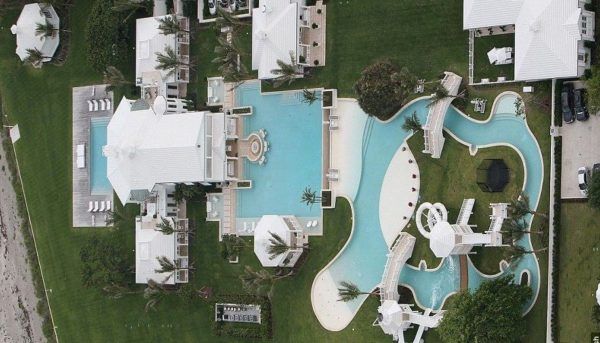 Florida is a very interesting place known for its gorgeous theme parks, as well as most of its good cherry people. Oh yeah, the city also got fantastic beaches, and landscapes, that's why most celebrities love to build their homes in Florida, and that is the case of Celine Dion who made this crazy mansion on Jupiter Island, the fancy side of Florida.
It contains 13 bedrooms 14 bathrooms, and lots of open space with great views. Her house has a massive pool that can easily qualify as a water park,  and it even has a water slide. Some other features include five pavilions spread around the property a massive kitchen with two islands and a pool house with its own private kitchen.
15. Nicole Kidman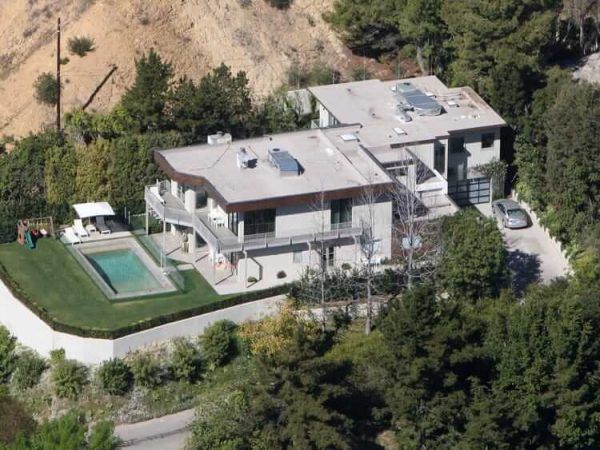 Nicole Kidman is a female celebrity with many houses, as she owned a penthouse in Sydney, a farm in Bunya Hill, a condo in New York, a massive house in LA, and a mansion in Nashville. but her main home is one located in Nashville and that's the one we're gonna be talking about.
The Nashville mansion cost Nicole three-point-four seven million dollars, the place has 7 bedrooms and 8 bathrooms. The guest bathroom only has a sink and a toilet a swimming pool also a tennis court. In total there are 20 rooms in this massive three-story building, other amenities include a home theater and a hobby room.
14. Floyd Mayweather
Floyd Mayweather is famously known as one of the top boxing champions in recent history, before retiring in 2015 he held multiple world titles in five different weight classes. All this fame and success allowed our rich athlete to buy one of the best homes that a celebrity may own, yeah since his mansion was worth the price of $3.4 million, and it is tucked away in the Hills of Las Vegas.
So, upon arrival at Mayweather's Vegas getaway, you'll find nine white sports cars parked out front which together are valued at over 15 million dollars. The walls of his Vegas mansion are draped in red silk in textured glass, with crystal chandeliers hanging throughout. You'll find all kinds of cool features in Mayweather's mansion including a two-story movie theater, a touchscreen video game station, a 12-person shower, a 600-square-foot walk-in closet, and a giant wood-burning fireplace.
13. Alicia Keys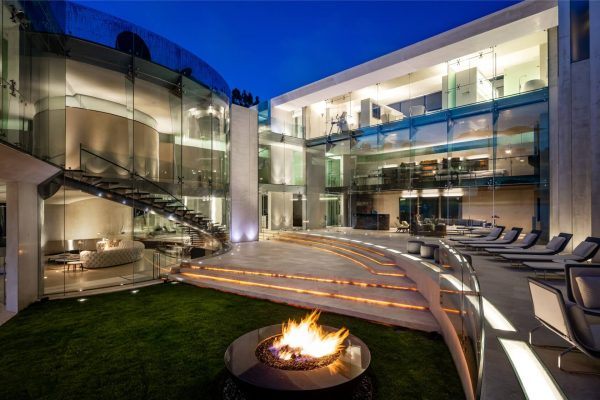 Grammy-winning American artist Alicia Keys is one of the richest celebrities who bought a home called The Razor House for $20.8 million, at Cliffside in Torrey Pines State Park in California. With panoramic views over the Pacific Ocean, the home is constructed of white polished concrete, steel props, and floor-to-ceiling glass walls, equipped with a modern system.
The main residence spans 10,240 square feet, including two main suites, two additional bedrooms, six bathrooms, a gym, a rooftop spa, and an outdoor barbecue area. It also hosts a separate multi-space for guests that includes two bedrooms and two bathrooms. We also find that it contains a huge swimming pool, and an underground garage, which is fitted with a glass lift.
12. Johnny Carson
Johnny Carson is an American television host, comedian, writer, and producer. who won many prizes, most notably the Television Academy's 1980 Governor's Award, also six Emmy Awards, and a 1985 Peabody Award. He owns one of the best celebrity homes nowadays, which has its size 174,240 sq ft, in Point Dume, Malibu.
Hey!!!! and it's for sale Right now for US$81.5 million.
This is among the best celebrity houses that have a wonderful sea view, and a rare combination that also provides a cliff-top location and high glass walls that allow you to overlook the Pacific Ocean from anywhere in the house. Also, the home is equipped with an outdoor pond and waterfall, and indoor landscaping that helps it blend in with the natural environment.
11. Lady Gaga's gypsy palace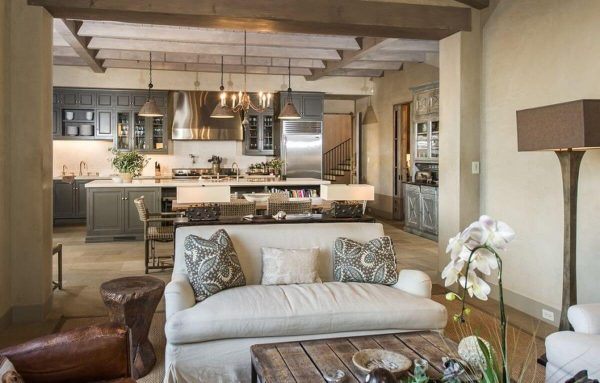 Lady Gaga born March 28, 1986, in New York City, is an American singer, songwriter, and performance artist. She is known for her flamboyant costumes, provocative lyrics, and strong vocal talents.
The famous singer Gaga got her hands on this twenty-two-point-five million dollar house back in September 2014. You would probably expect a house this big to have a lot of rooms, however, Gaga's house contains only three bedrooms, as all of the other bedrooms were transformed into dressing rooms and extravagant storage spaces. Her main bedroom is so big that it has not one but two bathrooms, two fireplaces, a private Terrace, and of course more wardrobe spaces.
Hence, since gaga is a fashion diva! it makes sense that she would use so many rooms for her many costumes, accessories, and outfits. Inside this celebrity home, you can also find a secret passage that will lead you to an underground suite that has a massive wine cellar, and of course, that isn't all it has it also has a home theater a bar, and even a bowling alley.
10. P. Diddy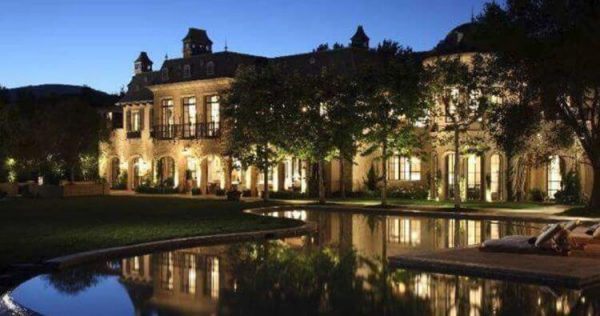 The American rapper Diddy has a $40 million mansion in Beverly Hills, CA, which he bought in 2014. And he made it European style for the kids, the family, and the weather. The home covers 17,000 square feet and includes 8 bedrooms, 11 bathrooms, a gym, a wine cellar, a 35-seat theater, and an underwater tunnel that leads out to the grotto and lagoon-style pool. There is also a 3000-foot-high guest house on the floor, and do not forget the "spa suite" which contains a private beauty salon, massage room, and steam room.
9. John Abraham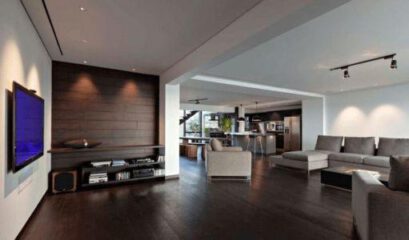 John Abraham is an Indian film actor, film producer, and one of the most successful male models who appears in Hindi films. John Abraham's house is a wonderful luxury sample, with an area of 4,000 square feet, located at the top of a building overlooking the Arabian Sea, which makes it looks like a house hanging in the sky. The house was designed by architect Alan Abraham, who is the brother of John Abraham, and is not only distinguished by its amazing exterior design but also the interior decoration is no less impressive and beautiful.
8. Julia Roberts Hawaii House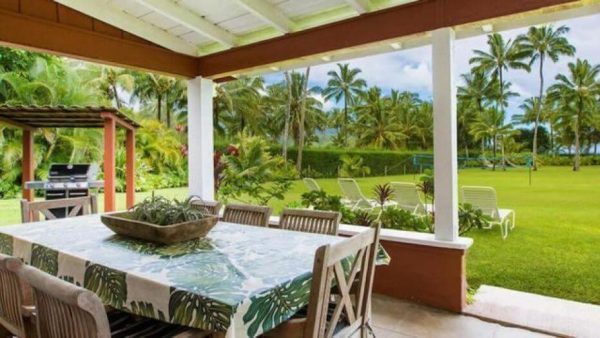 Julia Fiona Roberts is 52 years old and is an American actress and producer. She established herself as a leading lady in Hollywood after winning three Golden Globe Awards, from eight nominations, and has been nominated for four Academy Awards for her film acting, winning the Academy Award for Best Actress for her performance in Erin Brockovich (2000).
When Julia Roberts went to Kauai to look for a new house, she came across this property that dates back to 1940, with a quiet setting surrounded by ocean and amazing mountain views. This place is the perfect escape for her from the fast-paced movie industry that Roberts is used to. So, with five bedrooms, a massive kitchen, and even a two-bedroom guest house, this place has everything that Julia needed to have a perfect slice of paradise.
7. Jeff Bezos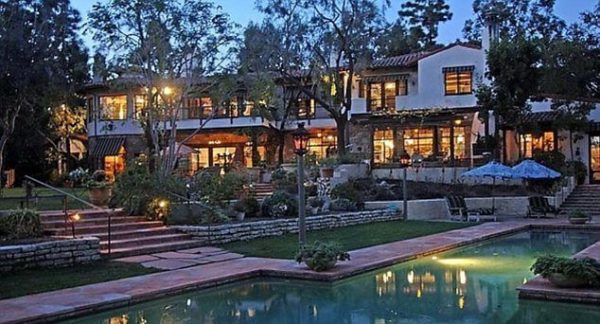 Amazon's CEO Jeff Bezos is a billionaire, meaning that it is not surprising that he tops this list of the best celebrity homes. According to the land report magazine, Bezos is the 25th largest landowner in the United States, while the headquarters of his multibillion-dollar soon-to-be trillion-dollar company resides in Seattle.
Bezos owns the largest house in Washington DC, this massive 27 thousand square foot mansion was once a textile museum and is now going through a 12 million dollar renovation that is essentially combining two separate mansions.
The residence is one of the many gorgeous homes in the famed Kalorama neighborhood, the only difference, is that his property was built with 23 million dollars in cash. Once the renovation is complete Bezos will be neighbors with the Obamas and the Kushners.
6. Katherine Heigl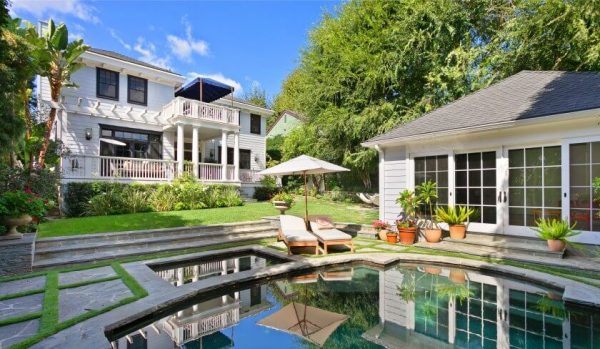 American celebrity actress Katherine Heigl, the heroine of the popular "Anatomy Gray or Grays Anatomy" series, owns one of the most wonderful homes in California, worth $4.45 million. It takes a contemporary identity in decor, where it includes four bedrooms, three bathrooms, and a number of living and dining areas. The exterior building is rustic in style, with a white suit and iron windows. While the exterior entrance looks like a museum entrance.
It is furnished with columns of white marble and rises from the road with striped steps of stone. The owner can enjoy the fresh air and the sun while sitting next to the pool. And with a fireplace in the backyard as well, this space creates the perfect setting for hosting guests all year round.
5. Beyonce and Jay-z
New Orleans is one of the cities in the u.s.a that has become a popular spot for celebrity homes, like Sandra Bullock, Brad Pitt, Nicolas Cage, and so many more famous people who have owned beautiful houses in such a pretty city. But perhaps the most impressive of them all is the house that Beyonce and jay-z bought in the city's garden district, which cost them 2.6 million dollars.
Originally it was a Presbyterian Church. and What once was an altar is now a dining room. There are a total of 22 rooms inside this massive house, seven of them are bedrooms, and eight are bathrooms. There's also a sitting room and a library with huge bookshelves, and if you like the outdoors there is a garden on the rooftop, which is the perfect spot for a perfect view of the city's downtown in the Mississippi River.
4. John Travolta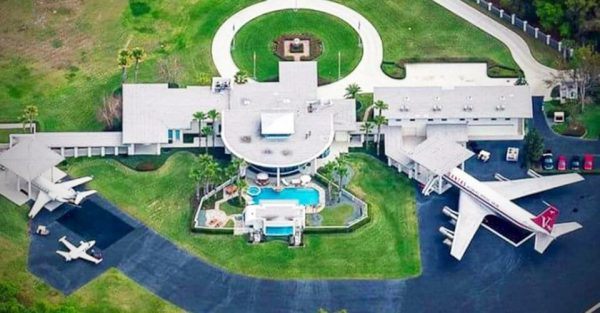 Another amazing luxurious house added to this list of the best celebrity homes you can dream to have! and this one is out of common things that we know, as it comes with an airport for Travolta's airplanes!!! His house is part of a private residency that is right next to the largest private airport in the world, in other words, you can fly right into John Travolta's property if you're invited of course.
Travolta loves his planes, he has five event repeats sake and these include a Boeing 707 which is like many of those commercial planes you see in a regular Airport. He also has a good heart as he used one of the planes to bring volunteers and supplies to the people affected by the earthquakes in Haiti in 2010.
Now if he has access to planes and private airports, it shouldn't surprise you that everything in this house is big and extravagant. His living room also called the great room has tall walls and ceilings two-floor windows that allow visitors to enjoy Travolta's backyard and of course his planes, there's also a pool in a large guest house. That's actually big enough to just be a house on its own and it's fully equipped with a garage for sixteen cars.
3. Penn Jillette's Slammer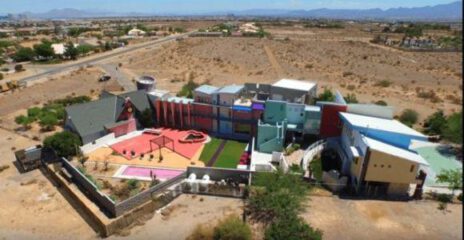 Famous magician Penn Jillette is the third one of the best celebrity houses on our list. Shouldn't surprise you that a celebrity magician, would come up with home ideas as crazy as this one, and call it the slammer, is the house of a 12-year-old boy with a lot of money, as the owner says.
This home is in Las Vegas, and it has a movie theater with seats for 14 people and a recording studio. Also, in seven bedrooms and bathrooms, the floors are covered with cheetah print carpeting and the interior walls are as colorful as what you would see outside once you're outside the house. You can enjoy some exclusive amenities such as a swimming pool a spa, and a rooftop balcony from which you can observe the Las Vegas skyline.
2. Bill Gates's smart house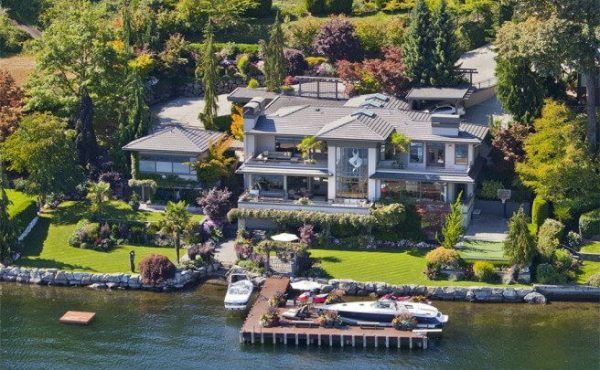 More than a celebrity, he's one of the richest people on the planet, so of course, he got so many houses, and real estate, Yeah! we are talking about Bill Gates.
This is among the most unique celebrity homes that have more bathrooms than bedrooms, it was built over the course of seven years with the help of 300 construction workers for 63 million dollars. The house actually does have a name in that is a Xanadu 2.0, it's smart enough to interact with the surroundings and regulate the interior temperature for everyone's comfort. Bill Gates uses computer screens to display changing patterns and photography.
The house has a pool with its own music system and there's also a trampoline room. Xanadu 2.0 also has a reception hall for any party that Bill Gates wants to host and he can easily host up to 200 people in it and serve them food from one of the six kitchens on the property.
1. Naomi Campbell's eye of Horus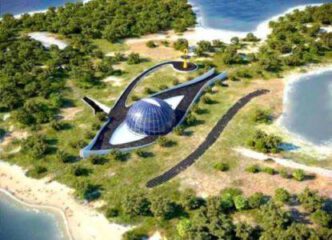 Wrapping up our list of the best celebrity homes with the house of Naomi Campbell "the eye of Horus". The home of this supermodel businesswoman was built on Cleopatra's island in Turkey, which is a great spot for her to observe the Magnificent Mediterranean Sea, the home is shaped like the Eye of Horus and was designed to save as much energy as possible.
This place was given to her by her billionaire boyfriend at Vladislav de Rana and this was all for her 41st birthday. This home has its own microclimate with its own flow of air heat and lighting and making sure everyone stays comfortable. It also has its own geothermal system with enough energy to power the 25 bedrooms inside.
Featured: