5. Keijo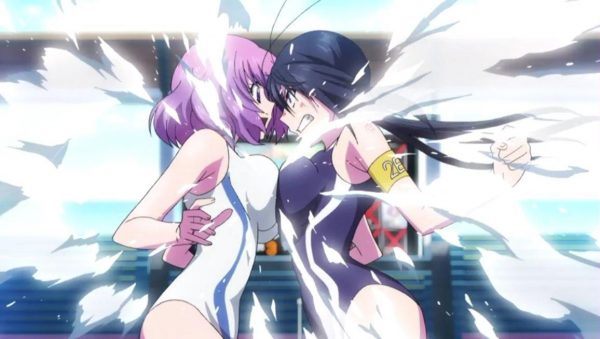 Episodes: 12
Studio: Xebec
Genres: Action, Sports, Ecchi, Shounen
This is one of the newest ecchi anime series on our list, and the story revolves around a weird sport, known as Keijo, which is a game that consists of a simple set of rules: only females can participate and must stand on platforms on a pool, and their goal is to knock off opponents using only their breasts and behinds, wait for what? yeah, only their nice shaped body you feel me! Hence, the sport attracts millions of viewers across the country. and Many participants take up the challenge in hopes of becoming the next national champion.
Nozomi Kaminashi decides to participate in Keijo, so to win a fortune to help her poor family. Hence, her gymnastics skills, make Nozomi prove herself as a tough competitor after stealing the spotlight in her debut tournament. Therefore, as she climbs the ranks, Nozomi finds out that to be a star in Keijo, she must face intense competitions that will challenge not only her body but also her soul. 
Read Also: The Top 21 Best Anime Series About a Game
4. Highschool of the Dead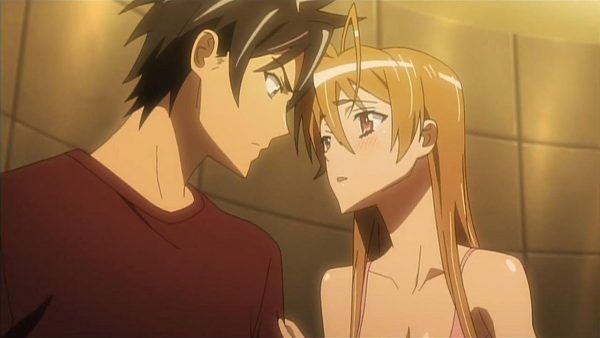 Episodes: 12
Studios: Madhouse
Genres: Action, Horror, Supernatural, Ecchi, Shounen
Highschool of the dead is not only a sexy anime filled with hot female characters with sexy outfits, panties, and bras, that will give nosebleeds! but also an action-horror anime that deals with the zombie phenomenon, so go watch it cuz you will enjoy it! Takashi and Rei, band together with other students on a journey, to find their family members and uncover what causes this overwhelming pandemic.
Joining them is the beautiful girl Saeko Busujima, the president of the Kendo Club; Kouta Hirano, an otaku with a fetish for firearms; Saya Takagi, the daughter of an influential politician; and Shizuka Marikawa, their hot school nurse.
3. To-Love-Ru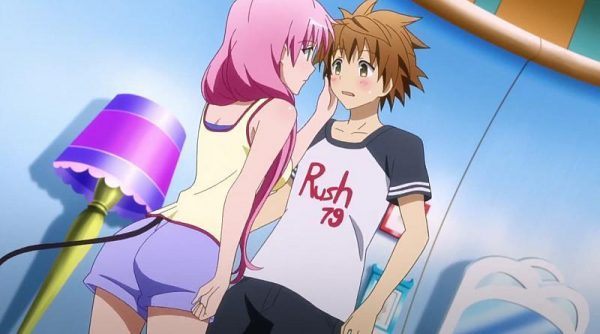 Episodes: 62 / Four Seasons
Studios: Xebec
Genres: Comedy, Ecchi, Harem, Romance, School, Sci-Fi, Shounen
let's dive into this sci-fi world of this sexy harem anime series that follows Yuuki, a high school boy, who struggles to confess his love to his dream hot girl, Haruna Sairenji. The various daily obstacles he encounters are not helpful at all.
Upon returning home and sulking in his bathtub one day, he finds his hands full with the breasts of a mysterious girl nude girl who popped out of nowhere! Coming from the planet Deviluke, Lala is heir to the throne.
The father of this beautiful princess wants her back on their home planet for a fixed marriage, but she insists on marrying Rito in order to stay on Earth, where apparently accidental groping meant the engagement tradition of the other planet! Another obstacle for Rito on winning the love of his life is if Lala doesn't win him over.
 See Also: The Best 22 Schools in Anime You will Love to Attend!
2. Prison School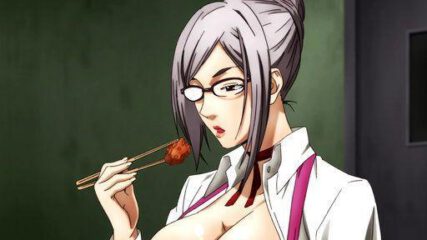 Episodes: 12
Studio: J.C.Staff
Genres: Comedy, Ecchi, Romance, School, Seinen
Prison School is quite a funny and overloaded sexy anime to watch, which is full of sensual sadi$tic and punishment scenes, this is an anime made for adults so please be you should be over 18 to watch it! The story of this Ecchi School Anime Series takes place at The Hachimitsu Private Academy, which is an all-girls school, but it's about to change, as boys are now able to start enrolling too. At first, only five boys have been accepted, effectively splitting the student body into a ratio of two hundred girls to one boy.
However, these boys are quickly cast away without having a chance to make any kind of a first impression. Unable to communicate with girls, the boys set their sights on a far more dangerous task: peeping into the females' bath! But, as soon as the infamous Underground Student Council finds out their plan, their freedom is abruptly taken from them, as they are thrown into the school's prison with the sentence of an entire month as punishment. Thus, starts the story of the boys' harsh lives in Prison School, a righteous struggle that will ultimately test the bonds of friendship and perverted brotherhood.
1. Do You Love Your Mom and Her Two-Hit Multi-Target Attacks?
Episodes: 12
Studios: J.C.Staff
Genres: Adventure, Comedy, Fantasy
It's time for anime milfs, mature beauty, oh you know what I mean because their $exual appeals are from another level, they are sexy, hot, and know best what to do in order to seduce, tease, and make you fall in love with them. The series depicts the story of a beautiful sexy mother, as she joins a party in an online game that may seem not only unlikely but also uncomfortable to most teenage gamers.
Unfortunately, Masato Oosuki finds himself in that exact scenario. After completing a seemingly meaningless survey, he is thrown into the world of a fantasy MMORPG—and his mother Mamako actually tagged along with him! On top of all of that, Mamako turns out to be an overpowered swordswoman, possessing the power of two-hit multi-target attacks! After minor tension between the two, they search for party members, meet the merchant Porta and the sage Wise, and start their journey to clear the game.
Check Also: